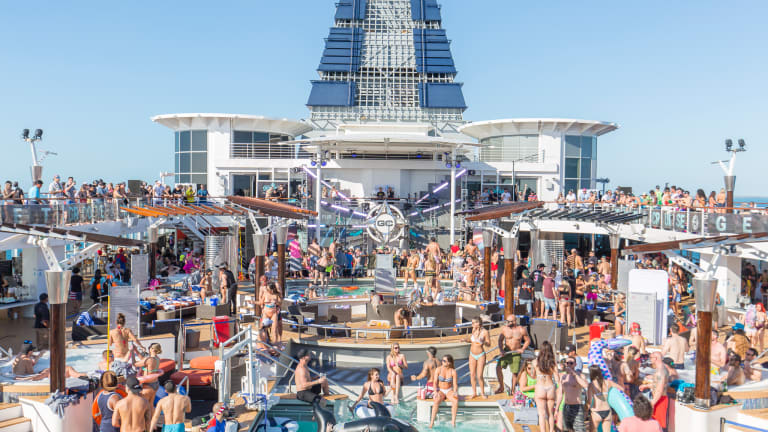 CONTEST: Enter to Play a DJ Set Onboard Groove Cruise Miami 2020
Do you know an undiscovered DJ who's got the skills to wow the #GCFam aboard the sold-out Miami sailing of Groove Cruise 2020 - or are you a DJ looking for their big break? The Groove Cruise annual DJ contest is underway. The creator of the winning mix will earn a spot spinning on the 16th annual sailing from Miami to Costa Maya January 9-13th.
Not only does the winner earn a dream gig aboard Groove Cruise alongside Above & Beyond, KSHMR, Loco Dice, Markus Schulz, Nora en Pure, Roger Sanchez, Solarstone, Qrion, Cocodrills and 40 other artists, but they and a guest will get a free stateroom on the cruise aboard the Celebrity Infinity as well as airfare for two (a $3,500+ value). The winning mix will also be featured on Groove Cruise Radio to an audience of over 100,000 subscribers. The second place winner also gets a sweet deal in the form of two ADAM Audio A8X Studio Monitors valued at $2,000.
DJs have until November 15th to upload a 30-60 minute mix focusing on house, techno and/or trance. For inspiration, check out the Groove Cruise Miami 2020 Official Playlist on Spotify featuring all the artists that will be onboard. Voting opens to the public from November 15th to 22nd. The top 10 mixes will go on to the second round November 23rd to 26th, followed by the five finalists being judged by a panel of experts such as Groove Cruise headliners, plus resident DJs—including previous contest winners who are now GC regulars. 
The final winner will be announced on December 3rd. For complete rules and details, visit GrooveCruise.com/DJcontest. Getting FOMO for not booking in time before Groove Cruise sold out? Sign up for the waitlist and you could also win onboard credits if a spot opens up.
FOLLOW GROOVE CRUISE:
Website: groovecruise.com/miami-2020
Facebook: facebook.com/groovecruise
Twitter: twitter.com/GrooveCruise