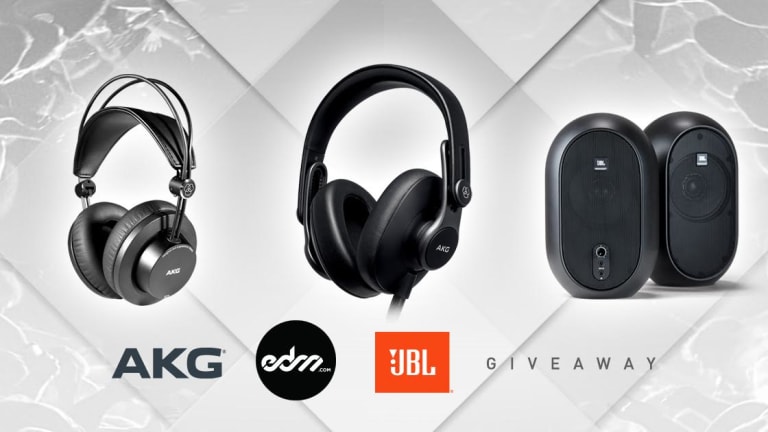 CONTEST: Enter to Win Headphones and Monitors from Harman Audio
While the holidays are a great time to travel and see loved ones, they're also the perfect time for musicians to find the best deals on new equipment. You can't always afford to do both, but what if you could win some new gear and save your money for delivering those gifts in person? EDM.com's latest giveaway just might give you the chance.
We've teamed up with Harman Audio to give you an amazing holiday sweepstakes. Harman is giving away one grand prize to one lucky winner this holiday season that includes:
Read more about these amazing products below:
AKG K275 headphones
Designed for content creators who need superb accuracy at an accessible price point, the K275 headphones combine legendary AKG audio performance with extremely robust build quality and superior comfort for long listening sessions. It features largest-in-class 50mm transducers that provide greater low-frequency extension and detailed bass reproduction, perfect for the EDM producer in your life. The foldable design allows the headphones to fit into tight spaces such as travel bags, while also protecting the structural parts from damage.
JBL 104 Desktop Reference Monitors
These monitors feature innovative, newly engineered JBL 4.5"coaxial drivers that provide full-range performance for crystal-clear highs and deep bass without a subwoofer. They not only feature a sleek, new look for JBL, but with their compact size, creators can get legendary JBL sound even in a bedroom or studio apartment. Smart features like a front-panel volume control allows convenient level adjustments without straying from the sweet spot, the front-panel headphone jack automatically mutes the speakers, providing isolation in one simple step, and dual 1/4-inch balanced and single 1/8-inch unbalanced TRS inputs accommodate a wide range of sources.
AKG K371 Professional Studio Headphones
The AKG K371 headphones combine studio-quality sound with a compact, foldable design, enabling creators to produce professional content in the studio or on the go. With class-leading frequency response, unmatched portability and a sleek, modern aesthetic, The K371 headphones bridge the gap between professional and lifestyle headphones for the next generation of content creators.
What are you waiting for? Enter our holiday sweepstakes now - but hurry, this competition closes on Friday December 20th at 11:59 PM, and it's open only to U.S. residents.
Follow Harman Audio:
Website: pro.harman.com/
Facebook: facebook.com/HarmanInt/
YouTube: youtube.com/user/TheJBLProfessional/
Twitter: twitter.com/Harman