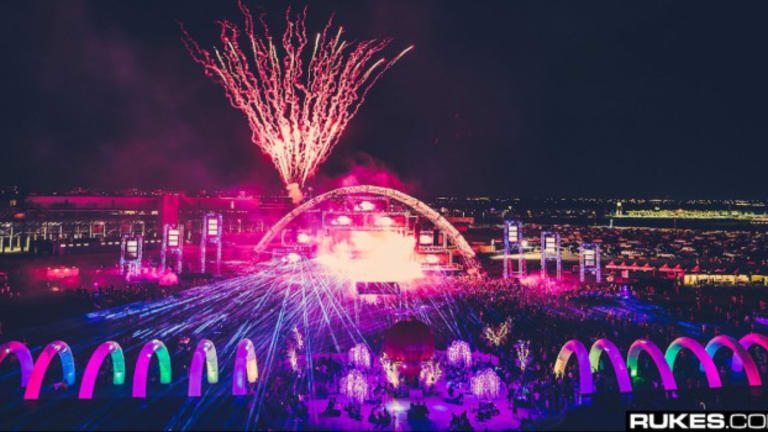 EDM Shows Are Bad For Your Hearing
Live Music Can Cause Permanent Hearing Damage - Protect Yourself!!
You might be killing yourself by going to EDM shows - not your entire self, but at least a very small and important part: Your ears.
Hearing protection is essential to experiencing electronic music events safely, and it's not discussed nearly enough.

Unlike your other senses, hearing is both a mechanical and chemical reaction to sound, rather than just a chemical reaction to a stimuli. When you see, touch, smell or taste something, you body has a chemical reaction to that stimuli and due to that reaction you interpret the sense a specific way. Your ear works slightly differently.

Your inner ear has several components: the eardrum, tiny bones, the cochlea, the auditory hearing nerve. When you listen to loud music without hearing protection, you damage the components of your inner ear, because your hearing is both mechanical and chemical. As you put "wear and tear" on your ears, their function begins to decline - just like your car, computer or anything else that is mechanical.

The damage that is done by continuous loud music, especially music at an EDM show or festival, is not something that is typically noticed in the short term (although it can be, see: Zedd).
The best comparison I got was from Carolynn Travis, a hearing protection specialist at EarLove, as well as a DJ and former raver, who suffers from profound hearing loss. She told me, "going to a loud show without hearing protection is like giving your ears a concussion." The ringing you experience in your ears after a concert is similar to a concussion in that sense.
If you suffer a concussion, it is proven to have long term effects. If you give your ears the equivalent of a "concussion", it will suffer long term effects. Repeated "concussions" increase your chances of experiencing those effects, which is why hearing protection should be exercised by people who attend many live music events. It is also important to note that the length of time you're exposed to loud noise greatly increases your risk for damage, so long concerts and music festivals can be extremely dangerous without protection.
There have been dozens of articles that note the importance of protecting your ears at concerts, but none have really stressed that in reality, you are killing your ears every time the bass drops.
A typical EDM fan's response to earplugs is, "nah, earplugs kill the experience" or "I like to hear the music;" both of which are myths and completely unrelated to the general point that it's physically damaging to your body (maybe just as much or more than the long term effects of drugs or alcohol).
This chart lists the response curve of multiple earplug brands when tested. The curves show how much sound (dB) is attenuated at different spectrums of hearing (Hz).
In order to properly research this article, we tried out a variety of earplugs and rated them based on our experiences. We've rated the earplugs on 3 different factors; comfort, sound quality and hearing protection (based on their NRR rating). The most important factor of these three in terms of safety is obviously hearing protection, because poor hearing protection in an ear plug is like wearing a condom with holes in it - better than nothing but there are still holes. However, we also know that to a music fan the comfort and sound quality of the ear plugs are equal factors, so we've weighted them all on a 10 point scale and averaged them for our overall scores.
Price: $200-$400
Comfort: 8/10
Sound Quality: 10/10
Hearing protection: 10/10
Overall: 9/10
The most expensive option in hearing protection, but what you spend is what you get with custom earplugs. They are made by creating a mold of your inner ear and using that mold to create a custom earplug that attenuates the music (turns it down, rather than just blocking different frequencies to give some protection).
They run anywhere from $150-$400 per pair, but that's nothing compared to what you'll spend on festival tickets and hearing aids in your 30's. Since they are custom molded, these earplugs create a tight seal around your ear canal, and a filter lowers the volume of the music about 15-20 decibels - a perfect amount so you can still hear the music and have conversations while wearing them.
The brand we tried was Sensaphonics, and they make the entire process incredibly easy by recommending Audiologists in your area that can take the molds and place the order for you. They use their custom molds with industry leading Etymotic filters. There are also other custom-molded earplug companies such as WestTone and EarPeace, if you'd like to shop around for a pair that suits you best.
Price: $10-300
Comfort: 8/10
Sound Quality: 9/10
Hearing protection: 8/10
Overall: 8.5/10
Etymotic is the music industry leader in hearing protection, and for good reason. They make a quality, comfortable product for a good price. I wouldn't say their products are "perfect" at anything, but they're definitely a "jack of all trades" kind of purchase. They have a lot of products, and not all of them are great for an EDM fan, so do your research. If a budget earplug with quality tested results and good overall comfort is what you're looking for, then these are the earplugs for you.
EarLove sells some of Etymotic's products, but is more aimed at the dance music fan and not as much "general music fans." They are the perfect place to shop for all Etymotic products, as well as some other products that you may be interested in for hearing protection.
Price: $17.99
Comfort: 9/10
Sound Quality: 9/10
Hearing protection: 7/10
Overall: 8/10
One of the most well-known hearing protection brands in dance music, EarPeace has a quality product for a good price. They've done branded campaigns with major EDM names like Mad Decent, OWSLA and TomorrowWorld. Their HD "higher-end" ear-plug (that runs for less than $20), is very comfortable and doesn't alter the sound quality of the music too much. Their hearing protection is not the best, but it's good enough for the average EDM fan who attends a couple shows a month and is looking for a good budget earplug.
EarPeace also offer custom-molded earplugs, but we have not tested these ourselves.
Price: $49.99
Comfort: 10/10
Sound Quality: 9/10
Hearing protection: 4/10
Overall: 7.5/10
Probably the most comfortable of all the earplugs we tried, these silicone earplugs fit very comfortably into your ear. They were actually made as musicians earplugs, but their tested response curve isn't as good as we'd like to see compared to some other earplugs we looked at. If comfort is your main concern, these might be your best bet as a "starter earplug." We've also been told that they're working on creating a stronger filter that may suit EDM fans more.
Price: $25
Comfort: 4/10
Sound Quality: 7/10
Hearing protection: 4/10
Overall: 5/10
By far our least favorite of the earplugs we tried. These earplugs were given away and branded as "designer" earplugs for this year's Coachella because they have a sleek design. However, these earplugs are not very comfortable, offer only mediocre sound quality, and pretty low attenuation overall. They're a cheap option, so they're not meant to be perfect. However, we'd go with the Earasers, EarPeace, Etymotic/EarLove budget selections over these any day.
DUBS received a massive marketing campaign with Coachella, and recently became the official earplugs for Outside Lands and Bonnaroo. These "acoustic filters" offer a really uneven attenuation, lowering most of the the high frequencies, but almost none of the low frequencies. Almost all of their attenuation comes at frequencies between 1,500 Hz and 8,000 Hz, even though most instruments are somewhere between 50 Hz and 2,000 Hz. Essentially, the bass that you hear at an EDM show comes through almost fully, while some of the higher pitched sounds get lowered pretty significantly.

Our intention here is not to single out DUBS, because wearing DUBS is certainly better than wearing nothing at all. However our purpose for the article is to educate on the importance of hearing protection and what hearing protection really means. DUBS' assertion that they purposefully created a product that doesn't attenuate low frequency sounds is misplaced, and scientifically the low frequencies can be just as damaging as high frequencies that they've decided to attenuate. It is also misplaced because typically the low ends are much louder at an EDM show because "feeling the bass" is so important to the experience.
If hearing protection is important to you - and it should be! - I suggest speaking with a local audiologist, or at least ordering a pair of one of the earplugs listed here! Practice safe sound, everyone.
Image: Rukes.com