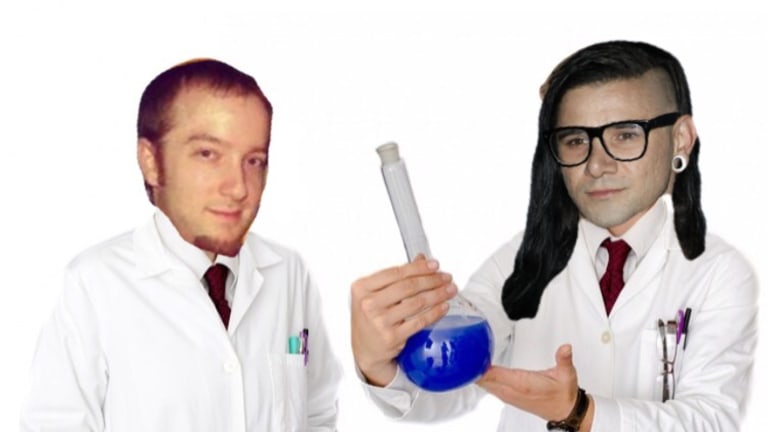 You Won't Believe What Happens to Your Body When you Listen to an Hour of Dubstep a Day (#3 Will Shock You!)
Ever wonder what this "dub-step" stuff is? Click here to find out!
Put down that gluten-free bagel and throw away those paleo cookbooks because this season's hottest new health trend is called "dubstep". Every nutritionist and healthcare specialist is raving (no pun intended) about these secret tricks that have been used for centuries. 
Our researchers believe that dubstep was invented in 69 a.d by a prophet many called Skrillex. Although it is similar to EDM (which was invented in 2012 by Diplo), dubstep has health benefits unlike any fad diet or superfood we've ever seen. Our team of highly-trained and very stable geniuses has compiled a list of some of the amazing things that happen to your body when you listen to just one hour of dubstep a day.
Your Neck Becomes Really Strong 
Our research shows that exposure to just two minutes of an Excision track causes uncontrollable headbanging and creates the immediate need for a neck brace. You might think that this would be counterproductive to your health but in reality, this is an excellent way to strengthen your neck muscles. 
You'll Probably Move to Colorado
Ever wonder why everyone moves to Colorado? Have you ever found yourself asking why your friends from Denver feel the need to talk about how great their state is every time you speak to them? 
It's simple. Colorado has the perfect climate and resources for prime dubstepping. From the iconic venues that host some of the biggest dubstep artists in the world like Red Rocks and Beta to the legality of a little green plant that dubstep fans seem to thrive on, Colorado truly has it all. 
Your Vocabulary will Become Much More Colorful
If you've ever met someone who's used the word "filthy" as a term of endearment, you probably met a dubstepper and didn't even realize it. Without realizing it, you'll find yourself saying things like "wow that drop was crunchy" and "I broke so many rails at the fest" (see section 1).
You'll be able to use these interesting words during interviews, in your wedding vows, and when you have to give a speech at a funeral. Everyone will be super impressed with your newly-developed vocabulary and will wonder how you became so articulate. 
You'll Always Be Able to Afford Festival Tickets
Student loans? Nah. Rent? Who cares. Groceries? Ramen. Don't bother spending money on useless things like utilities when you can go to music festivals instead. 
Seriously, look at how awesome this is. 
Why would you ever waste money on something stupid like "bills" when you can go to something like that. 
Luckily for you, once you become a dubstep fan you'll be able to go to every festival you want to. 
Our research can't explain how dubsteppers are able to afford cross-country festival trips every month while being unemployed but somehow it works out that way. 
All of this can be yours with one hour of dubstep a day. Stay tuned for our quick and easy "90 days to a better dubstep body" e-guide coming soon.