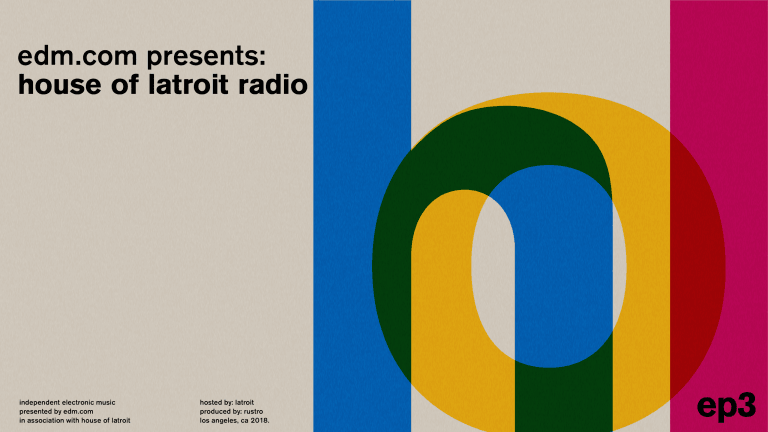 EDM.com Presents: House of Latroit Radio - Ep.3
Check out House of Latroit Radio for the very best in independent electronic music!
In partnership with EDM.com, our close friend and Grammy award-winning producer Latroit is hosting a new bi-monthly podcast series entitled "House of Latroit Radio". 
Featuring a finely curated selection of club-friendly beats that meet main stage melodies, House of Latroit features new releases, breakthrough singles, and exclusive artist interviews. Even more exciting, House of Latroit Radio is built on music exclusively from the Artist Intelligence Agency catalog, with the occasional extra sonic treat from Latroit himself.
If you tune in regularly, you just might get a glimpse of some fresh new unreleased music as well!
You can catch Episode 3 of House of Latroit Radio featured on the EDM.com YouTube below:
Track List:
1. M.O.B - Bad Yeah (0'13" - 1'29")
2. Avila & Hi Cut & LuGroove - Just Call My Name (1'29" - 3'02")
3. Lliam Taylor ft Bang Bang - Bad Shit (3'02" - 5'21")
4. Dillon Nathaniel - Interconnection (5'21" - 7'56")
5. Felix Bold - So High (7'56" - 9'13")
6. Kaii Dreams - I'm The One (9'13" - 11'33")
7. Jero - Emergency (11'33" - 13'08")
8. Upsilone - Million (13'08" - 14'10")
9. ID - ID (14'10" - 15'44")
10. Bordertown & Jamie George - Run 2 You (15'44" - 16'46")
11. Jacknife - Times Up (16'46'" - 17''48")
12. Type 3 - Go Dumb (17'48" - 20'08")
13. N/A - What I'm Sayin (20'08 - 21'39)
14. Giddi Bang Bang & Clem Lee - Like That (21'39 - 24'34)
15. Art Supplies - Dancefloor (24'34 - 25'52)
16. Instatic - A Little Longer (25'52 - 26'52)
17. Nephaim - Never (26'52 - 28'26)
18. Kharmelo - Free (28'26 - 31'17)
19. Miles Away & Marcus James - Together Alone (31'17 - 34'37)
20. Gaglianone - Sweetest Sin (34'37 - 37'38)
If you prefer just the audio, we've uploaded Episode 3 on MixCloud as well: