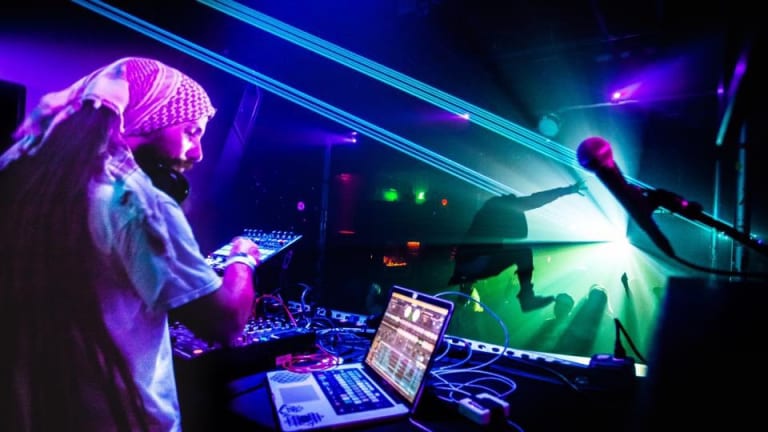 How the Star DJing Crew Members at Envision Festival Lead from the Trenches
Few have the chops to throw a great party, but it takes something special to also be the life of it.
It takes an iron will and a certain amount of fortitude to show up in all the ways festival production requires. Just like delivering a signature performance onstage for a DJ or producer, not everyone's got the grit to take on the long hours and necessary grind involved in crafting a music festival. Even fewer can balance the task of being a badass both on and offstage. Most will understand the need to roll up sleeves when the going gets tough, but it takes a certain combination of traits to excel at throwing the party of a lifetime while also being the life of it. 
At Envision Festival in Costa Rica, you can measure this sort of leadership in liters of sweat. This year at the beachside event we tallied six such examples of high caliber leadership delivered by individuals onstage and off. Take a look and get to know their names. During the show, these steely, over-caffeinated eyes don't have time to tell you a story, but it doesn't take an audiophile to know that if they're running in your direction you're better off just getting out of the way. 
These are the peoples' performers. They mean business, and they're here to get the proverbial "job" done.
Irieyes
Ryan Kandell | Director of Operations
When he's not overseeing the entirety of the crew that builds Envision out of the jungle, Ryan Kandell (A.K.A. Irieyes) is chopping up ragga crunk for the "one love" underground. It's no surprise that someone with an eye for masterminding a symphony of onsite projects at an event like Envision would make live mixes that cut across cultures and generations, then stitch them together again seamlessly. Whether you see him at the helm in a music festival or behind a mixer throwing it down, Irieyes personifies the seductive sort of harmony that makes every booty in the room bounce.
LISTEN: soundcloud.com/irieyes
DubCOliNG
Colin Tucker | Build Manager
DubCOliNG is the definition of rolled-up sleeves. His work ethic is only matched by his contagious rhythms. After developing a penchant for turntables and scratching at a young age, today he thrives on genre-defying melodies that he sugar coats in thick, wobbly bass. His work in sound design has endowed him with an ear for well-crafted audio systems, which he often puts to the test. In addition to being someone who can erect the finest stages in the world, audio gear and all, DubCOliNG is also distinguished by his ability to draw out the spirit of the crowd along with the full power of the sound system on which he plays.
LISTEN: soundcloud.com/dubcoling
PRINCESS
Zachariah Dunn | Director of Enterprises
From craft vendors to craft beers, you literally can't spend a colóne inside Costa Rica's Envision without encountering an experience engineered at least in part by PRINCESS. He manages one of the biggest departments on 24 hours a day through the entirety of Envision. At the festival, he's always even-keeled but once he gets behind the decks he's all about a rapid build-up with a full release. When asked about the purpose behind his music on one occasion, he said: "My intention is always to tell a story through music that can serve as a conduit for positive change." His genres range from 808-driven psychedelic bass, trap, glitch, a variety of whomping popularly called 'sacred bass', with a few experimental hints of hip-hop, psy, and more.
LISTEN: soundcloud.com/djprincessmusic
Bushman
Josh Wendel | Production Director and Co-Founder
Between curating the music lineup for the festival and heading up production (not to mention all the extra that comes with being a co-founder), Josh also performs regularly as Bushman. Seeing his live arrangements as more than a journey, fans describe Bushman's music as a mid-tempo psychedelic bass adventure weaving elements of psy, dub, glitch, bass, and funk together with far-out instrumentals into a colorful tapestry of transcontinental music culture.
Neztha
Natalio Villanueva | Print Manager + Webmaster
Don't let his quiet disposition fool you. He's cool, calm and collected but just beneath the surface lay a fierce torrent of creative ingenuity that makes contact like a force of nature. A perfectionist through and through, Neztha is the kind of artist whose tirelessness is as much an edge as it is a signature. As the guy who literally takes on the task of designing, printing and distributing every tangible graphic in the festival. Take that alongside his work as the festival's webmaster and he's been a veritable backbone of the festival's brand for more than 4 years. He champions consistency in the office but onstage he's always trying something new. Today, he's purported to be as much an asset to the marketing team as he is a dark horse behind the decks. With a knack for polyphonic music production, he's not attached to any one style - but if you listen closely you can hear the roots of authentic 'house' greatness from all over Latin America and beyond.
LISTEN: soundcloud.com/nataliov
Bunny Wabbit 
Esteban Bonilla | Street Team Lead + Stage Build Crew
Bunny Wabbit is an experimental groove project-turned local Disc Jockey in Costa Rica. Thanks to his street prowess and energetic pace, he goes everywhere - both musically and geographically as the Street Team Lead at Envision. From funk-packing bass lines to tribally inspired sounds that reach deep into the soul, Bunny Wabbit's beats travel with the same breakneck pace that his feet do all over the landscapes of Costa Rica. Bunny Wabbit has quickly become a household name known to get the heaviest feet undulating around the dance floor. His succulent garden and contributions on the Lapa Stage blurred the lines between immersive art installation, permaculture exhibit, and otherworldly stage design.
LISTEN: soundcloud.com/bunnywabbitcr
Featured Photo Courtesy of Colin Tucker
FOLLOW ENVISION FESTIVAL
Facebook facebook.com/EnvisionFestival/
Twitter twitter.com/EnvisionFestCR
Soundcloud soundcloud.com/envisionfestival
Youtube youtube.com/channel/UC8fmVdYG6P6uSVSY62-0Wnw