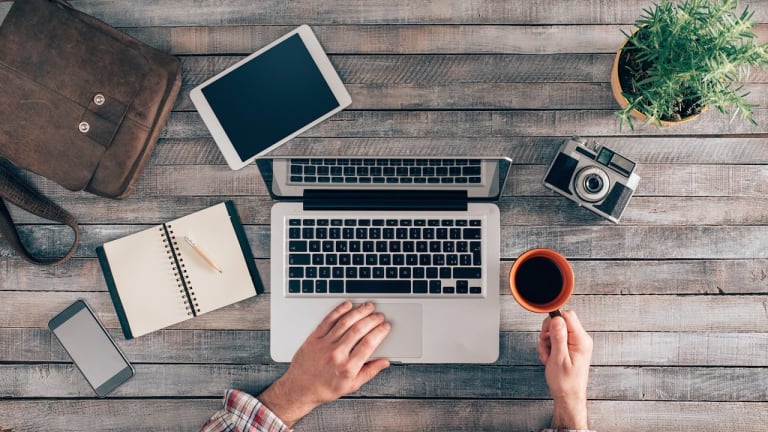 The Story Of How I Got Hired At EDM.com
Mohammed Ali said, "Don't quit. Suffer now & live the rest of your life as a champion"
You can listen to the Music Industry Marketing podcast on Spotify HERE.
Being able to live full-time from my music is an absolute privilege which I am truly grateful for. Because of it, I'm constantly asked how I got a job at EDM.com, and how I'm able to travel so much. This article aims to answer both of those questions. But in order to get to the root of the question, it's worth going all the way back to my origins. 
I had quite a normal upbringing. We weren't rich. But we weren't poor either. As a family, we were able to get by financially pretty well. I ended up going to a place called Broadstone Middle School. As we lived in the area, it was generally pretty convenient for me to attend there. But around 2008 I think it was, I encountered quite a lot of bullying. Admittedly, I can't remember what it was for. But at times, I felt like an outcast. Sure, I had a few friends that I stuck close by. But there were always gonna be days in which I felt lonely. And I just had to accept that.
When I was 11 or 12 years old, my mum moved us to Highcliffe as she grew up there as a kid. Essentially, she wanted to be close to her roots - which was fair enough. I don't blame her for that. For the people unfamiliar with UK geography, Highcliffe is about 2 hours south-west of London. Anyway, I ended up going to a school which was about 10 minutes up the road. It was cool. But once again, I encountered some bullying troubles now & again. I couldn't help it. I couldn't stop it. I guess I just kinda accepted it. Because deep down, I knew that although they were making fun of me, I'd be able to stick it to them in a few years time when they saw my success. Many many people in Highcliffe doubted that I would become successful in the music industry. But I had a passion for it. And so any hate was simply converted into motivation. I loved it. 
During October 2016, I made a Charity single called "Beautiful". Here's a quick clip of it:
I teamed up with some people in the local area, and a vocalist from Greece to create the track. In aid of Cancer Research UK, it actually did pretty well. The song was alright. It was an acoustic track. But I knew that there was no mainstream appeal. Therefore, I brainstormed ideas of how I could make this project into a commercial success. 
After days of solid thinking, I came up with a solution: EDM. After contacting 20-30 producers, and getting a lot of messages saying the song sucked sh*t, I eventually was able to get a remix from my favorite producer at the time: Klaas. He was a multi-platinum selling producer from Germany that created Infinity 2008 with Guru Josh - a dance classic. 
I remember being in the car on the way back from West Quay (a shopping centre in Southampton) when he sent me the final version of his remix. I put my earphones in, and listened. A smile went across my face. I was so impressed that I almost cried. It was amazing. I felt a sense of achievement. HOLY SH*T. My favorite produced remixed MY song. This is incredible. I didn't know what to say. But I was happy. Here's a clip of the Klaas remix:
As well as Klaas, I also got a remix EP from producers in multiple genres. My thinking was that by covering different genres of music, I'd be able to get it heard by a sh*t tonne of people with different interests. MRVLZ, Dan Domino, White Vox, and several others just to name a few. The strategy worked. They were supported on tonnes of YouTube promotion Channels. Dimitri Vegas & Like Mike supported the Klaas remix. The MRVLZ remix made it into Spotify's "Fresh Electronic" playlist. Oh, and it was also played at Tomorrowland. Not bad considering it was my first song. The feeling of knowing that my song was helping out a charity was truly wonderful.
Following that, I ended up getting a writing job at The Wall Of Comedy. Although I was working for free, I was able to generate tonnes of connections within the music industry, and other aspects of entertainment. I got a complimentary press pass to see Stormzy, Giggs, Professor Green & a few more in Liverpool. As The Wall Of Comedy was under the Unilad domain at the time, I was able to go into the Unilad office, and understand social media analytics, how posts go viral etc. That kind of knowledge was absolutely incredible - and lead to me being hired within the music industry to run extremely successful social media campaigns, and many other opportunities. 
I guess that's the thing. If you're willing to work for free, you can accomplish pretty much anything you want to within the industry. Like imagine being able to intern for Richard Branson or Gary Vaynerchuk. The amount of knowledge and contacts you'd gain would be phenomenal. I was thinking exactly the same thing. 
In August of 2017, I moved to Australia. This was quite possibly the most difficult thing that I ever did within my life. Having lived with my mum for almost 2 decades (I was 18), It wasn't exactly easy moving to the other side of the world. It wasn't like I was just going to London for university. I was literally thousands of miles away. But the reality shock it gave me was incredible. It forced me to grow up a lot faster, and establish a full-time income from my music career. 
Even to this day, I get messages asking if I've ever worked "a proper job" in my lifetime. The answer is no… kinda. The truth is that upon Landing in Australia, I tried to find a job in Melbourne so that I was able to financially sustain myself. Hey, it wasn't easy being an 18 year old kid on the other side of the world with no stable income. I ended up getting an interview to potentially work at a grocery store on Southbank (a popular area of the city). It went pretty well considering they offered me a trial shift for the following week. I turned up, and said to myself that I was prepared to work extremely hard in order to stay in Australia. My shift time was really awkward. I started at 3pm, and finished at 8. It meant I couldn't do anything during the day - as I would have to be at work by 3. But also, the train from the city centre to my cousins house was at 8.10pm. So I literally had to sprint 10 minutes in order to catch the train. 
But within the first 3 hours of working there, I knew that it wasn't for me. I hated working for someone else. I felt suffocated as I wasn't in control of my income, or what I did during those hours. I was bound to one location. One job. Repeatedly. Over & over again. It was at this moment, I knew that I was destined to be an entrepreneur. 
A couple of days later, a realization came over me that I was still a young kid in a foreign country with hardly any income. But thanks to a dude called Gary Vaynerchuk, I knew exactly what to do: flipping. The basics of the 2017 Flip Challenge was that you had to make $20,170 during that year from flipping items on eBay. It was game on. This process is what taught me sales.
I went to garage sales, thrift stores, and Facebook marketplace to find some pretty good deals. TV remotes, games, sports merchandise, anything. If it could be flipped for a profit, I was buying it. Dollar by dollar, my bank balance was going up. I was actually making a decent amount of profit, and was able to sustain myself financially in Australia. I was happy. 3-4 times a week, I went out shopping for things to sell on eBay. Books seemed to be pretty popular if you knew where to look. I found a boxset of 50 shades of grey for about $6. Sold it for $35 Australian dollars. On that sale, I would have made around 25 dollars profit due to the purchase cost and shipping fees etc. Not bad. I was just thinking of ways to turn $5 into $50. You get the idea. 
But my best flip was undoubtedly some AFL scarves. They cost me around $1.50 each, and I sold them for $15. Considering I purchased at least 50, it doesn't take a genius to figure out that I was using sales skills to flip my inventory pretty quickly and turn a good profit. 
Whilst in Australia, I actually ended up collaborating with the government on a music project. That was interesting. Basically I was the A&R for Chillyourmind, a music channel and record label. During the promotion of a release, I decided that I was going to contact a few tourism boards to see if they'd be interested in featuring the song. After speaking with Visit Queensland, the song ended up being featured… twice. The videos gained over 8 million Facebook views which was pretty sweet. LTGTR & GAB - Midnight Cruise was the name of the song.
It's also worth mentioning that I got into artist management last year. I had an artist called Axol who was a producer & vocalist on NCS. But after a few disagreements, we ended up parting ways. Now managing an artist called Anikdote, we're doing some pretty awesome things. Anikdote recently did a soundtrack for an Amazon TV Show, and is about to do a stadium performance in South Korea. On top of that, we're releasing loads of new music with influencers, and aiming to release a track once a fortnight. It's going to be intense. But defenitely worth it. I can't wait to see what happens over the coming months.
So now you have a good idea of how I ended up in the music industry, let's talk about how I got a job at EDM.com. Having really enjoyed my time at The Wall Of Comedy/Unilad, I decided that it would be amazing to do something similar within the music industry. Therefore, I did some research into the biggest platforms within the EDM industry. Of course, EDM.com was the top result. After contacting the company regarding an expression of interest for working here, I ended up speaking to the owner about my ambitions within the music industry. Due to my previous portfolio of work as a journalist, I was accepted as part of the EDM.com family. To this day, it was one of the best decisions that I've ever made. 
Now I'm able to travel the world off the back of my music career, and it's truly a wonderful experience. I've met so many amazing people, and have strengthened a lot of connections within the music industry. For example, I've met the Australian ambassador to the USA, Grammy Award winning producers etc. I've traveled to 3 Canadian provinces, and 13 states in the USA. I'm also planning trips to the UAE & Australia soon.
The entire process of getting into the music industry was not easy. It involved multiple sleepless nights, constant networking & hard work. There were many times in which I almost gave up. But as Mohammed Ali said, "Don't quit. Suffer now & live the rest of your life as a champion".