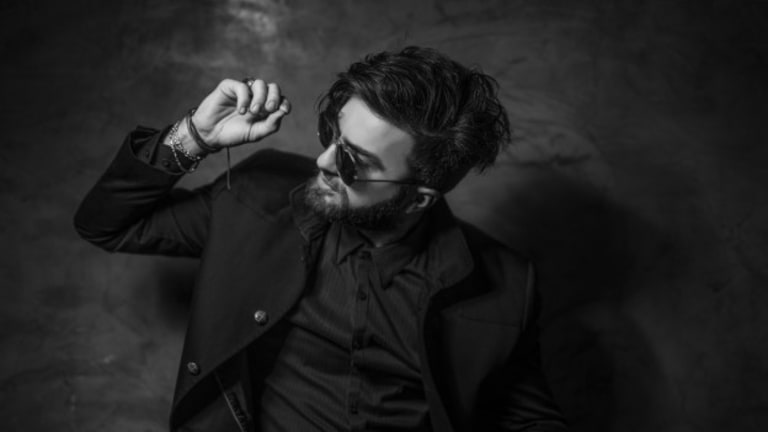 EDM.com's Totally Real and Not Sarcastic Guide on Looking #IndustryAF
Just made a track on GarageBand and want to flex on your hometown friends? Check this out!
So you've just torrented Ableton and made a totally fire track and wonder what to do next?

Have no fear! Here at EDM.com we provide the best and totally not satirical advice on the music #industry. Our superstar team of writers spent hours upon hours engrossed in statistics, #industry reports, and business publications, and would never even consider creating a phony guide on something as important as your image. As the representative of this all-star cast of #industry experts, I can assure you that I will provide only the most serious and important information, and that I certainly did not roll out of bed late, hungover, and dreading the thought of having to type things on my laptop.
After making that fire track and gaining almost 200 plays on SoundCloud it's imperative that you immediately cease all music producing and jump right into your image and branding! After all, no one gets signed because their music is good anymore... right?
No matter what your gender this handy head-to-toe style guide created by a seasoned and not cynical member of the #industry, will help you show the world why you're the next big thing!
Headwear
Dad hats, dad hats, dad hats! Nothing says "I'm #industryAF" better than a nice dad hat. Featuring a relaxed, unstructured crown and a casual, bent brim, the dad hat is the epitome of your uncaring, holier-than-thou attitude you developed after your hundredth Facebook Like. Make sure you choose a trendy logo that will really make the hat stand out. Find a catchy phrase from the internet or a logo of pizza to show everyone that despite being a #savage, you still like to have fun.
Color: Black
Shirts/Jackets
You have to wear a band tee. Being #industryAF means music controls all aspects of your life, including the clothes you wear and even the food you eat. (stay tuned for the official guide on how to eat like a DJ) PLEASE NOTE: It is crucial that you do not ever wear anything even remotely electronic music related. I cannot stress this enough. You need to make it very clear to everyone that you're the sh*t and you barely even care about this whole music thing. Both death metal and classic metal are very trendy right now. When choosing a band tee, choose ones that look as hardcore as possible. Some solid choices include Slayer (pictured), Iron Maiden, Metallica, Marilyn Manson, or any local California deathcore band. (You know, the ones with the illegible band names.) Make sure you don't just get the name of the band on the t-shirt. After you choose your shirt, be sure to look up the band's top songs on Spotify and choose your "favorite". Make sure it's not in the top 5 songs so that you sound like you're a true fan and that you're not a lame poser trying to impress a bunch of other fake metalheads.
Make sure there is at least one of the following on your shirt:

Demons
The Devil
Skulls
Blood
Warewolves
Flames
Pentagram
upside-down cross
You will need to pair this stylish t-shirt with a nice jacket. A bomber jacket or an oversized sweatshirt will do just fine. Supreme is always a safe choice, but if you're ballin' on a budget, try H&M. "But Nick, I moved to Los Angeles because the #scene in Idaho was #lame, and the weather isn't cold here!" Well I have some news for you. No one got to 1 million Instagram followers without some sacrifice. Yeah, you're going to sweat a lot, but sweaty hair makes you look even more of a metalhead and that's a huge plus.
Honorable Mention: Anything Japanese or anime related. Both of those are very #industry
Color: Similar to the hat, I would definitely recommend black for the color of both your shirt and jacket.
Pants
This is an easy one! All you need to do is pick up at least seven pairs of joggers. You're going to need at least one pair for every day of the week. It doesn't matter if they're denim or sweatpants material, all that matters is that they really squeeze those ankles! You want to go for a pair that makes a nice tight seal at the leg holes. If you can fill your pants with water and none of it comes out the bottom, you have the perfect fit.
Pro Tip: Rotate pants daily and use Febreze to make your seven pairs last a whole month on one wash. It's not gross, you're an artist!
Color: 100% Black. Yes, that means all seven pairs.
Shoes
Yeezy's are a must. Our lord and savior Kanye West both died for our sins and invented music so we must all pay tribute to his greatness. The Yeezy Boost 350's are a nice comfortable shoe perfect for walking from your studio to the front of the line outside the club, where you ask that stupid bouncer if he knows who he's messing with. Yeah, I know they're expensive but you're in the #industry now and you realize the importance of fashion.
Color: Black. Are you seeing the pattern here? You need to promptly burn any clothes that aren't black. Nothing says #industryAF like black from head-to-toe.
Accessories
You have a degree of flexibility here. Some popular options include a wristwatch with no numbers because you operate on your schedule and no one else's, a black and gold bracelet, or even some black gold rings. Despite these great accessories, the most important accessory of all is not something you buy, it's something you already have! A look of indifference.
You must never look like you care about anything ever. Real VIP's don't care that they are VIP because that's every day for them. You know you're a superstar and the simple pleasures in life don't matter to you anymore. So what your friend just gave birth to a beautiful child, just give them a short "congrats" and continue frowning, because to look #industryAF you must become #industryAF.