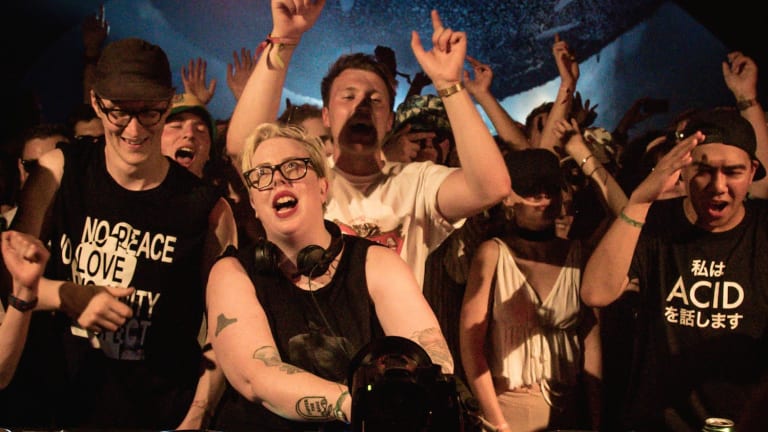 Go on a Musical Journey With Electronic Music's Most Inspiring Women DJs [Playlist]
For International Women's Day, we're bringing you some hot tracks from electronic music's badass female DJs.
It's International Women's Day and what better way to celebrate electronic dance music's badass ladies than with a playlist? Featuring female DJs and producers from all around the world like Maya Jane Coles, TOKiMONSTA and Charlotte de Witte, we've compiled a list that transcends genres. So if you're an inspiring woman DJ who needs some motivation, look no further! 
NERVO feat. Kylie Minogue, Jake Shears & Nile Rodgers - The Other Boys
We can't have a list without one of EDM's top women DJ acts. Slotted under big room and progressive, we have Australian twin sisters, Mim and Liv of NERVO with one of their hits from their 2015 debut album Collateral. 
Krewella - Team
Another sister DJ duo that has been making waves in electronic dance music is Jahan and Yasmine Yousaf of Krewella. Producing tracks that range from progressive house to dubstep and trap, these sisters aren't afraid to explore genres. Their moombahton track "Team" is a pure example of that. 
Rezz & 13 - DRUGS!
There's always an ongoing debate what sub genre REZZ's music falls under: alien/space bass, dark techno, industrial, glitch hop or dubstep. No matter what it ultimately is, her sound is pretty unique and has a lot people wanting to hear more of it. 
Alison Wonderland - Happy Place
Alison Wonderland's lead single "Happy Place" is not only an epic trap track, but also a personal victory for the DJ who's suffered from depression. Along with her forthcoming album Awake, it tackles the struggles of mental illness and promotes awareness. 
Anna Lunoe & Flume - I Met You
Early on in her career, Anna Lunoe had made quite a name for herself as one of Sydney's best emerging DJs. She's the first woman to mix compilations for Ministry of Sound Australia and they've actually all went gold. To pay homage to her early days, we just had to include one of her house hit collaborations from her 2012 debut album Anna Lunoe & Friends.
Tigerlily feat. Nat Dunn - Feel The Love
Another woman DJ right out of Sydney is the talented Tigerlily. She was voted Australia's favorite female DJ three years in a row via Inthemix and toured with Tiësto playing her progressive and electro house tracks for tens of thousands of people all over the world. And not only has she accomplished all of that, she's a big advocate of physical fitness and mental health.
Ellen Allien - Call Me
German DJ and Producer Ellen Allien has been in the game since 1992 and continues to captivate electronic music fans with her hypnotic techno sound. She's hosted her own show on a Berlin radio station, created her own record labels, organized parties and has her own fashion line. Talk about an inspiring woman DJ!
The Black Madonna - He Is the Voice I Hear
The Black Madonna is another name that's been around since the late 90's and is just as inspiring as Ellen Allien. After years and years of failed attempts, she finally found her own techno, disco and house sound and made a name for herself. And with knowing the struggle first hand, she has no problem speaking out about the gender inequality in the industry and promoting equality. 
CloZee - Koto
Mostly using organic and real sounds in her tracks, French DJ and producer CloZee transports us to another world with her refreshing East Asian style electronic and bass tracks. It's no wonder she's amassed quite the following after hits like "Koto" and "Red Forest."
DJ Stephanie - Razor Sharp
Following in the footsteps of her DJ father, Stefania Alessi aka DJ Stephanie started out mixing techno. It wasn't until she worked at big Italian clubs as a DJ and vocalist that she found her passion for hardstyle. And since then she's worked with DJ Activator, played in clubs all over the world and has been a part of the lineup for well known events like Defqon.1 and Reverze. 
If you're looking for more inspiring women in the industry, we've got plenty of female DJs and producers to highlight. So be sure to listen to the rest of our list!