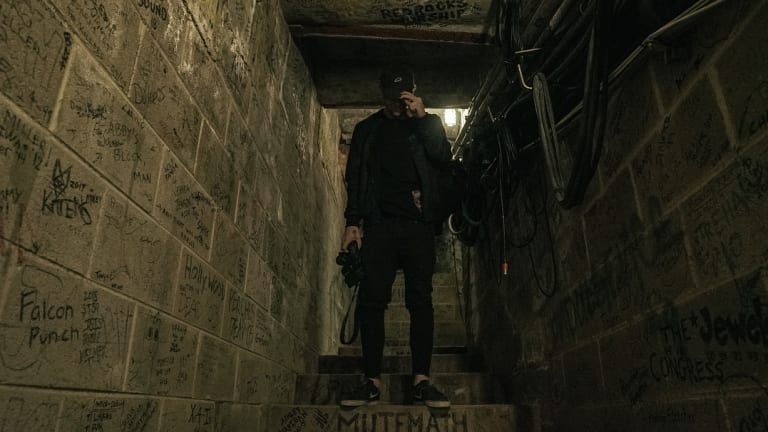 Snapaholix Fills Us In On All Things Photography [Interview]
Johnny Ostermeier talks career progression, brand development, camera equipment, and more.
The electronic music industry is made up of a myriad of things ranging from the music itself to the stage production to the incredible moments captured through photography and video. Professional photographers have become a massive part of the industry, enabling festivalgoers to relive their favorite memories countless times. 
Unsurprisingly, being a photographer for these fast-paced live events is a lot of work.  Long, hard hours lead into days of editing to get the perfect end result.
Amidst his busy schedule, we got the chance to speak with Johnny Ostermeier - the man behind Snapaholix. This Denver local has exploded within the photography and videography industry over the past few years, shooting for small local venues as well as massive internationally known festivals such as EDC Las Vegas.
According to Ostermeier, his career path has been a rollercoaster of events.  About six or seven years ago, he started shooting concerts in the hip-hop, rap, and alternative rock genres. After a few years of that, he eventually got into shooting for EDM events. In fact, his first show in the electronic industry was for Bear Grillz.
In order to get where he currently is with his career, Johnny had to go through "a series of unfortunate events."  After managing in retail for four years and struggling with various obstacles in his personal life, he decided to go his own way and follow his passion.
"I walked out of my day job when they stood in the way of a couple events," Ostermeier told EDM.com in an interview. "[Last year's] Das Energi was my first festival and my job at the time told me I couldn't have the weekend off, so I told them that I wasn't going to go in anymore."
Even though Ostermeier gets to travel all over the country, attend tons of amazing events, and develop lasting relationships with artists and industry professionals, being an event photographer takes a lot of effort. In his own opinion, one of the most difficult things about his career is "staying on your toes not only with your surroundings and where you're shooting but also just not getting exhausted." His career calls for long nights and early mornings constantly being on your feet. Working with new venues and people every day, "you have to be a chameleon" in order to adapt to changing scenarios.
When photographers and videographers shoot events, they have to take a wide assortment of gear with them into the venue.  When we asked Ostermeier what he takes to each gig, we learned that he has stuck with the loyal Canon 6D throughout his career.  As far as lenses go, he takes in a few different ones no matter what since he advises to "plan for the unexpected." He explained:
I have a SIGMA 15mm lens, which is what I mainly shoot on.  It's a fisheye, so it gives me the widest angles.  And then my basics: zoom lenses, a 50 mm lens, and then I have my mic, my flash, and a monopod to hold my camera.
In the music industry, some professional photographers and videographers have unique brand names, but a majority of them use their own name as their brand (like photograpoher Nate Vogel, for instance).  Since Ostermeier chose to develop a company with his new brand, we asked how he came up with the name as well as why he thinks it's important to have a brand in the event photography world.
When Ostermeier first started shooting events, a local hip-hop artist and his group called him "snap" because they said he was addicted to taking pictures. Ostermeier later went home and googled the term "snapaholic" which he found a result for on Urban Dictionary: "someone who continually stops everything in order to take a picture." He then derived influence from this and used the alcoholics anonymous logo flipped upside down to make his signature logo.
When addressing why he chose this as his brand, Ostermeier said:
A lot of people put just their name to it, but I've never really self-identified with my work. The whole time, six or seven years with a camera in my hand, I just started taking self portraits this year just because I've always kind of let my work speak for myself as opposed to a lot of people put their name right on their work. I don't like to identify it with myself, so Snapaholix is kind of a mask as well, as opposed to just "Johnny Ostermeier".
At this point in his career, Ostermeier has had a lot of experience shooting for a wide variety of events, venues, artists, and more.  After expanding his brand and growing his business, we asked him if there was anything he wished he knew when he started event photography.
When I first got into it, it took me four or five years to even try to take a video," he said. "I would say I wish I took videos right off the bat; I never knew how much it actually grew my business and grew how much people wanted me until I started branding myself as a videographer as well."
This is part of the reason he changed his brand name from Snapaholics Photography to Snapaholix; he wanted to focus on doing both photo and video. In today's industry, he said that he is always asked if he does video in addition to photo, and that if he only did photography, he wouldn't get booked half of the time.
Ostermeier has travelled all over the country to shoot for incredible artists and festivals. We asked what his favorite festivals were that he's been to, and he was able to narrow it down to three: EDC Las Vegas, Das Energi, and Countdown.  Ostermeier particularly likes shooting at larger venues like these because there are a lot more variety and elements that he gets to shoot. "It's more of a show instead of a concert" because "you get a lot more creativity to work with...especially when you have pyro and stuff come into play."
As far as some of his favorite shoots or products of his work, he says that he loves it when artists want to get more personable and shoot behind the scenes.  This is one reason that Johnny works one on one with artists instead of with a publication because he likes to capture special moments that the typical crowd doesn't see.
Johnny Ostermeier is extremely talented and driven, and we highly encourage that you check out his work. His favorite photos are posted in his portfolio, which can be found here.  For the past few weeks, he's been traveling for his first tour accompanying Trivecta on their run of the Awake 2.0 Tour with Illenium.  As Johnny prepares for another festival season, we wish him the best of luck.
FOLLOW SNAPAHOLIX:
Facebook: facebook.com/snapaholixxx
Twitter: twitter.com/snapaholix
Instagram: instagram.com/snapaholix
Website: snapaholix.com