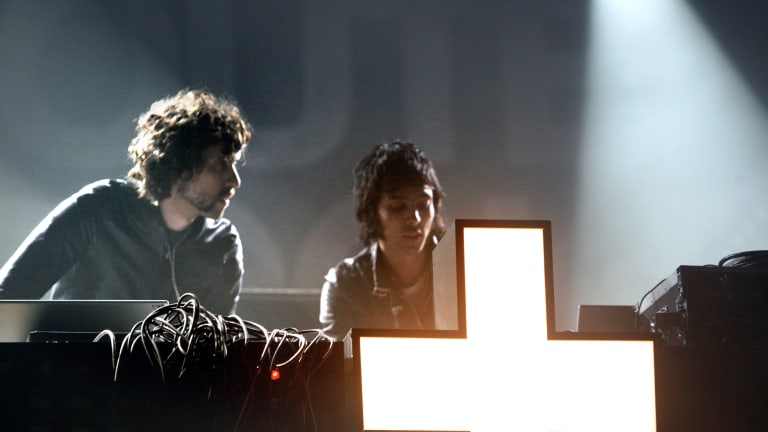 On this Day in EDM History: Justice Release Their Debut Album
How many of you had this album on your MySpace page?
Back in the early-to-mid 2000's, there was a short-lived, yet, fondly remembered era in dance music dominated by a genre called blog house. (or "bloghaus", if you're super trendy.) At the forefront of this movement lived an underground French duo named Justice. 
Despite having no full-length albums under their collective belt, Justice became instant indie rock/dance legends and provided remixes for some of the biggest names in indie rock.  They would even go on to win an MTV Europe Music Award for their track "We Are Your Friends" with Simian.
On June 18th, 2007, they would change the fabric of dance music with the release of their critically-acclaimed, debut album † or Cross or Justice, depending on where you live and the distributor of the album. NME has reported that the band asked music publications to call the album †, but, Amazon refused to do so, resulting in the album having several names. 
The instant you press the play button you're greeted by the first song on the album, "Genesis", which is quite possibly the most epic intro track dance music history. Unfamiliar with the song? Think of it like this: "Genesis" is the dance music equivalent of Darth Vader. It is epic in every sense of the word and overloaded with so much power that the moment it comes on, time seems to stop.
Don't let the description of "Genesis" make you think this album is all business. Tracks like "D.A.N.C.E", "DVNO", and "TThhEe PPaARRtTYY" are instant party starters with addictive hooks. 
The first of these three, "D.A.N.C.E", became an instant radio hit and is still in rotation on many prominent radio stations, over a decade later. Created as a tribute to one of their favorite artists, Michael Jackson, "D.A.N.C.E" has become one of the most iconic songs in dance music. In the years following its release, the track would go on to win high-profile music awards, be featured in video games, be chosen as Rolling Stone's #4 best song of the year, and be sampled on a popular Jay-Z track.
Their infusion of rock and roll, indie rock, and disco with dance music, created the sound of the underground that packed the trendy indie clubs all over the world. Legendary DJ A-Trak spoke about Justice's importance with Fact Magazine and said that:
"For a generation of young punks and drifting indie kids, Justice were basically a gateway drug."
† was only the beginning for Justice. In later years, they would go on to release more full-length albums and remixes, win a Grammy Award, and headline Coachella. 
Listen to † on Spotify below.