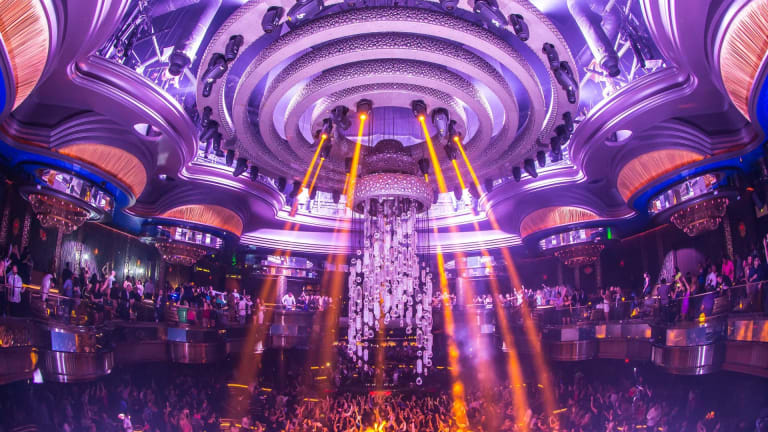 Las Vegas is the Ultimate Place to Be for EDM in 2019
From Electric Daisy Carnival to a legendary lineup of club residencies, Las Vegas is the crown jewel of EDM in North America.
Las Vegas has always attracted big-name music acts and a lot of over-the-top shows, with everyone from Frank Sinatra and Celine Dion to Jennifer Lopez having performed a series of shows (or even multi-year runs) there. In particular, though, it's a city that has a special place in its heart for electronic dance music. While other trends in music have come and gone, EDM has maintained a consistent presence in the city, with recent years having seen superstar DJs like Calvin Harris, Skrillex and Diplo all settling in for residencies at various clubs.
You can point to a number of factors. One is that Las Vegas is simply such an iconic city to perform and party in – but you could say that about any music genre. The other is that, at a time when the nightlife of some cities is shrinking into smaller clubs and late-opening bars, Las Vegas still has some massive venues with the space to get huge crowds moving and showing what they've got. What it mostly comes down to, though, is the fact that the decadent style of EDM culture is a great match for the glitz, glamour and bright lights of this iconic desert city.
Recent EDM Shows That Have Lit Up The City:
Vegas hosted Electric Daisy Carnival (EDC) Las Vegas 2019 and lit up the desert with stunning neon lights, amazing performances, spectacular firework shows, and what basically amounts to the biggest party of the year in a city that's known for throwing legendary parties.
The moment you walk into the venue the energy of the festival hits you, with incredible lights, carnival rides scattered across the grounds, and incredible vendors selling cool stuff. It's the music that counts, though, and there are more stages than you can possibly spend a decent amount of time at across the festival's three days.
The festival spans all corners of the EDM worlds and the 2019 line up included the likes of Excision, Illenium, Skrillex, Nitti Gritti, Bonnie X Clyde, Kayzo, Jamie Jones, Alison Wonderland, Deadmau5, Ghastly, NGHTMRE, Andrew Rayel, FISHER, Eats Everything, Green Velvet, Captain Hook, Paul Oakenfold and David Gravell. It was, in short, epic.
Other Things To Do In Vegas:
Las Vegas is definitely worth a trip for any serious fan of EDM, and it's not going to disappoint during your "downtime" either. There are tons of sights to see in Sin City: from firework displays, shows where you'll actually get to sit down, and, of course, the iconic Las Vegas casinos (if you have the energy).
One reason tourists flock to Vegas from all over the world is to play at the many great casinos. With quality casinos such as the Bellagio, the Venetian and the MGM Grand all across the famous Las Vegas Strip, there are many places to play classic casino games such as blackjack, poker, and roulette.
However, one of the reasons casino revenues are falling in the city is due to the emergence of online casinos, which are able to offer increasingly immersive and engaging versions of these games. If you're visiting Vegas for an EDM show and don't have time to spend hours in a land-based casino, play at a popular online casino and you'll be able to to enjoy your favourite games from the comfort of your hotel room – or if you're on the move, using your mobile device.
More EDM Shows To Look Forward To In 2019:
The EDM calendar doesn't just stop when Electric Daisy Carnival draws to a close, these are some of the best acts that fans should look out for throughout the rest of the year.
Calvin Harris at Hakkasan Nightclub:
Calvin Harris performs almost weekly at Hakkasan Nightclub at the MGM Grand, Omnia at Caesars Palace, or the Wet Republic Ultra Pool at MGM Grand.
Tracks like "We Found Love," "This Is What You Came For," "Summer," "Feel So Close," and "Feels" made and cemented Harris's name, but a lot of fans are expecting the upcoming 2000s XL to be his biggest album yet.
If you want to see Harris, though, don't wait around for too long. In August, he'll be heading over to Ibiza where he'll hold down a residency at Ushuaia for two months. If you want to sneak in a visit before he heads off, keep in mind that wait times can be lengthy, even with tickets, so you'll want to be prepared for that and get a solid plan in place for getting through the doors at the Omnia.
Tiësto at Hakkasan Nightclub & Wet Republic:
Another massive name in the world of EDM, the legendary Dutch artist recently turned 50, and has shown no sign of slowing down. He's a constant presence on lists of the top EDM acts thanks to his blend of vocal trance, downtempo and electro house.
Tiësto is also a resident DJ at Hakkasan and Wet Republic, and has appearances booked all the way through the summer. You know the drill, though – book early!
Skrillex at KAOS Nightclub & Dayclub:
Skrillex might not be in Vegas as regularly as some of the other names we've mentioned, but he certainly didn't just show up for EDC and then disappear until next year. Skrillex maintains a semi-regular schedule at KAOS Nightclub and KAOS Dayclub, and he has shows planned through to the end of September. Bringing in elements of dubstep, electro house, trap and moombahton, his shows are intense and exciting whether the sun is up or down.
Martin Garrix at Hakkasan, Omnia, Wet Republic:
Martin Garrix is another Dutchman regular in the Las Vegas scene. Garrix's blend of big room house, progressive house, as well as Dutch and electro house brought him to the top of DJ Mag's Top 100 DJs list for three years straight, and he's bringing that heat to Hakkasan, Omnia and Wet Republic in August.
Lil Jon at Hakkasan, Omnia, Wet Republic:
Lil Jon regularly hits Hakkasan, Omnia and Wet Republic for lively, kinetic shows full of big beats and spectacle. He's another veteran of the scene, having brought the club-oriented crunk genre to mainstream audiences (not to mention his collaboration with DJ Snake on the massive single "Turn Down for What").
Other Las Vegas EDM Attractions:
There are more amazing venues and resident DJs than we could possibly get to here, so here are some of the best of the rest in handy list form.
Clubs: 1 Oak at Mirage, Drai's Nightclub at the Cromwell, EBC at Night (Surrender), Jewel Nightclub at Aria, Kaos Nightclub at Palms, Lavo at Palazzo, Light at Mandalay Bay, Marquee at Cosmopolitan, Tao at Venetian, XS at Encore.
DJs: 4B, Above & Beyond, Deadmau5, Afrojack, R3hab, Alesso, Armin van Buuren, Benny Benassi, Boombox Cartel, Gryffin, Yellow Claw, Borgeous, Borgore, Burns, Cash Cash, Cheat Codes, Chuckie, Crankdat, Kygo, David Guetta.