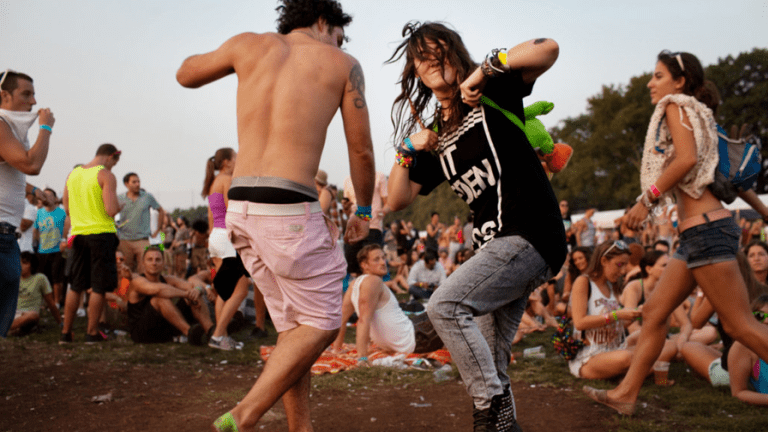 Why You Need to Learn How to Shuffle ASAP
Seeing other EDM fans show off their shuffle moves makes you feel like you are missing out on a lot of fun - but you could be missing out on even more.
Shuffling, or cutting-shapes, has been around since the 1990s, but with the rise of social media, it has reached a whole new level. More and more people are learning how to shuffle. They're discovering the amazing mental and physical health benefits shuffling has to offer, and they're having a blast while doing it.
But why are people making so much noise about a dance move that resembles the 2019 version of the running man? To EDM fans, shuffling is much more than just having a good time. It is an expression, an accomplishment, and a way to improve their mental and physical health.
Shuffling originated in Melbourne, Australia, in the underground rave scene back in the early 1990s. It was here that the dance was deemed the name "The Melbourne Shuffle." Since then it has taken off and become very popular in the mainstream EDM festival scene, practiced by millions of EDM fans all over the world.
Shuffling consists of two basic moves: the shuffle and the stomp. Most beginner shufflers learn to master these two basic moves before moving to more advanced moves. After mastering the basic shuffle moves you can throw in some spins, jumps, and slides and you've got yourself a complete shuffle routine. After that, all you need is some EDM bangers flowing through your speakers to let the fun begin.
Shuffling Music
The Australian underground rave scene that produced shuffling was heavily influenced by techno music, a high-BPM electronic music sub-genre that laid down the perfect beat for shuffle dancers at the time. Since its origin, shuffling has taken to the communities surrounding several new sub-genres of EDM such as electro house and hardstyle.
Typically the more upbeat, repetitive subgenres do better with the dance, although you can perform the moves to any type of EDM. Lately, deep house and bass house have been popular subgenres of EDM to shuffle to. That's the beautiful thing about shuffling: You can choose your favorite music to shuffle to, there's not just one set kind of music.
To get you started with some shuffling tunes, we have created playlists on Spotify and SoundCloud that have the best music to shuffle to. Whether you are a beginner or an advanced shuffler, you will love moving your feet to the tracks in these playlists:
Physical Health Benefits of Shuffling
Dancing to high-tempo music as a type of workout has been around for decades. In the '70s and '80s, Jazzercise was all the rage. Today, a new type of Jazzercise is taking over. This is the new era of shuffle dancing.
Shuffling to your favorite dance music has several physical health benefits. It is a workout that is both fun and effective. Here are a few ways shuffling can benefit your physical health:
- It's a portable, full-body workout you can do anywhere.
- You can burn between 500-1,500 calories an hour.
- It improves hand-eye coordination and reduces clumsiness.
- It tones your legs, calves, and glutes.
- It works your abdominal muscles with twists and turns.
- It strengthens joints and ligaments in your legs.
Mental Health Benefits of Shuffling
Shuffling not only improves your physical health, but also does wonders for your mental health as well. Not many people think of the effects it has on your mental state, but the true benefits are pretty amazing.
Just as any other workout, shuffling releases endorphins to the brain. The longer you shuffle, the more these happy chemicals get released and the more stress and anxiety goes out the window. Here are some of the amazing mental health benefits of shuffling:
- It relieves stress and sends endorphins to your brain (do you ever see a sad shuffler?).
- It improves mental focus and concentration.
- It gives you a great sense of accomplishment after you learn new moves or master the old.
- It boosts your confidence and self-esteem.
- It distracts you from the stresses of everyday life.
- It gives you the courage to get out of your comfort zone and dance at your next festival.
- It makes you feel like you belong (with the shuffler community).
- You enjoy a deeper connection with the music.
- It's a fun activity that fills your life with joy.
To go deeper into the mental health benefits of shuffling, we decided to interview a local DJ from Jacksonville, Florida who goes by Romeo. He is also an avid shuffler who dedicates his music and his dancing to a cause that is bigger than himself. He wants to help people all over the world who are struggling with mental illness, and he believes music and dancing is the key to overcoming these struggles.
Here is what Romeo said about how EDM and shuffling has affected his life in a positive way:
"Some find what I do and what others in this industry do easy. For the most part they aren't wrong, but there's aspects they have no idea about. The countless nights and endless hours on productions and songs, days spent on mastering your craft, and the soreness and pain from practicing each and every dance move. I do it all because it is my escape a place where in the midst of so much destruction in this world I have somewhere I feel safe. With every song dropped and when I'm shuffling each turn and movement takes me to a mental state of pure bliss. I use my platform as a DJ and as a shuffler to share my escape with the world - to be the voice others need and giving those people a reason to smile each and every set. I love my fans and people who follow me they make me happy they give me a reason to keep moving forward."
Below is a video of Romeo shuffling in the front row at one of his favorite artist's shows, SkyHye.
Learn How to Shuffle
Learning how to shuffle sounds like daunting task, but it really isn't! All you have to do is take it slow, and practice, practice, practice. You want to start out by learning the basic "running man" move.
Start with your feet together, toes pointing forward. Lift your right knee up to waist level. As your right foot goes back down, hop and slide your left foot back. Then alternate sides and bring your left knee up. Start out doing this very slowly, over and over. Soon, muscle memory will kick in and you will be doing the running man without even trying.
Once you have mastered the running man move, you can move onto more advanced moves. Here are a few videos that instruct you on how to perform these more advanced shuffle moves.
Kick Side Step:
The T-Step:
The Charleston:
Here are a few tips when getting started:
1. Start slow – learn basics and practice do them slowly, over and over
2. Dance in front of a mirror – it allows you to see what you're doing wrong or right
3. Watch expert shufflers and copy their moves
4. Wear good shoes and socks (or your feet will hurt like hell!)
5. Start with slower BPM tracks such as deep house
6. Make friends with an expert shuffler and practice with them
7. Stay hydrated!
8. DON'T GIVE UP!
Start Shuffling Today!
Learning how to shuffle to your favorite music is more than just having a good time, it is an amazing reliever of negative energy. Shuffling releases stress, anxiety, sad thoughts, tension, negativity. When your feet start moving, its out with the old, in with the new.
This is why shuffling can impact the lives of millions of people around the world in such a positive way. We are always looking for ways to get rid of these negative emotions, but sometimes the simple solution is that you just have to dance it out.
The mental and physical health benefits of shuffling are amazing. You always see a smile on a shuffler's face. You will always see them breaking a sweat. There aren't any two better things to combine than having fun and moving your body! If you believe this statement too, check out BassFit.com, where EDM and Fitness is combined to help people with their mental and physical struggles.
So get out there today and learn how to shuffle! Then you will begin to discover all the amazing health benefits and have fun while doing it.
H/T: LoveToKnow
FOLLOW ROMEO:
Facebook: facebook.com/OfficialRomeo305
Instagram: instagram.com/romeoofficial__
SoundCloud: soundcloud.com/djromeo305