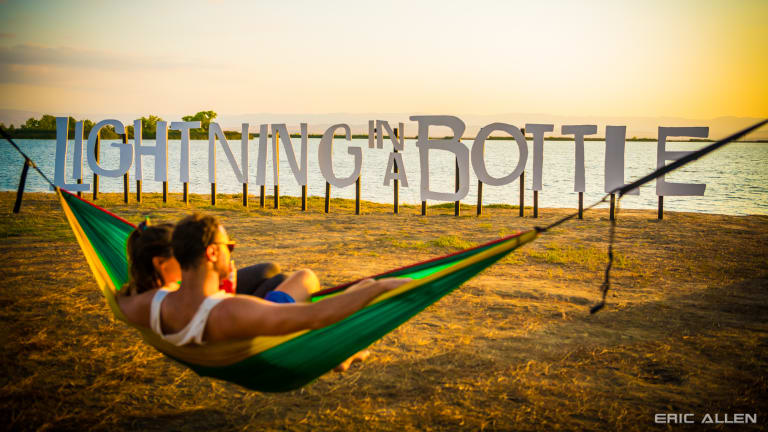 Lose Yourself in 30 Photos of Sheer Psychedelia from Lightning in a Bottle
They say it gets better every year and these photos are the proof.
Headed into this year's Lightning in a Bottle (LIB), most had no idea what to expect. The Bakersfield locals, the Kern County officials - heck even veteran LIB-goers weren't sure what mysteries would unfold at the new venue. 
When the rains came and lightning struck, the event the New York Times once called "the progeny of Burning Man" showed it can put on a spectacle of a show and still take on a storm. With this year's edition of the event now square in the rearview, the future seems like a bright place for the mid-California city and for Do LaB who throw the event each year. 
Even in the new venue, the five-day event remained true to itself while living up to the promise of smaller scale than previous editions. Delivering artists like Disclosure, Flying Lotus and Khruangbin counterbalanced the decision to limit it to a more intimate gathering. More importantly, attracting such artists and their fans to visit a place where such high profile talent is rarely seen also speaks volumes about the trust artists of this caliber put in folks behind the scenes at Do LaB.
In terms of the vibe, the sprawling shores of the lake seemed to never be far away from the dance floor and the music on each stage seemed to gain personality like each was a distant friend with particular tastes, who had come to town for a visit. The Stacks, which was unveiled this year in an EDM.com exclusive, carved a home in the festival landscape to represent those who are particularly partial to drum and bass and psytrance. The fashion, the exquisite landscape, and the educational offerings continue to be a distinguishing part of the splendor that unfolds at the event. Whether you were there to revel in it all or you weren't able to attend because life got in the way, the photos ahead offer a glimpse into the exceptional experiences that make Lightning in a Bottle such a ride.
FOLLOW DO LAB:
Facebook: facebook.com/TheDoLaB/
Twitter: twitter.com/thedolab
Instagram: instagram.com/thedolab
Soundcloud: soundcloud.com/thedolab
FOLLOW LIGHTNING IN A BOTTLE
Facebook: facebook.com/LIBfestival
Twitter: twitter.com/LIBfestival
Instagram: instagram.com/libfestival