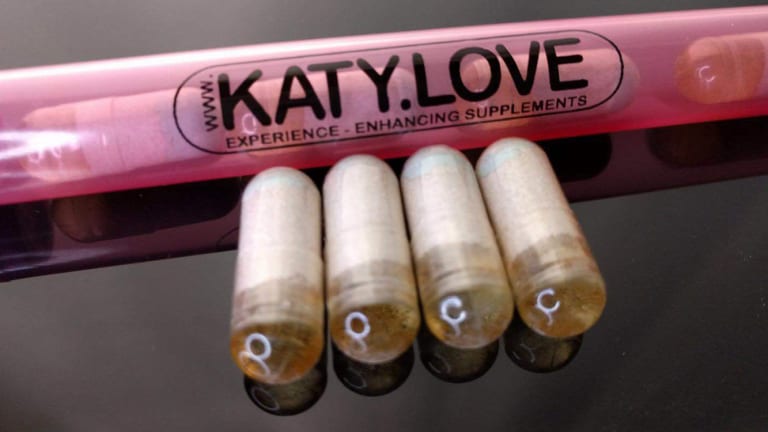 We Tried an All-Natural MDMA Alternative...Here's What Happened
Meet Molly's healthy (and legal) sister, Katy.
As the EDM community continues to struggle with its drug problem, Limitless Life has developed one solution… or so they say. The supplements company has developed a legal, safe and all-natural alternative to MDMA, and they're hoping to change "Where's Molly?" to "Where's Katy?"
Katy is "the world's most powerful, all natural, plant-based experience enhancing supplement." It's dopamine-, serotonin- and GABA-stimulating, but requires no prescription and comes without risk.
Developed by biohacker and entrepreneur Mark Effinger and human potential expert Dolan Ramsay, Katy is 98 percent organic and promises a "euphoric, blissed out, sensory heightened, love-filled experience" all while potentially making you healthier.
What's in it?
Katy is made up of Kava Kava, omniracetam, EGCG, 5-HTP, guarana extract, grape seed extract, theobromine, and curcumin.
These are the same ingredients used for brain-enhancing nutrients (commonly called nootropics), choline donors (used to increase synaptic response), neuro stimulants (used to enhance mental and physical energy) and adaptogens (used to improve nootropic absorption and improve overall wellness).
Giving it a go
So the burning question… does it work? After Limitless Life contacted EDM.com to tell us about their new product Katy, we decided to find out for ourselves.
We've read (and written) about hospitalizations and deaths at electronic dance music festivals this summer and over the years, so a product that has the potential to impact the culture's drug problems definitely had us wondering. On top of this, everyone here at EDM.com is generally very health conscious. To be the workaholics we are, we have to think about our health.
So a group of five team members met at Civic Park in downtown Denver, the home of the EDM.com headquarters.
We were each given a pink tube with four Katy pills inside. Looking at the pill, you can literally see the layers of ingredients.
We popped two Katy pills each.
After walking around the park and downtown, we made our way to a bowling alley where we could enjoy a fun activity before heading to Club Vinyl for some music. About 30 to 40 minutes in, the Katy started to kick in.
The come up
After cracking plenty of "rolling balls" jokes at the bowling alley, we all reported feeling energized and heightened, though we struggled to find the exact stimulants to compare it to - red bull, coffee, a 5-Hour Energy.
The one thing we could all agree on - this was no placebo effect, and we all felt "buzzed." Some of us started to feel a rise in body temperature, feeling a bit warm and clammy. What started as an energy boost started to feel more electric like a light euphoria was setting in. We felt the need to drink water.
The effects came in waves or felt "stacked," if you will. By the time we got to the venue, we were feeling a bit hot and sweaty. If you weren't feeling thirsty by this point, a full-on cottonmouth rolled in. We all felt the need to either chat it up, get our groove on a little and dance or step outside for some cool air.
The come down
Being a weeknight and being the workaholics that we are, we all attempted to turn in somewhat early, leaving the club before 2 am. Little did we know, once we all got home, sleeping wasn't really an option. When we reconvened the next morning, it was clear no one was able to sleep much. Even the morning after, we felt a bit weirdly energized, but by this point, it was more of a zombie wakefulness because we were a tad sleep-deprived.
Conclusions
In general, it was a very positive experience to feel energized and heightened physically and mentally while not having to worry about breaking the law or chemically testing to make sure what we were ingesting was actually safe. There were no moments that were too intense nor any drop-offs or complete crashes. We gave the peace of mind that comes with Katy a 10 out of 10. 4 out of 5 of us said we'd do it again.
Learn more about Katy presented by Limitless Life, to read more positive reviews or order your "weekend experience," "month celebration" or "festival season" pack, head over now - https://limitlesshere.com/products/katy-party
Editor's Note: Katy's safety as a compound has not been evaluated by the FDA or any other independent body. Please consume at your own risk.