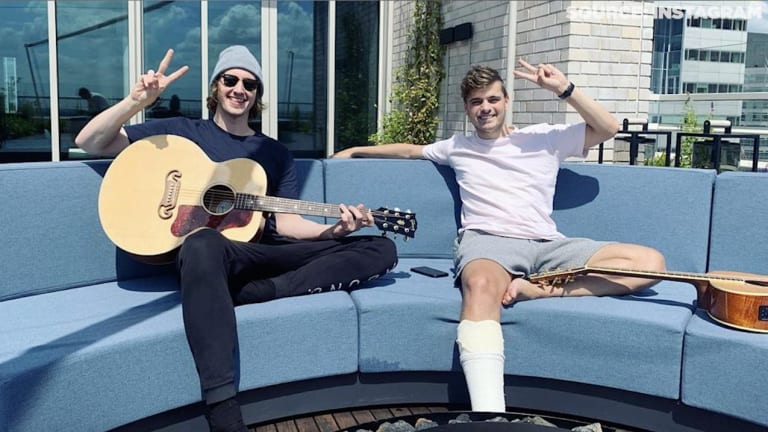 Martin Garrix and Dean Lewis Go Behind the Scenes of "Used To Love"
Martin Garrix and Dean Lewis showed fans how their collaboration came to fruition.
Martin Garrix and Dean Lewis have taken fans behind the scenes of how their hit record "Used To Love" was made. In the latest episode of the Martin Garrix Show, the two hit the studio in Amsterdam to show viewers the process. 
Lewis, both the guitarist and vocalist on the record, started the session by laying down the guitar track. He came off of a rigorous tour and shared the need to "save" his voice for the second day of recording. Martin Garrix (real name Martijn Garritsen) was navigating an injury of his own during the recording process after sustaining an ankle injury during a performance at OMNIA Nightclub in Las Vegas, Nevada.
Despite the minor speed bumps, the two exchanged praises of each other's work and seemed to find natural synergy throughout the process.
The episode gives viewers a true behind-the-scenes look at creative decisions made during the recording process. Seeing footage of artists as proficient as Garritsen and Lewis working together to craft a final product makes the final listen of "Used To Love" all the more satisfying. 
Watch The Martin Garrix Show's Season 4, Episode 4 titled "How We Made 'Used To Love'" to watch their plan unfold.
FOLLOW MARTIN GARRIX:
Facebook: facebook.com/martin.garrix
Twitter: twitter.com/martingarrix
Instagram: instagram.com/martingarrix
SoundCloud: soundcloud.com/martingarrix