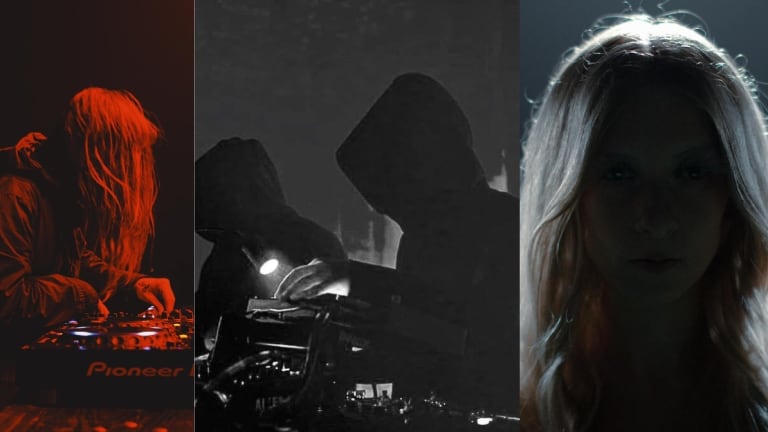 The 6 Most Obscure Artist Names in Electronic Music
From random letters and numbers to strange symbols, we've collected six of the most bizarre names in electronic music.
Electronic music has long been known to step outside the box and produce some of the more unique sounds in the music world. While to fans of Top 40 radio, a standard techno song is considered "strange," fans of electronic music know just how deep this rabbit hole goes. For this list, we picked some of our favorite and most obscure artist names in the electronic music industry. 
SHXCXCHCXSH
The Swedish duo SHXCXCHCXSH decided to not only make their music experimental but their name as well. While their moniker is near impossible to pronounce without practice, the duo are also indistinguishable due to the fact that they wear hooded robes that completely hide their faces. Alongside some strange song titles, they've also released an album titled SsSsSsSsSsSsSsSsSsSsSsSsSsSsSs and have a side project under the alias HSXCHCXCXHS (their name reversed).
⣎⡇ꉺლ༽இ•̛)ྀ◞ ༎ຶ ༽ৣৢ؞ৢ؞ؖ ꉺლ
While the last entry was difficult, yet possible to pronounce, don't ask us how to pronounce Four Tet's side project, ⣎⡇ꉺლ༽இ•̛)ྀ◞ ༎ຶ ༽ৣৢ؞ৢ؞ؖ ꉺლ. More experimental in nature than his main project, the seemingly random string of symbols side project has song names that are just as strange. Luckily for fans of this entry, it's rather easy to just google "Four Tet's side project" and copy and paste the name into Spotify.
999999999
Before you go to say "nine nine nine nine nine nine nine nine nine" to describe this group, be grateful that this Italian acid techno duo has a catchy way to say and remember their name. Sharing the same name as their own record label, "nine times nine" is the way to pronounce the name behind the numerically named duo.   
1788-L 
The enigmatic 1788-L has quickly become a mainstay in the bass music world due to a combination of unique originals and high-profile collaborations. With a name that sounds like it could be that of a star or exoplanet, the anonymous producer has kept fans in the dark over his mysterious origins.  
iamamiwhoami
In 2009, vocalist Jonna Lee and producer Claes Björklund sent fans and music journalists into a spiral of conspiracy theories when they debuted their anomalous audiovisual project, iamamiwhoami. They sent out locks of blonde hair to journalists, posted videos with strange coordinates and semi-disturbing imagery - all with clues hidden throughout. In the end their identities were confirmed, and eventually they went on to release multiple albums and perform live. 
C418
Although you probably won't see this artist grace the main stage at a festival anytime soon, over 180 million people have been exposed to his music. That's because the randomly named C418 is known for creating the soundtrack to the best selling video game of all time, Minecraft. While he is mostly known for his contributions to the video game, he has released multiple downtempo electronic albums on his Bandcamp.
Bonus Mention: Aphex Twin 
While the name Aphex Twin isn't that strange, the way the esoteric artist names his music and side projects is worth including. He has close to a dozen known aliases with most certainly a few that have yet to be discovered. With near indecipherable song titles like "s950tx16wasr10" (earth portal mix)" and "CIRCLONT6A (syrobonkus mix)" fans of Aphex Twin (real name Richard D. James) love trying to figure out the riddles behind his popular works.