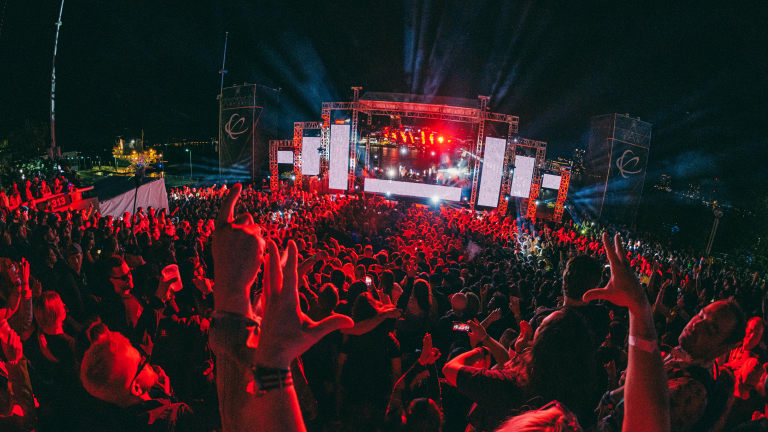 The Sweet Grit and Glory of Movement Festival in 30 Photos
Detroit's annual techno gem just keeps getting better and better.
Not every festival can fulfill on the promise of being a Mecca to techno purists. Even fewer can really pull off the challenge of planting and growing such an event in the downtown heart of a major metro area. Fortunately for Detroit and technophiles far and wide there's Movement Festival, which just wrapped its most successful edition yet. For the sort of folks who go to other events and find themselves enraptured mostly at the peripheral house and techno stage, but don't feel quite at home at the other, often bigger stages, Movement is the kind of event where exploring is familiar and fun, but it's also an adventure for your earholes. 
It's like those who love techno finally have a home in the festival universe. It's not so much a looming FOMO that tingles like a spider-sense indicating there's something even more incredible happening back at that other stage. With just enough room to stretch out and a cavalcade of the freshest and most exceptional talent onstage, Movement reclaims the pride and musical heritage of Detroit, bringing the city honor just by showcasing it in it's truest form. 
More than 100,000 attendees participated in the festivities. If you weren't fortunate enough to be one of them do yourself a favor and feast your eyes on the pure grit and glory of Movement Festival in these thirty photos. You'll either start questioning your life decisions to understand what was so important that it took you away from this weekend of dreams or you'll resolve to hit one of the five undulating dance floors on Memorial Day Weekend in 2020. 
Heck, if you weren't there then you probably owe it to yourself to do both.
FOLLOW MOVEMENT FESTIVAL:
Facebook: facebook.com/movementdetroit
Twitter: twitter.com/MovementDetroit
Instagram: instagram.com/movementdetroit