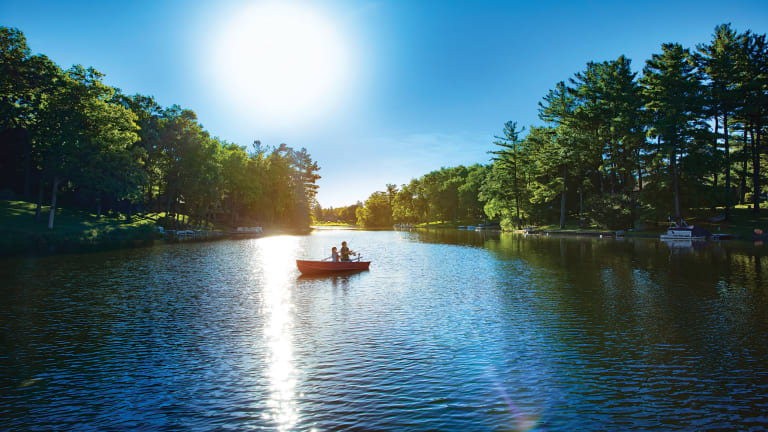 Movement Festival Unites Audiophilia with Adventure in Pure Sounds of Michigan
The Great Lakes State never sounded so good.
In techno lovers' utopia, during this year's edition of Detroit's world-famous Movement Festival, an ambient collaboration by Assemble Sound and Pure Michigan whispered softer songs about another side of the Great Lakes State. The album Pure Sounds of Michigan brings together efforts from Michigan's artists, companies and organizations, but with Movement Festival as a launchpad, the project also offered an audible glimpse of the natural beauty of Michigan to those who would have otherwise only come for the music. According to the team behind the record, the audio recordings used to compose the music are actually engineered by Michigan's finest to lead listeners through the sonic landscape of ten of its many iconic state parks.
"We wanted to give listeners a 'coast-to-coast' Michigan experience, so if you plot of the selected state parks on a map you'll realize that they make a full circle around the circumference of the state, including a trek from East to West and back again in the Upper Peninsula," Garrett Koehler, Co-Founder of Assemble Sound, told EDM.com. "We actually did the field recordings during a two-week camping trip while driving around the state on this route." 
Prior to Movement, you could stream the album in full on Billboard or hear a special showcase on NTS Radio, but by the time the festival was over it landed at #9 in Billboard's New Age chart. That's quite an achievement for an album based on sounds sampled in the wild.
Field recordings were captured by local engineers in Porcupine Mountains State Park, Tahquamenon Falls State Park, Mackinac Island, Petoskey State Park, Tawas Point State Park, Silver Lake State Park, Ludington State Park, South Higgins Lake State Park, Belle Isle and Warren Dunes State Park. Then, Michigan-based composers and producers Blair French and Eddie Logix worked with those and handed them off to musicians to make the tracks. When the work was done there were initially three tracks released from the ten-track album. Those three were "Childhood Memories" by John Beltran, "Forest Trails" by Windy & Carl, and "The Rock (Bridge To A New Day)" by Wajeed, who all unpack a bit about their experience developing the track they worked on in the above video, "The Making of Pure Sounds of Michigan."
"We are excited to be collaborating with Movement Music Festival as we release the full album of Pure Sounds of Michigan," said Dave Lorenz, Vice President of Travel Michigan, in a press release. "This event celebrates music as well as many of our Detroit and Michigan artists, drawing travelers to the city, giving them an opportunity to explore and enjoy all that it has to offer. Pure Sounds of Michigan will offer up a chance to experience the purest sounds of our state, creating a retreat in the middle of this iconic event."
One section backstage was fully dressed and sponsored by Pure Michigan, complete with imagery of national parks, branches from indigenous trees as decor and a flickering projection of the places where the audio samples for the album were captured. It provided water and cover from the rain while serving as an auditory oasis where the Pure Sounds of Michigan album washed away the techno outside with a robust set of speakers.
Of the space, Jason Huvaere of Paxahau (who produce Movement Music Festival) recently said: 
"Movement is committed to showcasing authentic electronic music and providing an experience unlike any other. It is fitting to showcase ambient albums like The Pure Sounds of Michigan to display the incredible artists that created these tracks and the sounds of the state."
"More personally, I know the team behind the festival have a deep appreciation for ambient music, and in many ways it's in the DNA of their organization." Koehler agreed. "Paxahau is also a Michigan-based company whose team is all from Michigan and have spent their lives immersed in the natural surroundings that the songs embody and celebrate. This partnership was really just an opportunity to jointly invite the festival attendees from around the world to come back and experience everything Michigan has to offer beyond our treasured electronic music history."