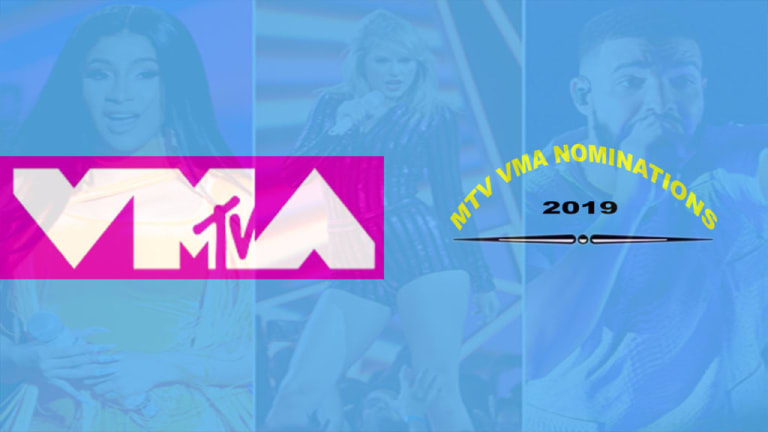 Breaking Down the Best Nominees for the 2019 MTV VMAs
The 2019 MTV VMAs are set to crown this year's most talented artists once more. EDM Nominees include The Chainsmokers, Clean Bandit and DJ Snake.
The upcoming 2019 MTV Video Music Awards is just around the corner, and will once again crown the world's most talented electronic and dance artists. Set to take place on August 26th, 2019 at the Prudential Centre in Newark, this will be the first-ever edition of the famed VMA ceremony to take place in the state of New Jersey.
Sebastian Maniscalco is slated to be hosting the 36th annual ceremony this year, and so far, there are two major artists leading the nominations board. Taylor Swift and Ariana Grande are both at the top, with 10 nominations each, and there are plenty of popular dance nominees jostling for this year's highest spots as well. Billie Eilish is chasing up Swift and Grande with a whopping nine nominations, and just behind her is Lil Nas X with eight, leaving it purely up to talent and fate when it comes to this year's ultimate award winners.
Nominations for the Best Dance Video:
The award for the Best Dance Video celebrates the year's most innovative and eye-catching choreographed dances in music videos. A number of extremely talented artists have hit the nominations board this year, including numerous big names on the EDM scene.
This year's nominees for Best Dance are The Chainsmokers - "Call You Mine" [ft. Bebe Rexha]; Clean Bandit - "Solo" [ft. Demi Lovato]; DJ Snake - "Taki Taki" [ft. Selena Gomez, Ozuna and Cardi B]; David Guetta / Bebe Rexha / J Balvin - "Say My Name"; Marshmello / Bastille - "Happier"; and Silk City / Dua Lipa - "Electricity."
Nominations for Artist of the Year:
This year's nominations in the Artist of the Year category may also be very familiar to EDM industry connoisseurs, as well as those who have a passion for pop. Topping the ranks are Cardi B, Billie Eilish, Ariana Grande, Halsey, the Jonas Brothers, and legendary newcomer to the world of music Shawn Mendes.
Nominations for Song of the Year:
2019 has produced some truly iconic songs, including the likes of Halsey's "Nightmare," The Killers' "Land of the Free," and Jamie N Commons and Skylar Grey's "Runaway Train." With that said, there can only be one winner this year, and considering that the stakes are so high, only the best of the best have made the list.
So far, the songs that listeners have voted as the catchiest songs of 2019 are Drake – "In My Feelings," Ariana Grande – "thank u, next"; Jonas Brothers – "Sucker," and Lady Gaga & Bradley Cooper – "Shallow." Also strong in the runnings are Lil Nas X ft. Billy Ray Cyrus – "Old Town Road (Remix)," and Taylor Swift – "You Need to Calm Down."
Nominations for Best New Artist:
Presented by none other than Taco Bell, this year's nominations in the Best New Artist category are all highly deserving of winning the accolade. Nominees include Ava Max, legendary 17-year-old pop songstress Billie Eilish, H.E.R., Lil Nas X, and Lizzo. Billie Eilish has rocketed to stardom thanks to her grungy track "bad guy," and Lil Nas X's "Old Town Road" is the stuff of legends. However, as for whether they can top equally talented H.E.R., Lizzo and ROSALÍA are still to be seen!
Nominations for Best Collaboration:
Is there anything better than two or more of your favorite EDM and pop artists teaming up to create awesome new music together? We didn't think so either. MTV's Best Collaboration category this year includes hit tracks like Lil Nas X - "Old Town Road (Remix)" [ft. Billy Ray Cyrus] and the iconic Lady Gaga / Bradley Cooper - "Shallow." Also eligible to win this year are Shawn Mendes / Camila Cabello - "Señorita," Taylor Swift - "ME!" [ft. Brendon Urie], Ed Sheeran / Justin Bieber - "I Don't Care," and BTS - "Boy With Luv" [ft. Halsey].
Other Nominees to Watch Out For:
There are a few other choice categories at this year's MTV VMA Awards that have experts and listeners alike bursting with excitement. Keep an eye on the Video for Good category, in which the industry's most charitable artists like Lil Dicky, John Legend and The Killers have appeared. 2019's nominees here include Halsey – "Nightmare"; The Killers – "Land of the Free"; Jamie N Commons, Skylar Grey ft. Gallant – "Runaway Train"; John Legend – "Preach"; Lil Dicky – "Earth" and Taylor Swift – "You Need to Calm Down."
EDM lovers may also be interested in who wins the Best Visual Effects award for obvious, festival-related reasons. Voters have so far selected Billie Eilish – "when the party's over" – Visual Effects by Ryan Ross, Andres Jaramillo; FKA Twigs – "Cellophane" – Visual Effects by Matt Chandler, Fabio Zaveti for Analog and Ariana Grande – "God is a Woman" – Visual Effects by Fabrice Lagayette, Kristina Prilukova & Rebecca Rice for Mathematic to nab the title. 
Tune in on August 26th to see who is crowned the ultimate winner in each category on August 26th from 9:00 PM EST on MTV.