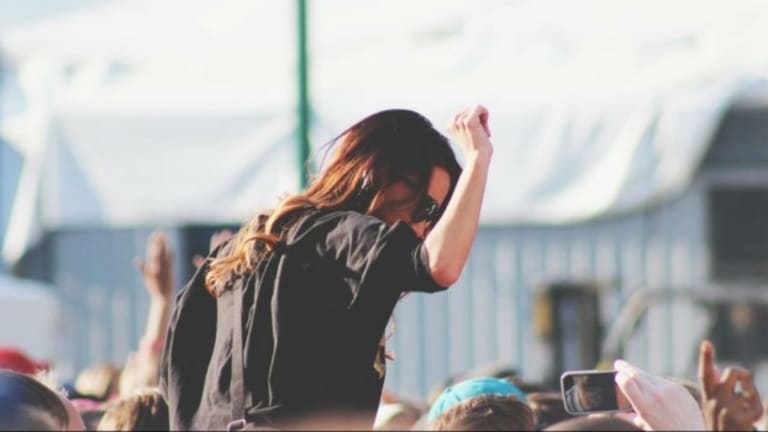 Attending Musical Events Is Good For Your Health
No, we're not making this up.
When you come home from a show, and you can't sleep because you are still buzzing after this musical experience. Or you find yourself thinking about those magical flashes you had at the festival, those that bring a smile to your heart. Life is made of small moments like these. Yes, another Above and Beyond statement that couldn't be more accurate.
These musical experiences, specifically live musical events (i.e., concerts, festivals) are being investigated by scientists to determine their social, psychological, and physiological benefits for their attendees.
Think back to festival or show, which was uniquely memorable to you. Did you remember the DJ's light show? Was it the fireworks? Or perhaps it was the intricate artwork of the stage production. Whichever the details; this pleasant memory is a tool for change.
A group of music researchers found that an intense musical experience is a psychological resource used as a means for self-therapy (1). When participants recalled their musical experience, they used these positive outcomes as a catalyst for change. They remembered the positive feelings that accompanied their music journey, the memory of harmony with the crowd and themselves; all cumulated into a sense of self-confidence, enhanced awareness, and improved their mood. The memory of being in awe while at EDC, or seeing your favorite DJ at a local show; can all be a form of self-therapy. If you have ever attended a show and the DJ has posted the live set, the ability to relive this experience is inexplicable, goosebumps guaranteed. Also reported by this research investigation was these memories gave them a sense of motivation and an inspiration of energy. After attending a festival, attendees like myself often feel a sense of accomplishment, and a desire to not only attend more show (of course) but this new sense of energy and positivity radiates from oneself.
Next, an innovate study conducted by U.K researcher Daisy Fancourt investigated the bodily (physiological) responses in the human body when experiencing a live musical event (2). Participants were tested for the stress hormone cortisol before, during, and after a musical experience. They took 700 saliva samples from concert goers in London, England to see if, throughout the concert, the body had changes hormone responses. Importantly, the concert was a classical music concert thus had a reduced likelihood of attendees being on various substances, dancing in hot weather, and socializing; all of which can alter hormones. This calm and musically active environment produced impressive results. Namely, participants stress hormones reduced gradually from the beginning, middle, and end of the concert. That is, the show reduced the overall stress responses being produced in the body after they experienced a musical experience. It would be interesting to see the results from a more active electronic music concert, I would suppose a similar pattern of reduced stress to occur, but also enhanced feelings of belongingness, and connectivity to others would emerge. Though to my knowledge, other than personal reports or various measures of inclusion, there is no physiological way to gauge the feelings of connectivity to others, the awe of musical skill (Laidback Luke mixing, or Deadmau5 sampling), or even how an intense musical experience feels. Imagine an fMRI brain scan while watching an EDM concert that would hypothetically show real time brain responses in pleasure regions, it may be able to depict what is happening in our minds; but being there and watching the Livestream are of course two entirely different worlds. I digress
A second aspect of experiencing live music is via music therapy, a treatment method employed around the world for various health ailments including dementia, stroke, and autism. In a recent study, attending musical concerts was shown to cause elderly patients with different beneficial outcomes (3). Namely, decreased pain, improved general mood, and higher energy levels. Additionally, follow up interviews with the participants found statements referring to "special moments, connection, and meaning" a benefactor to improve their quality of life; and an echo of what typically younger (i.e., younger than 80 years of age) music festival attendees report for their outcomes after attending these particular events. Special memories, feelings of connection, and attaining a deeper meaning in life. What is important also to note, is that these elderly participants became engaged in the music, as evidenced by clapping, toe-tapping, dancing, and waving hands. A behavior obviously apparent at most musical events, including the uniting "sit down," the Armin Van Buuren Ping Pong Wave, or the general DVBBS and Martin Garrix all out pogo jumping.
Lastly, the social component of music engagement, and how it relates to subjective well-being and general life satisfaction sought in an Australian study (4). Social Wellbeing is the scientific psychological term for the mood 'happiness,' which is active, stable, and consistent over time. 1000 people were phone called and interviewed on this topic. Subjective well-being scores were significantly higher for those who engaged with music via dancing or attending musical events, compared to those who did not engage with music in those forms. Importantly, people who sang or danced in the company of others reporting higher scores on Social Well Being. Thus, this was one of the first studies depicting how attending social musical events (i.e., festivals) can cause your welfare to be higher than those individuals that don't. That buzzing feeling after leaving an event with friends is indeed making yourself feel happier about your general life, and engaging with others including talking, dancing, and singing is showing signs of benefiting your health.
As evidenced here attending live musical events can have a severe, and beneficial effect on your health, promote feelings of inclusion, reduce your levels of stress; and improve your health status. After you leave the music festival feeling happy, unable to sleep, and finding yourself thinking back to these magical nights, remember that these outcomes are a good thing and even a benefit to your health; music truly can be group therapy.