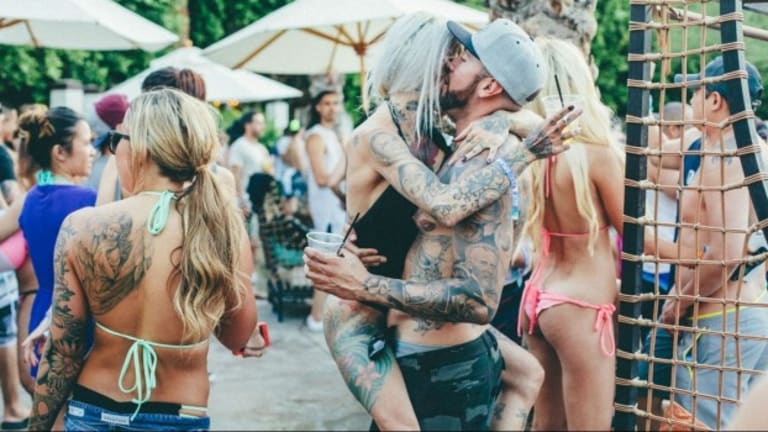 It Was Love at First Drop For These Music Festival Lovebirds
It Was Love at First Drop For These Music Festival Lovebirds
Love is in the air.
Music festivals have become the utopia for love and connection. Many festivals bring in lovely couples from all over the place – unifying their love for music and one another as well as being the perfect opportunities for new love to form. For music fans, there are few experiences as monumental as your favorite music festival with your significant other. We see couples at these events yet never know their stories.
We went around Splash House Music Festival in Palm Springs, CA – asking couples about their history together. We inquired how they met, what their first festival together was, and how long they have been together. These adorable couples crossed paths in unique ways and all share a similar bond with music festivals. Grab your tissues and check out these beautiful dynamic duos.
Meet Tessa & Michael
EDM: How did you guys meet?
Tessa: We met at a nightclub in San Diego.
Michael: We had a mutual friend when I was working that said 'hey I got some girlfriends coming over, one has a crush on you'.
Tessa: That was me! haha
Michael: Then we had a couple tequila shots and started dancing and the rest is history!
Tessa: I took him home.
Michael: Haha, She took me home, she showed me her king sized bed.
Tessa: I said that, 'I said 'Here's my king sized bed'.
EDM: Haha, that's amazing! What was your first festival together?
Tessa: Our first was CRSSD Fest in San Diego 2 years ago, then Coachella and this is our second splash house together.
EDM: And how long have you guys been dating?
Tessa: Almost 2 years
Meet Carly & Kyle
EDM: How did you guys meet?
Carly: We actually met on Tinder!
EDM: Haha! A Tinderella story?
Carly: Haha! Yes! and we've been dating for 2 years now.
EDM: So, swiped right?
Carly: Yes, We swiped right, we went on our first date and then ended up dating other people
EDM: What! You went on a date and then weren't feeling it?
Carly: We got busy with life and started seeing other people
Carly: Then we reconnected and now we have French bulldog and live together
EDM: What was your first festival together?
Carly: Splash House! This is our 3rd one.
Kyle: I told her 3 years ago, 'Hey I'm gonna buy a ticket, do you want to come with?'
Carly: Love by Splash House.
Kyle: And Tinder is good for something.
EDM: Haha, that's absolutely amazing, and how long have you been dating?
Carly: It's been 2 1/2 years
Meet Sara & Travis
EDM: How did you guys meet?
Sara: It was a one night stand in college, I was a freshman he was a sophomore! Haha!
EDM: Haha no way! What college?
Travis: UC Irvine!
Sara: He took me on a date the morning after.
Travis: It was very romantic, I took her to an Ihop.
Sara: I wore his sweater that day, it was great. And the rest is history.
EDM: I love that so much haha. What was your first festival together?
Travis: Together as One in the LA coliseum, Circa 2010, and this is our first Splash House ever.
EDM: And how long have you been dating?
Sara: We've been dating for 9 ½ years now.
Meet Kristin & Zach
EDM: How did you guys meet?
Kristin: It was at Splash House in June 2016. My friend asked me if I wanted to go to a pregame in one of the hotel suites with her and meet her friends.
Zach: She came into my suite where we were pregaming and we immediately started vibing.
Kristin: I saw him DJ'ing at the pregame and thought he was so cute! And he had great taste in music haha
Zach: Since then, she started visiting me in San Diego and then I would visit her in LA.
EDM: What was your first actual festival together?
Kristin: This is our 2nd Splash House together after meeting at the first one
EDM: And how long have you been dating?
Zach: we've been together for about a year.