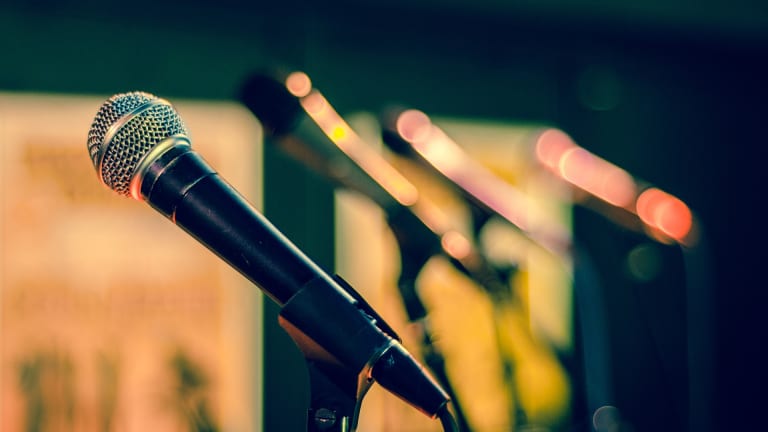 What is Music Licensing and Why is it Important for my Career as an Artist?
Music licensing can be a very fruitful revenue stream for musicians. Here's what you need to know.
Disclaimer: This information is for educational purposes only and is not legal advice. Please seek an attorney for legal advice.
During the last entertainment law feature, we spoke with Davey Jay, an entertainment and intellectual property lawyer at Meehle and Jay Business and Entertainment Law in Orlando, Florida, about trademarks: what they are and why musicians should care. She now comes back to share information about music licensing, including the benefits, different kinds of licensing, and whether or not you should license your music.
Did you know that there are more than 900,000 royalty payments for artists and songwriters? Yes, 900,000! In addition to physical sales, digital downloads, and streaming, licensing your music to films, video games, and TV shows is another excellent method to get your name out there and earn some extra (and deserved) revenue.
Understanding the various licenses
Before you license your music, it's important to understand that there are different types of licenses. Those differing types of licenses come with varying sorts of permissions. "Copyright law grants the owner of the work a set of exclusive rights: public performance, public display, distribution, reproductions, and the creation of derivative works (to modify or make something new based on it [such as a remix])," states Jay. "The music industry has three common licenses: public performance, mechanical, and synchronization.
Public performance: The right to publicly perform a work whether via radio, streaming, in a bar/club/restaurant/store/etc., or a live performance. The station or venue purchases these licenses, not the individual performer.
Mechanical license: Grants permission to create audio-only copies of a work, such as a cover.
Synchronization license: Grants permission to use the work in timed synchronization with a visual element (movies, video games, etc)."
So, for example, if you wanted to use Skrillex's music in your movie, then you'll have to secure a synchronization license because it's a visual element. Additionally, creating a remix of a Kygo track and sharing it on SoundCloud would require a mechanical license. In both of those instances, you would also need to secure a license from the record label for the right to use the sound recording, which is a separate copyright from the musical work (the lyrics and composition).
"But everybody does remixes without licenses." Yes, and people speed, too, but that doesn't make it legal.
Getting acquainted with performing rights organizations (PROs)
The most vital step a songwriter can do for their career is become affiliated with a performing rights organization. A PRO is an organization that will collect royalties for songwriters for public performances, such as in restaurants, bars, stores, gyms, clubs, radio, television, and streaming services. Note that songwriters are not the same as artists. In the United States, the main three PROs are BMI, ASCAP, and SESAC, with SESAC being more exclusive and requiring an invite.
"PROs perform an important function because you could never, as an individual, license and collect fees for every public performance of your song," states Jay. "Also, this is where metadata really comes into play. If you don't have the correct codes embedded, your plays won't be tracked properly and you'll miss out on revenue."
No organization is better than the other. "It's a Coke or Pepsi question," says Jay. It just comes down to what works best for you. There may, however, be some deciding factors, such as ASCAP's "I Create Music" expo.
To get a comprehensive comparison between ASCAP, BMI, and SESAC, check out Digital Music News' article.
Knowing when to license your music
Knowing when the best time to license out your music can be tricky. You're excited to have your pieces featured in the next Mercedes advertisement or Apple commercial. While it's totally up to you as to when you should consider licensing your music, there're a few things to keep in mind. "You'll want to have a regular version, radio edit (if applicable), and an instrumental version, and all of them need to be 'technically satisfactory,'" says Jay. "[This means] that the audio should be mixed and mastered within professional guidelines. You're best off using a professional mastering engineer to ensure that your track doesn't just meet those guidelines, but also contains all of the necessary metadata. It's that metadata that allows your song plays to be tracked so that you get paid accurately."
The metadata can be very tricky to get right, but it usually includes your artist name, composer, lyricist, songwriters, studio musicians (if any), and ISRC and ISWC codes among other information. If you're unsure of what this information is, it's best to leave it to the mastering engineer.
Digital distributors like CDBaby, TuneCore, and DistroKid can license their artists' music; however, these companies don't handle public performance licensing. Public performance licensing requires a PRO.
The cost of music licensing
It varies greatly. Every project is different and has disparate terms, conditions, and requirements. In most cases, an upfront fee is charged for the use of one's music. The attractive part with sync licenses is that the songwriters can essentially double-dip. It generates the upfront fee and the songwriters will collect public performance royalties from their PRO on the back end.
"For example, the producers of the TV show Cops paid $2,500 as a sync fee for Inner Circle's song, 'Bad Boys,'" states Jay. "The performance royalties generated from that placement are easily in the millions of dollars (if not tens of millions by now). So, sync licenses are the gifts that keep on giving."
Smaller projects, such as wedding videos or indie films, fall under the category of a "micro license." They often include lesser-known artists as well. A micro license has a much smaller upfront fee and may or may not generate millions of dollars in PRO royalties on the back end. Companies like Jingle Punks and Pump Audio work with unsigned artists on micro-licensing their music.
Exclusive vs. non-exclusive licenses
Any of the aforementioned licenses can be either exclusive or non-exclusive. Similar to the different types of licenses (mechanical and sync), each one has varying permissions and stipulations. "An exclusive license must be in writing and stops that copyright owner from licensing that song to anyone else during the term of the license and in the territory covered by the license," states Jay. "Because they cut off additional streams of revenue, these are generally more expensive than non-exclusive licenses."
When you "buy a beat" online, you're purchasing a non-exclusive license. So, you may have an excellent new song with an amazing beat. But hundreds or thousands of other people may also have the same beat.
If you want a beat entirely to yourself, be prepared to 1) spend a good chunk of money and 2) get the agreement/license in writing.
Pros and cons of music licensing
There are pros and cons with everything in the music industry. There are pros and cons for record label contracts, management deals, touring contracts, and everything in-between. Music licensing pros are "increased exposure and, of course, money!" states Jay. "A licensing deal can be bad for any number of reasons (such as the payment amount and terms, format, territory, media, duration, etc.), but keep in mind that no one deal is right for every person or song." Far too many people substitute a verbal or poorly written confirmation for a comprehensive contract. If you're serious about your music and the project--and are working with potentially a lot of money--then you should certainly get a contract that lays out exactly how your music is used, such as the payment amount and terms, format, territory, media, and duration. Do it right the first time and don't get screwed.
"One of the biggest problems I have seen is when people draft their own licenses they leave a LOT of very important information out, which means it can be hard to enforce later or you inadvertently gave up more of your rights than you thought you were," adds Jay.
Liabilities
In my and Davey's previous article on the top five copyright misconceptions, we talked about the liabilities in music. If you write a song with ten other people and one of them uses a copyrighted sample, melody, hook, riff, etc, all ten of you are liable and susceptible to the repercussions that come with that infringement.
This same idea applies to licensing your music. "If you license your song for use in a movie, for example, and the filmmaker gets sued because of your song, not only will you be a defendant in that lawsuit, but it's very likely that the licensing agreement will require that you pay the filmmaker back for all costs and expenses they incur as a result, such as a settlement amount, court-ordered damages, and the filmmaker's attorneys' fees," states Jay.
Parting information
Music licensing can be a very fruitful avenue of revenue for musicians. For most, it's one they often get into when they're confident in their sound and careers. There are stipulations and guidelines, as highlighted throughout the article, that should be followed and researched. However, with a continuing stream of information for music licensing and by educating yourself, you can easily set yourself up for a comfortable retirement through music licensing if you go about it correctly.