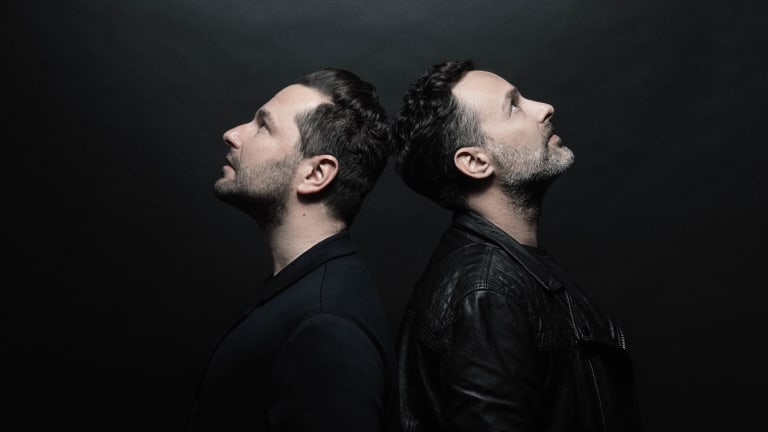 My Favorite Robot Records Celebrates 10 Years With Tracks That Shaped the Label
Ahead of their spring tour, we caught up with My Favorite Robot to discuss 10 tracks that helped shaped the last 10 years of My Favorite Robot Records.
My Favorite Robot's Jared Simms and Voytek Korab wear a lot of hats. 
Apart from being DJs that have traveled the world bringing their playa-approved beats to fans near and far, Simms and Korab also head the A&R for their label, My Favorite Robot Records. Celebrating its 10th year – which is no small feat – the duo has decided to take the show on the road for a label showcase tour this spring.
Ten years ago, no one would have guessed that the Canadian duo would someday celebrate the label's decade anniversary, including Korab himself:
"It still amazes me everyday that something we started without any grand expectations became such a globally respected brand and took us on such an amazing adventure in life. Very grateful to everyone involved in the last 10 years. Here's to the next 10!"
Kicking off a string of North American dates tomorrow at San Francisco's Great Northern, we caught up with My Favorite Robot to discuss 10 tracks that helped to shape the label to become one of the most influential catalogs in underground electronic music.
Check out what Jared and Voytek had to say about their favorite releases on My Favorite Robot Records below.
1. My Favorite Robot and Jonny White– 'Desensitize' – Chloe Remix
This was the first time our good friend Chloe appeared on the label and absolutely killed it with this remix of our collaboration with Jonny White of Art Department. We still play this tune pretty frequently and it never fails.
2. Sid Le Rock – 'Foreign Love'
Just a beauty of a track by Label mainstay Sid Le Rock taken off his 'Busted With a Bag of Bliss' full-length album. Simply timeless and perfect for those nostalgic moments.
3. Tim Paris – 'Extreme Nails'
Taken from Tim's full length album 'Dancers' it's one of the best tracks on the label from 2013. We played this one to death and it's still a go-to track for those special moments.
4. Flowers and Sea Creatures feat. Wrong Jeremy – 'The Very Next Day' – Adriatique Remix
Adriatique absolutely nailed this remix which was played by just about everyone and was a smash for the label. Adriatique took an already great original and showed us why they are one of the most renowned names in electronic music today.
5. Timo Maas – 'Watching The Robots'
A first appearance on the label from one of the greats in electronic music. A quirky number that rocks the floor in typical Timo Maas style.
6. My Favorite Robot – 'Wakinda Park' – Art Department Remix
Basically a classic now, this remix was a smash by our good friends Kenny Glasgow and Jonny White.
7. Jori Hulkkonen – 'Last Cut Is The Deepest'
From his amazing, Oh But I Am album, this is one of many amazing tracks from one of the best music producers around. We're very honored to have him as a regular on the label and his body of work speaks for itself.
8. Kenny Glasgow – 'Imagine a World' feat. Shanira G – H.O.S.H Remix
Kenny's been with us since our beginnings and it was a great pleasure to welcome him back to the label and have his original remixed by the always groovy H.O.S.H of Diynamic and Fryhide Records fame.
9. Fairmont – 'Carthage'
Also a regular on the label, Fairmont's music has been some of our favorites that we have had the pleasure to release. This recent outing is a proper return to the dancefloor for an artist who never ceases to surprise.
10. Slok – 'Lonely Child'
One of the best sellers from our whole catalog, this is one of those tracks that really takes you back when you hear it. Insanely catchy and a killer on the dancefloor to this day.