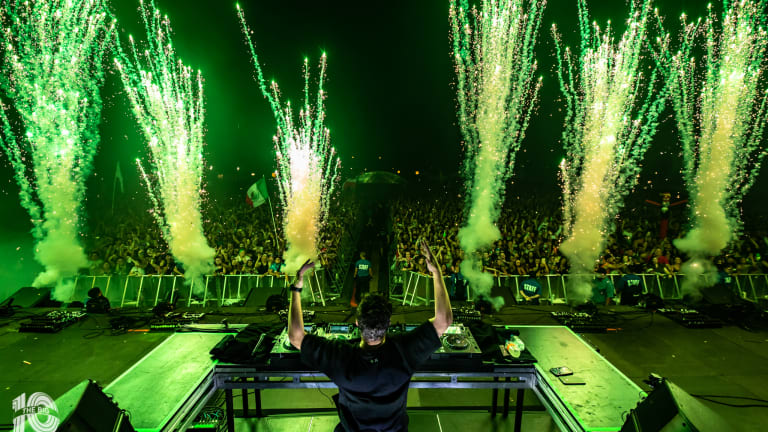 My First Festival Ever, and I Mean EVER
Yeah, I know, I'm a little late to the whole festival party.
Being able to go to Electric Zoo was kind of one of those things I did on a whim. See, I don't really like the crazy concert crowds with the occasional drunk spilling beer all over you, bulldozers plowing into you because their "friends are up at the front" and the few pervs who are all up in your business because you don't look like you're enjoying the show the way they think you should. Don't get me wrong though, I love concerts. I've seen over a hundred bands and music artists, but I mostly like being behind the scenes. I'm a filmmaker and photographer, I can't help it. 
So why in the hell did someone like me sign up for Electric Zoo? Your guess is as good as mine.
A week before EZoo, I got an email about my media pass being approved and I laughed out loud. Literally hysterical because, "Oh shit, this is really happening." For some strange reason, I thought for a second it wouldn't pan out, but it did and I was going to my first festival ever...with those overwhelmingly massive crowds…
And I thought, "What have I done?"
Okay, so I'm totally being overdramatic here, but I was still just as anxious about going and kind of dreading the "adventurous" commute to and from Randall's Island -which didn't turn out to be so bad because I ended up being lazy and taking an Uber. 
Getting back to the story...the week dwindled down and the weekend was finally among us...EZoo here we go! After talking with my fellow New York writers and editor all week about the festival and getting some reassurance from them, I marched right onto the festival grounds with my newfound confidence and headed straight for the main stage. On that first walk through EZoo, I saw why festivals are a big deal and just so enticing to go to.
Now I'm going to be a little geeky here with this description, but I found that music festivals are like comic cons for music. You had your fives stages, a plethora of music artists you could see at different times (some playing new unreleased music) and people dressed up in all kinds of rave wear and outfits. It's a no brainer that it'd be a dream for any huge music fan, especially when their favorite music artists were there. 
It was like... hell, it was a whole other world! And thanks to EDM.com I got to experience it not only as a festival goer, but also as media - which to my relief meant that I didn't have to stand in those huge and cramped crowds for a great view of all the action. 
So there's no doubt where I spent most of my time at EZoo: the Main Stage media area. San Holo, Jauz, Porter Robinson, Marshmello, Alesso and Tiësto (well, minus Tiësto because they booted media from the area)...I got to see such spectacular performances in the comfort and roominess of this one godsend. Photos and video don't do it justice, either, no matter how great your camera and lenses are. Seeing trippy and super colorful graphics on these giant screens in combination with the lights, lasers, fireworks, pyrotechnics and booming music, there's just nothing like it (well yeah, Disney World/Land, but they're theme parks so that doesn't count). Let's just say, it's something you definitely have to see in person. 
Of course the Main Stage was the "main" attraction for me, but that didn't mean I didn't go roaming around either. Before I went to see the Main Stage acts, I sampled the other stages. It was kind of like going to a mall's food court and figuring out what food you're in the mood for. It was pretty fun hopping from one to the other and listening to something completely different and experiencing a whole new crowd. Like on the last day, I went from dubstep to house and then progressive house to trap and bass. You just got a taste of everything, which was a totally new and refreshing experience for me.
And before I knew it, my first festival experience came to an end and we all had to return to our world of work and, well yeah, work. But it wasn't at all as bad as I thought it'd be, nothing world shattering. That being said, I'm not too sure how I'd handle the crowds if I wasn't part of the media. So would I go again?
Most definitely.