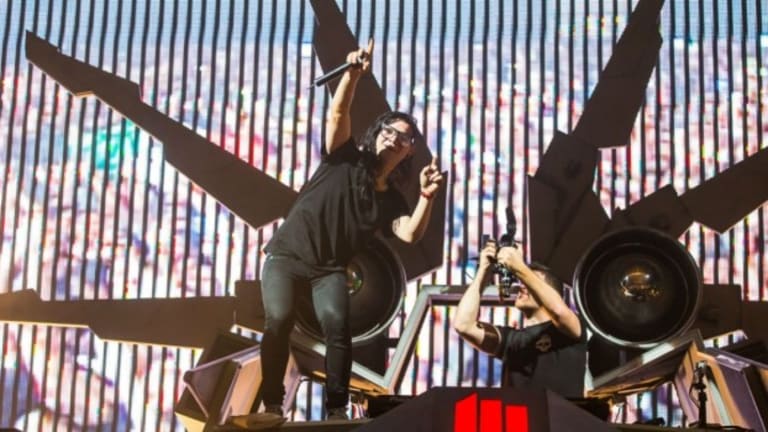 On This Day in Dance Music, Skrillex's First EP Turns 7
Help us wish 'My Name is Skrillex' a happy 7th Birthday!
Exactly seven years ago today, one of the most influential EDM albums of all time was released. An artist named Sonny Moore, released an EP called My Name is Skrillex, and inadvertently changed electronic dance music, forever. With just six tracks and no more than a half hour of music, Sonny Moore transformed from an emo band's frontman into the undisputed king of EDM with eight Grammy Awards under his belt. This album was not just great music, but it was a message from Moore telling us that "My Name is Skrillex, and I'm in charge now".

Feel old yet? You should, because if this album was a child it would already be in second grade. There is no denying Skrillex's impact on dance music. Without his rise to success, we would not have a lot of our favorite artists. Over the years he has become a music, fashion, and business icon, and shows no sign of stopping. Besides making some of the biggest songs in the world, he has signed some of our favorite artists to his immensely-popular record label, OWSLA.
Released on his MySpace page (you should definitely feel old now), Skrillex offered all six songs for free, and since then he has re-uploaded the album to his other social media accounts for free listening as well. This album was many people's first taste of dance music, including some of our staff here at EDM.com, and we felt the need to honor its seventh birthday with a look at the EP that started a revolution.
My Name is Skrillex
Serving as an introduction to the dance music world, the title track "My Name is Skrillex" is the first time Sonny Moore used the name "Skrillex" for his music. This track became an instant hit in many DJs sets, and is still played frequently to this day. Featuring some of his signature choppy-vocals and viral video samples, this track gave us a taste of the pure insanity he would go on to release for years to come.
WEEKENDS!!! Ft. Sirah
This track is the perfect example of the energy Skrillex brings to the table. Featuring some catchy vocals from frequent collaborator Sirah, Skrillex created another instant dancefloor classic. You may be thinking, "didn't it just say the first song was an instant classic?" The answer is yes, this is Skrillex we're talking about, pretty much everything he makes is a classic.
Fucking Die 1 + Fucking Die 2 (€€ Cooper Mix)
You know, when most people tell me to "eat shit and fucking die" I'm usually not to happy, but when thousands of people at a Skrillex show yell it, I get pretty psyched. Both of these tracks are great glimpses into the future of Skrillex's music, particularly his Scary Monsters and Nice Sprites EP. With the choppy-vocals and a long build-up into heavy, yet surprisingly danceable sound, this is the formula that made Skrillex so popular with our bass lovers.
Do Da Oliphant
It's very hard to accurately describe this track. Including more of Skrillex's famous unintelligible vocals, Do Da Oliphant captures the sheer chaos that we've come to expect from a Skrillex track. Just look at songs like "Purple Lamborghini" , "Chicken Soup", and this one, and try to explain how someone can make songs that sound so drastically different, yet you still know exactly who made them.
With You, Friends
It is truly amazing how someone can use completely unintelligible words to create a song that makes you feel real emotions. Besides creating a bittersweet goodbye, Skrillex lays down some insane keys and flexes his talent. The closing track on this EP combines elements from all the previous tracks and mixes them together in a beautifully structured composition that serves as a fitting end to such an iconic EP.