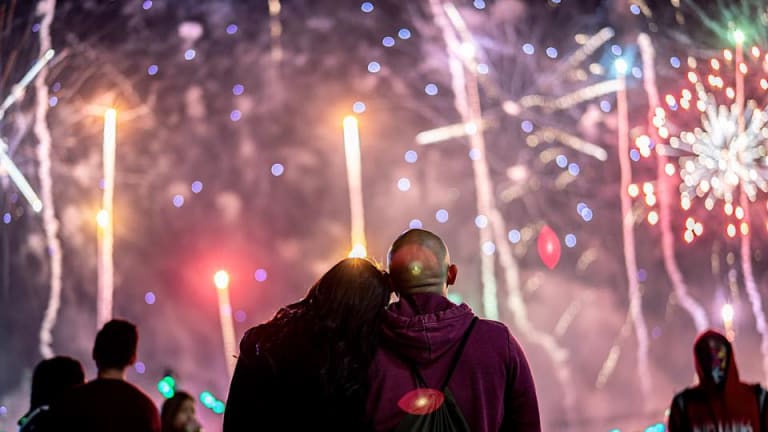 A Night Owl's First Electric Sky Experience at EDC Las Vegas 2019
Electric Daisy Carnival celebrates its 23rd Anniversary in Las Vegas.
Electric Daisy Carnival (EDC) are three words that carry substantial meaning in the dance music community due to the size of the festival and how many people attend it annually. Not only does Las Vegas host the largest dance music event in America, but EDC has now expanded internationally to India, Korea, Mexico, China, Japan, and many other countries making it a global brand.
EDC Las Vegas broke the record by uniting over 450,000 headliners under the electric sky for their 2019 installment on May 17th-19th at the Las Vegas Motor Speedway. Several months of planning go into creating the perfect utopia full of blissful, euphoric magic, and fun. It has been several days since headliners said their goodbyes to the electric sky, but quite frankly the memories are still as fresh as a daisy. 
Arriving into Las Vegas during EDC week is almost as magical as walking through the tunnel into the Motor Speedway for your first time. Unlike other cities, Las Vegas is truly welcoming to festivalgoers. There are posters and banners all over the airport and on The Strip saying "Welcome All Headliners" along with other positive messages. The mood for the festival becomes clear once you touchdown on that runway.
Camp EDC recently just turned two this year as its freshman year was in 2018. In hopes of lessening the roads of traffic, Insomniac Events introduced the attraction. Headliners expressed complaints and issues with the camp - and Pasquale Rotella, the founder of Insomniac, clearly listened. According to the past campers, Camp EDC saw a considerable makeover with more room for activities and better utilities such as hot showers and cleaner bathrooms. Check-ins for the festivals ran more smoothly and a lot faster, so thank you always listening to your fans and wanting to better than experience each year.
The Mesa is the heart of Camp EDC full of vendors, a merch store, food, pools and rides. Of course, it is also where the legendary EDC pre-party and pool parties take place (only those who camp have access to these events). 
Camp EDC is a beautiful place full of genuine humans. I never met so many kind-hearted individuals that got me so excited for my first day of EDC. It was so comforting knowing that each new person I talked to was sharing tips and advice for this music festival because, ladies and gentlemen, this music festival is no joke. It is like a marathon, and if you don't prepare for it properly than you miss out. I was told to make sure to get as much rest as possible, drink water every chance I get, and keep off my feet whenever possible. 
In my opinion, it makes you feel like you are going to camp as a kid with the possibilities of so much more as an adult.
Electric Daisy Carnival is a dance music festival where you will face many challenges and grow from them. Attending a music festival that goes from dusk to dawn three days in a row is tough. Especially since your sleep pattern gets altered because, initially, you will be sleeping during the day and then dancing all night until the sun rises. Pro tip for campers: a friend advised me to purchase ear plugs and an eye mask for the camp since a majority of the sleeping will be during the day, and this was a significant life saver. 
Another good friend of mine shared her two cents right before the festival. She said that on the first night of EDC to put my phone away and to experience it all through my eyes and not a phone lens. Walking into EDC and watching the first firework show and not having to worry about filming it were experiences I truly will never forget. Those were moments that took my breath away and left me in awe. The Motor Speedway had me at a lost for words because we were not just walking into a music festival, we were taking a stroll through Rotella's vision. 
After all, he clearly dedicates his heart and his soul to this production. Even when we were walking back to the RV late Thursday night around 2:30 AM, lights inside the stadium were still being tested and knowing that he was still hard at work to perfect what he had planned for everyone the night before opening day gave me chills up and down my body. Walking into those festival grounds is a memory you will never forget - I promise you that. Trying to find the words to explain what I endured is difficult because of how gorgeous and artistic the festival is.
The concept of having a stage for each subgenre of dance music is brilliant and effective. Hands down, the production and sound system are by far the best I have ever experienced. I am, however, someone who deals with terrible social anxiety, and the number of people and bodies packed into the venue was the first challenge I had to overcome. Now I understand this is one the world's largest music festivals, so the crowds are expected to be significant. That being said, I believe EDC would flourish even more if it had fewer people. 
Other than the crowds, EDC Las Vegas was flawless. For the first time, I did not peek at any of the stages or festival grounds upon entering, and this enhanced the magic anymore. Each stage was jaw-dropping, elegant, and unique. Walking past each one and picking up that energy while navigating through the festival charges you up. There are several moments where you will be at one stage and catch yourself just looking back behind you to see the magic of EDC. Pro tip: one of the best viewpoints from the festival is in the bleachers that sit over cosmicMEADOW. Make sure to catch the firework show at least once here during the weekend. 
The festival offers so much more than just music. As far as the music is concerned, though, a festival as big as EDC Las Vegas is bound to have time conflicts. Day one is where I tried splitting sets, and this become difficult and exhausting battling the crowds and distance between some stages. I later learned that I became less anxious and happier when I would dedicate myself to one stage for a while to soak up the vibes and take in the art. For me, the stage where I felt the most energy was circuitGROUNDS, hands down. 
The stage was full of LED panels that engulfed all the guests together. An entirely open structure made it easy for guests to approach and exit. The stage did get overly packed, however - especially during Skrillex's set - so the removal of the Pixel Forest could have helped matters. 
ARMNHMR took guests on the ultimate feels trip. NITTI GRITTI held no prisoners during his set on this stage too. The circuitGROUNDS was a force not to be reckoned with and by far my favorite stage. The brand new quantumVALLEY open-air megastructure stage was beyond gorgeous as well. 
EDC Las Vegas offered its guests the best new music any festival has to offer. Surprise guest appearances, killer back-to-back sets, and an overload of art car performances with artists who dedicate sets to genres that aren't typically their norm filled the electric sky. Every artist played their heart out no matter the stage or time slot. If Pasquale Rotella invites you to play this festival than you better deliver - and boy did every artist I saw do that and so much more.
For once in my festival history, the majority of my time was spent not at the main stage. EDC Las Vegas encourages headliners to step outside their comfort zone and to venture off to new areas. At this point of the festival is where the second challenge of the weekend came to play. Trying to dedicate time seeing new artists and branching out and EDC Las Vegas is the perfect place to do that. The discoveries of the weekend included i_o, 13, Loud Luxury, Andrew Bayer, Zhu, A$AP Rocky, Gareth Emery, RL Grime, Ducky and CamelPhat. 
The fear of missing out on an outstanding set by your favorite artist at the largest dance music festival in America haunts you over the weekend. Mind over matter comes into play when overcoming this obstacle and know it is worth every second to see a new artist that you have been finally trying to, and for me, that was Gareth Emery. One of the happiest moments of my life was just being tranced out at the circuitGROUNDS to his 10-minute sneak peek Laserface performance. I even decided to pass up the opportunity to watch Tritonal, my favorite DJs, play the main stage on the last day to witness a CamelPhat set at the newly redesigned cosmicMEADOW. There is so little time you have under the electric sky, and that is why you must make every second count. 
Hands down, I firmly believe that I heard better music and sets than Ultra Music Festival along with way more artists bringing other artists out on stage. Not only that, but Skrillex played a surprise set at the circuitGROUNDS. He is showing the world that even the king of dubstep can also evolve his sound and letting the world know he is back. EDC Las Vegas keeps their word when it says "surprise guest" on their schedule and its comforting to know an unexpected experience can pop up at any given time during the festival. 
The third challenge of EDC Las Vegas that guests will need to overcome is the weather. The festival takes place in the middle of a desert. One must come prepared for this. I learned my lesson after TomorrowWorld in 2015 when a storm had the festival drowning in mud and water. EDC Las Vegas used to be in June, but the high in temperatures had Insomniac reconsider to move the festival before summer.
On the second day of the festival, a couple of the stages and parts of the festival had to be shut down due to high winds although the way they informed the crowd about the stage closure was a tad misleading. During the last ten minutes of Tiësto's set, the audio quickly shut off and a message came on the big screen of the main stage. The first message read that the guests needed to evacuate the festival. Then, a new message showed up on the screen about 10 minutes after saying that it was only this stage was shut down. However, the people who listened and were following the protocol already got on a shuttle or in an Uber or Lyft to go home soon found out moments later the whole festival was not shut down.
Insomniac did release a notification on social media and through the app that if people were having difficulty getting back in to show them the messages, but there is no cell service inside that speedway. It was a mess, and I don't blame anyone because one cannot control nature and safety always comes first, but the procedures and protocols for this could have been handled better in my opinion. Remember, people are paying top dollar for this festival. Down below is a screenshot of the notifications (pay attention to the time stamps).
Day three of the festival is where the last two challenges of the weekend took place. The first challenge was tiredness and exhaustion. Keep in mind if you do Camp EDC your journey under the electric sky starts on Thursday. It was a good thing I listened to everyone who gave me advice and always made sure I made it back to camp to get sleep and rest my body. Making sure you stay hydrated and eat meals each day is the key to success and surviving. Remember - its a marathon, not a sprint. 
The final challenge was accepting and loving myself. Upon entering the tunnel to walk into the festival one last time a group of entertainers came over all dressed up as news anchors and called themselves #wideawake6. They approached our whole squad and interviewed us. The energy was hype, and it made us feel special. At the end of the interview, they asked us to roll the dice. The dice then landed on a dare, and they dared for two of our squad members to kiss on the lips. The whole group paused and then looked over at my boyfriend and me.
The butterflies that I had leading up to the festival immediately reentered my body again because these people had a camera and so many people were watching. I could even feel the bottomless pit feeling from my partner as he was nervous, too. This kiss would be the most prominent open kiss we would have done in public to date. Our group started cheering us on, and then something came over me, and I leaned in, grabbed my partner's head, and kissed him. Everyone around us, including other groups, cheered for us and at that moment the true meaning of the festival clicked. 
Pasquale Rotella and the Insomniac family did create a perfect utopia truly where "All Are Welcome Here." In no way, shape or form am I pushing an agenda here with this experience about the kiss, but this was a massive step for accepting not only who I am as a person but recognizing the good in the world and people. In today's society, humans are going through enough shit that will tear you down more so much than ever before, thanks to social media. It is comforting to know that there is an underground rave city that exists where you can go to and escape those problems. 
Before attending Electric Daisy Carnival, I gave up on my dreams of working in the music industry. It was a goal that I have dedicated over seven years of my life to achieve. My mental health was plunging, and it felt like I was drowning; at times I even considered taking my own life. EDC Las Vegas inspired me because I got to listen to the success of so many and hear from so many strangers and artists about what they have been going through. I even grew the courage to be by myself for a little bit, something I haven't done in ages. We forget that we, as humans, can be there for one another and help out each other. Thanks to EDC Las Vegas, I now have a spark igniting in my soul again to write - and it's been months since I have had that. 
The final verdict is Camp EDC was the best decision I made along with agreeing to attend the festival with a group of people that I barely knew. Saying goodbye to the electric sky has been challenging, but it has also been rewarding. I have now been able to share my story, my experiences, and advice to other future first time EDC Las Vegas festivalgoers. I believe that as ravers, when we grow older it is our responsibility to share the knowledge of what we learned under the electric sky and apply it to others around us. Just like Insomniac says, "bring this joy with you back out in the world."
There is so much I left out because that is another defining atrribute of EDC. You aren't going to be able to see and do everything, but that is why there is always next year. It is okay to change it up and challenge yourself to new things because you will never know what is out there unless you explore. I believe and challenge Rotella to complete EDC Las Vegas as a general admission headliner for a full weekend (if he can without getting noticed) and see what it is like from that perspective. I think that might give him some inspiration. 
EDC Las Vegas without a doubt has the friendliest staff out of any music festival I have attended from the campgrounds to inside the festival. The staff, performers, security, police officers, Ground Control, medical personnel, and everyone else who was helping keep those 450,000 people safe and alive deserve a medal. For the second year in a row, there were no fatalities and fewer arrests than the previous year. It is impressive they can crowd control that many individuals. Hats off to you Insomniac for capturing the magic and giving me one of the best weekends of my life. I would return in a heartbeat. 
FOLLOW EDC LAS VEGAS:
Facebook: facebook.com/electricdaisycarnival
Twitter: twitter.com/EDC_LasVegas
Instagram: instagram.com/edc_lasvegas