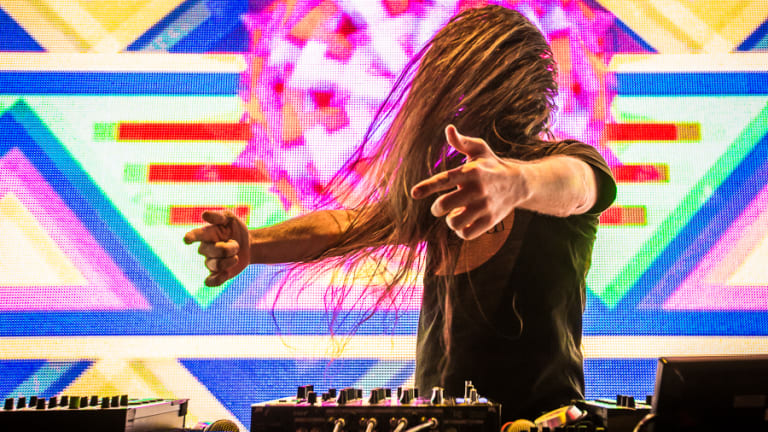 On This Day in Dance Music History: Bassnectar Released Wildstyle
One of bass music's most polarizing figures released a milestone EP on this day in 2010.
On October 19th, 2010, Bassnectar released his massive EP, Wildstyle. Running about 35 minutes, his collection of tunes included six original tracks and one remix from the legendary bass music producer. Wildstyle marked the second EP of 2010 from Bassnectar (real name Lorin Ashton) as in March of the same year, he released his Timestretch EP.  
Released on Amorphous Music, Wildstyle hosts some of Ashton's all-time greats. In a blog post from 2010, He equated listening to the EP to an experience that takes the body, mind, and soul on a journey. In his own words:
"This week I finished the latest Bassnectar EP, Wildstyle which is the most bonkers collection of music I've ever created. Each song was crafted with you in mind, and how your body and soul will be affected when the waves of this music are crashing through your cells. We will have more info soon with regards to release, but it will definitely become the centerpiece of the fall soundtrack."
The sonic journey begins with a remix of the alternative hip-hop artist Amp Live's track "Hot Right Now." The lyrics interweave with the repeating bass line in a way that elevates the original tune but maintains its spirit. The second track, on the other hand, is an original tune from Ashton himself that quickly became a staple in his performances. Titled, "Wildstyle Method," its precisely layered bass lines and vocals from 40 Love create a tune that still holds near and dear to fans, years later. 
Tracks like "Falling" featuring Paper Machete and "Underwater" featuring Tina Malia take listeners to far off lands with deep yet focused bass that, despite being massively heavy, is not overwhelming and almost relaxing in a sense. 
"Encore" featuring ill.Gates is a decidedly wonky song that flexes both producers' ability to manipulate bass into a product thats equally ready for the dance floor or communicating with aliens. "Fun With Synthesizers" sees Ashton take a more experimental approach for the closing track. Like the one that came before, twinkling keys and growling synth make this tune extraterrestrial in nature. The gentle keys almost act as stars while the deep, distorted synth sounds like communications from beyond.
The last tune from the EP that has not been mentioned is the crowd-pleasing bop, "The 808 Track" featuring Mighty High Coup. Named in honor of the drum machine that helped electronic music flourish, Ashton and co. created a bass tune dripping in style. In the fourth season of the critically-acclaimed TV show Breaking Bad "The 808 Track" was prominently featured in a scene featuring the show's co-star Aaron Paul.
With the combination of impressive collaborations, remixes, and original tunes, Ashton put his all into his work and helped his EP become one that will hang in the dubstep hall of legends for years to come.
You can listen to Wildstyle in its entirety below and relive one of Bassnectar's classics.
FOLLOW BASSNECTAR:
Facebook: facebook.com/Bassnectar
Twitter: twitter.com/bassnectar
Instagram: instagram.com/bassnectar
SoundCloud: soundcloud.com/bassnectar