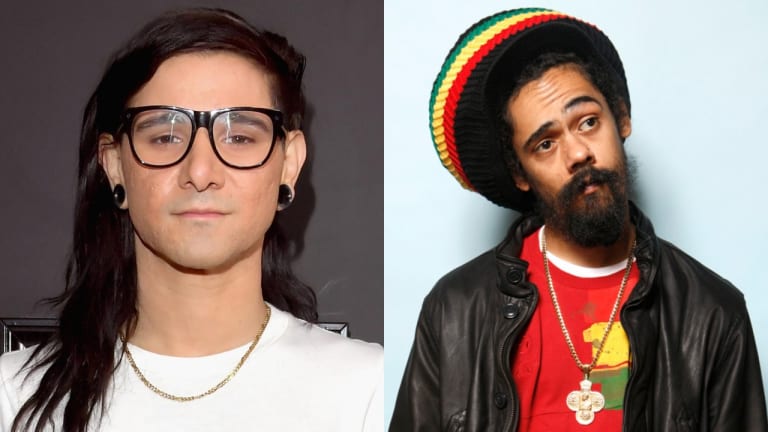 On This Day in Dance Music History: Skrillex and Damian Marley Released "Make It Bun Dem"
On May 1st 2012, Skrillex and Damian Marley would release the one of the biggest reggae and dubstep crossovers of all time, "Make It Bun Dem."
In 2012, just two years after the release of his debut My Name is Skrillex EP, Sonny Moore A.K.A. Skrillex already cemented himself as one of EDM's all-time greats. He amassed six Grammys in the two-year span (he currently has eight) and helped breathe new life into dance music while creating a new generation of fans and artists alike.
Two months after the release of Bangarang, his critically and commercially acclaimed EP, Moore joined forces with Damian Jr. Gong Marley, the youngest son of the most iconic reggae artist in the history of the genre, Bob Marley. The result of the cosmic cataclysm of reggae and bass music is none other than the duo's platinum-certified single "Make It Bun Dem." 
Although the validity of the story has yet to be confirmed, it has been reported that "Make It Bun Dem" was originally an instrumental track. Not long after, Skrillex added the vocals from Marley's track "Welcome to Jamrock" and reformatted the track as a remix. Below is Skrillex performing the track that would later become "Make It Bun Dem" at a show in 2012 (via Complex).
When Moore sent the track over to Marley for his blessing, he responded with an offer to lay down original vocals for the track, thus creating "Make It Bun Dem" as we know it today.
A few months after its release, the duo unveiled an accompanying music video. Directed by Tony Truand, it starred Native American activist Nathan Phillips and his family in a story about a family battling to keep their home while a businessman tries to take the land on the basis of eminent domain. While protesting the Dakota Access Pipeline in 2017, Phillips gave Skrillex a shout out and told a story about how he and his family appreciated being chosen to star in the music video and how it helped them cope with his wife's progressing cancer. 
Years later, in January of 2019, Phillips would return to the spotlight as a figurehead in a nationsl news story in which high school teens had a dubious encounter with the activist during simultaneous protests at the Lincoln Memorial in Washington D.C.
The song is also remembered as an integral part of one of the video game Far Cry 3's most iconic missions. In the over-the-top quest, players had to burn the antagonist's marijuana crops with a flamethrower and fight his soldiers, while "Make It Bun Dem" played back throughout the madness. 
As even the most casual of dance music fans know, in the years since the release of his Damian Marley collaboration, Skrillex would continue his reign over the dance music world and further secure his legacy in both dance and pop music. He released his debut album Recess in 2014, release collaborations with everyone from Justin Bieber to Rick Ross, form a supergroup with Diplo called Jack Ü, and soundtrack the video game Kingdom Hearts III.
FOLLOW SKRILLEX:
Facebook: facebook.com/skrillex
Twitter: twitter.com/Skrillex
Instagram: instagram.com/skrillex
SoundCloud: soundcloud.com/skrillex