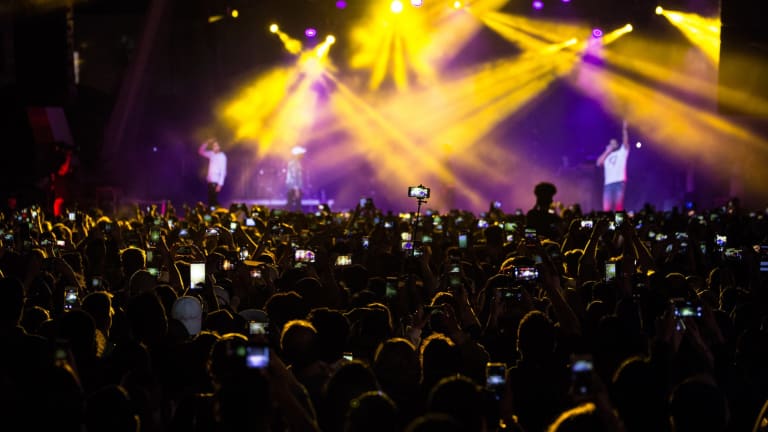 Outstanding Debt: USC Events' Penchant for Nonpayment Exposed [Exclusive]
The Seattle promoter's team members have come forward with allegations of wrongdoing.
USC Events' reputation in Seattle nightlife is far from pristine.
The promotional company, best known for gatherings like Paradiso Festival and Freaknight Festival, can hardly post an event flyer without eliciting a wave of backlash in the comments. The callouts often follow a theme: failure to pay contractors and vendors. By now, the USC brand itself is practically a cautionary meme about placing trust in the hands of the wrong operators.
EDM.com set out to learn whether the company's tainted public image was the result of a few isolated incidents or a long-running pattern. Our investigation has determined it to be the latter.
Among USC's most common alleged oversights are the countless instances in which they failed to pay contract workers within the agreed-upon time frame. Shane Walton, who managed an ISS car tagging team at Paradiso 2019, told us that as of this writing he has yet to be paid for his work at the event (which took place in mid June). 
"I was told to expect payment a month or two after 'Diso," he said. "I have contacted them multiple times with no response."
Walton says he filed a complaint with the Washington State Office of the Attorney General in preparation to file a Labor & Industries (L&I) claim. He reached out to his direct supervisor via Messenger to obtain information from them to that end and says he was subsequently blocked.
Another source told EDM.com of a similar experience. "I wasn't paid for three months," they said. "I did not get paid until they post I made blew up and Chad [Anderson] noticed. Payment was the initial issue in the beginning but that quickly changed to the principle of the fact that they are unprofessional and run away from problems."
Issues of nonpayment also allegedly pervade through to USC's Conscious Crew nonprofit initiative, which emphasizes harm reduction at events. Zac and Avi Caswell have worked for the organization over the past five years. Despite being promised payment within 30 days, they allege that neither of them were compensated for until months after their work on Paradiso 2018. As of this writing, both say that they're still waiting on payment for their roles in the 2019 edition of the festival.
According to another source, workers contracted for the festival's Team Green environmental sustainability program have encountered similar issues. They recounted being instructed to fill out paperwork at an unpaid meeting, and after turning it in were asked to fill it several more times and send it to various parties in the organization. They alleged that USC owes them $700 that they may never see. 
"Unfortunately, since none of the paperwork has a USC signature on it and only my own, the city wouldn't accept it," they said. "I reached out to accounting four times with an explanation and asked for any kind of paperwork back with their signature on it, not even pay, and got no responses."
Others were at least fortunate enough to get a canned reply. Some of the aforementioned contractors said that they received the following email:
Even higher sums are allegedly owed to other contract workers. Gabe Means told EDM.com that USC still owes him $1,500 for his work in special effects at Paradiso 2019. Two years prior, however, he says the promoter gave him the run around for his work on the 2017 edition.
"I worked 120+ hours in six or seven days and was forced to wear a black uniform in the desert," Means said. "When I addressed safety concerns I was told to shut up, forced to sign an employment contract that in my research constituted me as an employee, and then day rated as an independent contractor." Means told us that they were late paying him, and when he billed them for overtime hours he was blacklisted from events - until they made him work that year's FreakNight in order to get the overtime check he was owed from the previous event.
EDM.com reached out to USC Events for comment. Chad Anderson, the founder and CEO of its parent company, Conscious Entertainment Group, LLC, responded with the following statement:
I'd like to address the issue of late payments to contractors and vendors that have worked our events. While our intention is to be timely on these payments, we've experienced growing pains as well as personnel issues that have slowed the process. These issues are being addressed internally to avoid future complications. We are diligently working on processing the remaining outstanding payments. I would like to sincerely apologize to anyone this may have affected. Every member of our community is family to us not just our supporters.

Sincerely,
-Chad Anderson
Chalking the breakdown up to "growing pains" falls short as an excuse seeing as how USC's history of nonpayment allegedly extends at least as far back as 2014. A source told us the company had stiffed a performance artist troupe thousands after canceling the second evening of that year's FreakNight due to an attendee death. 
"They used to work with a performance group named Super Geek League, an incredible group of performers from all around the country," said the source. "When they cancelled the second night they also then decided not to pay the group over $20,000 including flights, hotel, and their performance based stuff as well."
Others closely familiar with the company's operations cite Anderson's failure to invest in human capital as the reason for their ongoing delinquency. Multiple sources tell of high turnover, claiming that nearly all of the staff members involved when they began working for USC are no longer there. "It is a direct result to lack of organization in the finance department, from what I observed," one said. "In my four-year tenure, there were six different accountants."
Failure to honor such agreements isn't the only thing that's marred USC's reputation in the Seattle nightlife industry. Last year, the company found its way into the wrong kind of headlines when Foundation Nightclub had its liquor license revoked after an undercover investigation found that its owner, Ian Jurgensen, supplied drugs to in-house dealers. Adding insult to injury, USC made a faux pas this spring by sharing a photo of one of said dealers in a post promoting Lucky Festival 2019.
Sources directly involved with USC Events' day-to-day operations have said that at the time of writing, more than half of Paradiso 2019's contract workers have now compensated for their roles. Nonpayment is said to have caused financial hardship for a number USC team members involved with the festival, however.
If you or someone you know has access to additional information about USC nonpayment incidents, contact John Cameron via the social media links on the author page below.