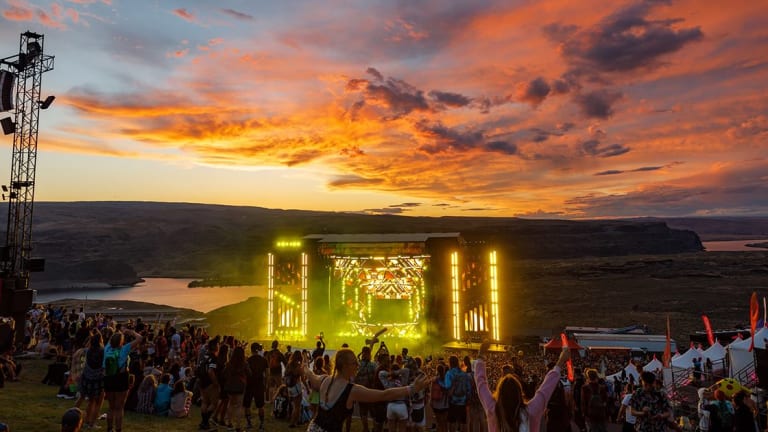 Paradiso as a First Time Citizen
Paradiso Festival is an experience that can only be lived and not told.
It has been a week since I have been back from my journey to Paradiso and I am still facing the post-festival depression. The bracelet is still very much attached to my arm and reality is slowly but surely starting to sink in again. The success of a festival can be measured in many ways. For some, it can be from how long your festival depression lasts for, and for others, it can be the overwhelming feeling of accomplishment and fulfillment that is left behind once the festival is over. 
Paradiso Festival, which takes places at The Gorge, located in Grant County, Washington, is a venue that words won't do it justice. The organizers, promoters, staff, Conscious Crew, police and medical responders, and USC Events should be proud of what they have cooked up over the years in creating this sanctuary for dance music lovers to come to rejoice at. Paradiso is a festival experience that cannot be curated anywhere else but The Gorge and here is why.
The drive to the venue is one that should be done during the day and not the night in order to receive the full effect of the scenery that surrounds the roads. However, to avoid the most traffic and wait times leaving at night is not a bad idea. Paradiso opens the campgrounds on that Thursday the day before the festival usually around 1:00 p.m. PST and keeps them open all day and night leading up to the first day of the festival to help with congestion. This thoughtful and helps out people who work during the week. Arriving late at night around 2:00 a.m. was a perfect time. The organization of the campground ran so smoothly and was the fastest camping check-in I ever experienced at a festival. We got assigned our spot and were already setting up camp within 10 minutes and had plenty of room. We were not even packed in like sardines. Campgrounds were easy to navigate, filled with loving neighbors that became family instantly, and the marketplace that was offered inside the campgrounds had sweet vendors and a good variety of food to choose from. 
Waking up all well and rested on rave day was like waking up to another part of the world. I unzipped my tent, popped my head out, and was instantly greeted by the freshest air that has ever filled up my lungs. Turning my head to the right and I saw canyons filling the background with clear blue skies. The view was unlike anything I have ever seen before and I was told that view was only just the beginning.
The first day of the festival began with exploring the campgrounds and meeting everyone. That was the first thing that I noticed about this festival, the citizens were all so friendly and accepting. Music was bumping from campsite to campsite and the vibes were instantly contagious. Bathrooms were scattered all throughout the campgrounds and were constantly clean. There was even an actual sink that had soap and paper towels always stocked, which was refreshing. The walk from the campgrounds to the festival entrance was not bad at all. This is the time where you get to take it in all in and enjoy nature while making new friends. 
Arriving at the festival entrance on day one was a little intense, only because there were so many different lines to choose from. The line fiasco could have been easily been handled a lot better and more organized instead of just having everyone all squished together. However, it was comforting knowing that they were doing multiple security checks once you approached the ticket scanner and bag check. This was easily the reason why the lines were so long but hey better safe than sorry. 
Once the ticket scanned the world as you know it before was left behind and a new world was entered. There is a bridge you walk over with tons of welcome art that warms the heart right away. The moment of truth for this festival is truly comforting and sets the mood for the weekend instantly. It is always vital for festivals to shed the light right away when having attendees walk through the entrance. There were also people called the "Conscious Crew." The Conscious Crew is provided by USC Events and its a team of people who are here to assure festival attendees are having a good time and help promote healthy and responsible raving. They also are strong advocates for "The Message."
The venue has several art installments upon walking into the festival that makes for the perfect photo opportunity along with an array of different carnival rides for attendees to enjoy and ride. There are three stages that are offered at this festival and of course, the walk to Paradise Main Stage creates an intense build of anticipation. Now, I have never been to EDC Las Vegas but, I am pretty sure the walk up to The Gorge for the first time ever creates that same breathless and heart-stomping reaction as the Las Vegas MotorSpeedway does. Let me just say this view is too unreal. This really is where digital meets nature. There are canyons for days, rivers, hills, and more. Not even every word in a thesaurus could be used to describe The Gorge and its view it offers to the public. 
Elephante was just finishing up on the main stage when we walked up and it and he had the crowd ready for Party Favor. Party Favor came on and started the party off hard (pun intended). The great thing about this venue is that you have so many different viewpoints to choose from to witness a set. If you want to relax and soak in the view you can take a seat on the hill. If you want to get a closer view then you can go down into the pit or bowl. If you want to grab a drink while the stage is next to you and take a look at the canyons you can do that at the viewing bar they offer. So many unique angles to choose from and it's your story to tell. 
The vendors and water refill stations were easy to access. The lines were never ever a problem for any of this and the service was exceptional. There was not a bad vibe anywhere you walked and I loved that. I will say the food options could be a bit healthier and have more of variety, as well as the prices for food and drinks are higher than normal festivals, but hey if that is the only complaint I have then I'll take that any day over waiting in long lines for a drink or food. However, a slice of pizza for $10.00 is robbery!
The Wreckage and Digital Oasis were the names of the other stages. Not going to lie I barely spent a little time at Digital Oasis but thankfully got to catch some of Drezo there and that was house heaven. That stage was the stage for all the house heads all weekend long. Three big visual LED screens made for the perfect set up. The Wreckage was my second favorite all weekend long. The stage was themed with brick banners draped down from the side and trees decorated the sides giving off an almost Jurrasic World vibe. This is where the heavy bass artists played all weekend long. 
Ekali made his Paradiso debut at The Wreckage while the sunset and it beautiful. Buku b2b Minnesota was my favorite b2b set all weekend long and it took place at The Wreckage. Navigating from stage to stage was super easy and was never a problem at all. Each stage offered plenty of room to dance and headbang at. It's comforting knowing the walk from stage to stage does not take long at all. 
REZZ was the most scheduled artist at the festival and filled the night sky with heavy bass and lasers. During her set at night is where I saw the magic of The Gorge come to life. To the left of the stage, I saw a half crescent moon that mirrored the Dreamworks image of the moon while to the right I saw a lightning storm take place. This was nature happening right before my eyes as REZZ lit up my face with colorful lasers. There was even a moment during REZZ's set where she had to talk about just how incredible this venue really is and thanking all of her fans for this opportunity. It was bone-chilling. 
Armin Van Buuren, of course, was a journey. Started from the hill and made it down to the crowd into the pit and finished off the night with Deadmau5. This was my first time ever witnessing a true Deadmau5 set and the cube and that was an experience itself. It was sad to have so many people talking during his set and not really understand his style and technique. It was at that exact moment in time that I realized I was witnessing dance music history. Regardless if you are a fan of his behavior, Deadmau5 is an icon to this scene and he is damn good at what he does.
Completing day one had me eager for more and was glad there was still another day. Exiting the festival was pleasant because there was the Conscious Crew waiting by the exit giving high fives and still spreading the good vibes. It felt nice having them tell us to rest up and get ready for day two because it was a reminder that the weekend is not over, that it has only just begun. 
The campgrounds are super easy to fall asleep in. Truthfully, the easiest camping festival I have ever fallen asleep to. For the most part, the campgrounds stay pretty quiet with noise here and there. There were also activities being held by iHeartraves this year including a silent disco for those nightcrawlers. 
The sun had risen and day two quickly was here before we knew it. Talks around the campgrounds about favorite sets from day one were making there away around the campsites and REZZ and Armin Van Buuren were the top picks. The marketplace had delicious and healthy food choices that made it easy to choose from. The bathrooms were freshly cleaned again, and just like that day two was already off to a wonderful start.
Now being connected with Mother Nature can be challenging because the weather is always unpredictable. Halfway through the second day, Mother Nature blessed us with a pretty intense little storm with high winds, lightning, rain, and even thunder. Paradiso did a phenomenal job on handling this situation. The mobile application quickly was giving updates as well as social media was being updated. They had to evacuate festival back into the campground until the storm passed, but thankfully they did not cancel the festival. Instead, they just shortened some set times and had some artist perform some surprise b2bs. The organization of how it was handled was both professional and how every festival should handle a weather advisory. The fact that they did not cancel the festival really shows USC Events dedication to their fans and I appreciated that a lot. 
Louis The Child deserves a medal for that magnificent set that they put on while the sun was setting in the background. Now, this was not just any ordinary sunset, it was a sunset after an intense storm, so the sky looked like cotton candy and the air was crisp and golden. Some other honorable mentions for the last day were, of course, G-Jones, and Tchami x Malaa: No Redemption. DJ Snake ended the festival with his track "The Middle" and confetti was spraying in the air. No better way to end a festival than like that. 
Paradiso Festival was my first west coast festival and understand now more than ever before the saying "west coast is the best coast." I have traveled to several different cities before to attend a wide variety of shows and festivals and I cannot get over the unity that this festival brings together. There were so many connections and friendships built that weekend that it all felt like a dream. What surprised me the most on how well the cell service worked at that venue. I am all for being disconnected unplugged from the real world for a little bit knowing I had service helped me feel more safe and comfortable because I was still not on my phone a lot. This venue truly is where digital meets nature and is a festival that everyone needs to attend. USC Events does everything right and it is without a doubt that I will make my return as a lifetime citizen to Paradiso as long as I live. Thank you, USC for one unforgettable weekend and for the memories.