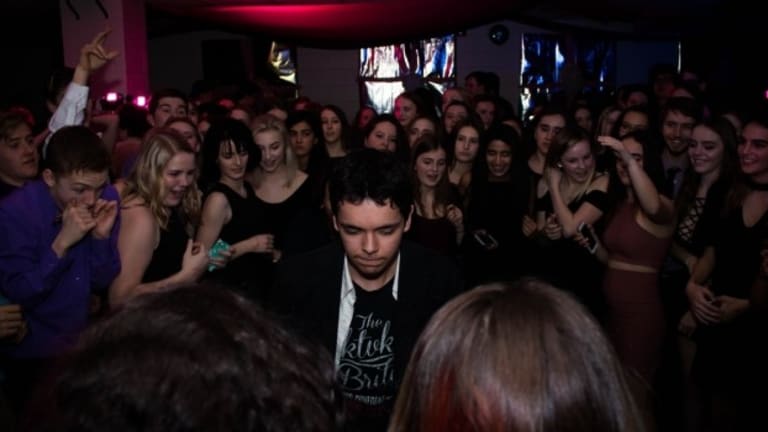 Don't Be That Person – 9 Awful People You Meet At Every Show
We're all that one guy.
We've all been to shows and bumped into "that guy". There are tons of those guys and girls at every show all around the world. This handy guide will help you identify those guys and girls so you can avoid them and improve your concert experience.
THAT ONE COUPLE WHO WON'T STOP GRINDING ON EACH OTHER
Love is in the air as a slow melodic song fills the room. You see couples start to embrace their partners and dance a little closer. It's nice to be able to come up for air and cool down a bit. Then about three minutes later, the artist cuts back into some bass and continues with the regularly scheduled programming. All the couples have moved a bit to give themselves some space, and everyone is jumping around and dancing like usual. But wait, what's that couple right in front of you doing? Surely they can't be grinding on each other to "I Can't Stop" by Flux Pavilion can they? "They must just be caught in a moment" you think to yourself laughing, surely they just had too much alcohol.
But they persist, despite mosh pits opening up to "The Paradox" by Excision, crowd surfers, stage dives, they continue blindly dancing through the crowd, completely unaware of their surroundings, like Mr. Magoo on illicit substances. They understand the concept of PDA as much as I understand quantum computing. (spoiler: I have no idea what quantum computing is) After 16 to 17 songs you start to worry that maybe they're a botched human centipede experiment, and that maybe they're stuck like that. But that thought never lasts long. No matter how many times you try to escape they'll always end up making out with each other, right next to you, way too close to your personal space. By then you have already accepted your fate as the third wheel for two people you don't know.
THE INDUSTRY SNOB
"I'm on the list" he says with credence. Knowing the only reason he is there, is to show people he doesn't even care about being there. He might have helped book the artist, passed out flyers, or clicked share on a Facebook post, either way, he wants you to know he's the most important person there. He scoffs at the idea of a glow stick or other glow toys, and wouldn't be caught in anything besides his evenings best. He's here to stand backstage, and take an unenthusiastic picture, showing his 300 followers that he's too cool to care about a show. You'll never see him in the pit, seeing as he shudders when he sees the words "general admission".
THE HIGH SCHOOL KID WITH THE EDGY T-SHIRT ON
"Sex Drugs and Dubstep", "Don't stop the f*cking rave", and other graphic tees, fill this guy's wardrobe. After years of waiting, this guy finally turned 18 and he can tell his suburban mom what's on his mind. "Have a nice trip" his shirt proudly states, as he struggles to finish a sip of warm Kamchatka that his friend's older brother bought them.
"We're gonna go so hard tonight" the leader of the younglings says to his "crew", Little does he know, his night ends before the headliner takes the stage.
This guy's night ends in one of two ways:
He gets busted with a fake (or no) ID at the bar ordering a Long Island Iced Tea, or a hard cider.
He is half-passed out on the sidewalk outside, with 4 friends struggling to get him to stand up and into the Uber.
THAT GUY IN A SUIT
"I know you seriously didn't just step on my Armani Alligator shoes, these cost more than your car." This guy obviously took a few wrong turns and ended up at a midwest House of Blues instead of Omnia. You had no idea this place had bottle service until this guy showed up. If a single drop of water gets on his suit, he's going to have a meltdown of Chernobyl proportions. his dad is wealthy and he wants you to know it. After all, he didn't spend $700 to dance with the commoners. If you want to find our dapper friend, all you have to do is follow the girls with the Louboutin red bottoms on, he's usually nearby striking out with them.
THAT DUDE WHO SAW A VIDEO OF THE CHAINSMOKERS AT ULTRA AND IT CHANGED HIS LIFE
"I SAW THESE GUYS AT ULTRA" he screams in your ear as you innocently dance in the crowd. "Dude, dude... seriously bro, you HAVE to go to Ultra, it will change your life." For some reason he's always shirtless and drenched in sweat, even outside on the smoker's patio in the middle of the freezing Cleveland winter. You know what happens when you ask your dog if they want to go outside? Well, when a top-40 song comes on this dude has a similar reaction. His ears perk up, and the adrenaline fills his body with energy, as he runs and shoves his way to the front row, pushing aside anyone smaller than him. You can always tell the path he took. Like a tornado in a cornfield, he leaves his path of destruction. Spilled drinks, fallen dancers, angry bystanders and people wiping his sweat from their bodies, guide the way to his resting spot.
THAT GUY WHO'S IN ANOTHER DIMENSION
"Hey man, you okay?" you ask as you approach a man standing perfectly still, with his eyes wide open, and mouth agape. Then it hits you, the strong smell of patchouli oil and body odor, one fighting the other for dominance but in the process creating the Frankenstein's monster equivalent of a scent. After offering help for a third time with no response you eventually, retreat back into the crowd, leaving your new friend in the same position, completely fixated on the lights. If transdimensional travel is real, this guy has definitely experienced it. (or at least he thinks so)
THE LOST DEATH METAL FAN
"Nice shirt, I love Oceano!" you say to your fellow concert goer. The scoff and look of disdain that follows is the concert equivalent of a left swipe. Our greasy-haired can usually be found in the back of the crowd posting about "posers" on tumblr. If our friend does decide to dance he is usually in the middle of the "mosh pit" going way too hard. I mean yeah, a pit is cool at a Datsik show, but throwing elbows at bystanders during Kaskade's set might be a little much. It's not all bad though, if it weren't for people like him the chain-wallet industry wouldn't exist.
THE COACHELLA QUEEN
 This plague started on the festival circuit, but has now infected the crowds of local shows all over the world. This girl is usually found posing for pictures in the crowd of your favorite show. She spent more time researching the perfect outfit, then actually learning who was playing at the show. There is absolutely nothing wrong with dressing up for a show, but this girl literally paid $300 for a pic for the gram, and could care less about the music. "Are you serious? No one gives a shit about Dog Blood's surprise set, The Chainsmokers are the only real artists at this festie."
THE CYNICAL MUSIC BLOGGER
He's cynical and goes to shows and judges people. After a long night of judging, he goes to Starbucks in the midst of a hangover and writes about them for his website. He's just the worst.