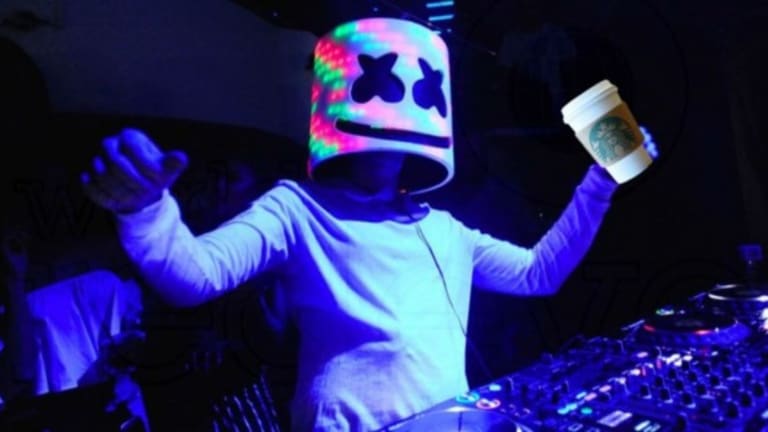 These Songs are the Pumpkin Spice Lattes of Dance Music
It's basic season!
Brace yourselves, it's that time of year again. Just like how tribal tattoos and puka shell necklaces are indicators for someone who's really cool, the iconic "Pumpkin Spice Latte" has become the figurehead of being basic. Get ready for a swarm of Instagram pics featuring scribbled names on a standard coffee cup with captions like "My entire life <3" or "My life is complete". If you didn't see the over-edited picture of the coffee cup and only read the caption, you might think it was a picture of a loved one, but nope... just a coffee cup.
All of the hype and relentless marketing made me wonder...what are the most basic songs in dance music? I set out to discover the most basic songs with the precision of a teenager editing a picture of their coffee cup for the gram. So get ready EDM.com, we're diving right in! Zip up that North Face, squeeze into those leggings, strap on your UGGs and let's get #basicAF! 
Clarity by Zedd
Zedd created a song that is quite possibly the epitome of EDM-pop music. Right around the release of this song, tons of pop stars decided they should go EDM. I'm not going to blame Zedd just because he just made a popular song. It's not like he forced other artists to make uninspired rip-offs of his music. The word on the street is that he's a nice guy and it seems like rather than him, some sort of demonic entity was behind Fall Out Boy's transition to pop/electronic.

Fun fact: This track holds the record for "Song that caused the most people to cry about their ex while drunk on Fireball" (probably)
Where Are Ü Now - Jack Ü Ft. Justin Bieber
You could call this song the "Unicorn Frappucino of dance music" because none of the ingredients make sense together but they make you a lot of money from teenagers.
Levels - AVICII
"WOOOOOOAAAAAHHH SOMETIMES I GET A GOOD FEELING" -A quote from Literally every single song in 2011
This song (specifically the Etta James sample) is literally the Pumpkin Spice flavoring of music. Just like how pumpkin spice flavoring is added to every single food and beverage in the fall, this song infected every genre on the radio. From EDM all the way to whatever it is you call Flo Rida's music, nothing was safe from the virus. Attempting to listen to the radio in 2011 without hearing this sample is like trying to go on Facebook without a former high school classmate messaging you about a pyramid scheme. 
Like A Bitch - Zomboy
You're not getting out of this one bass fans…
If I had a dollar for every time I've heard this at a show, I'd probably be driving a Lamborghini, drinking Ciroc, and sitting on a beach. But I don't, so instead I'm driving a Kia, drinking microwaved coffee, and attempting to be funny on the internet.
This one isn't even Zomboy's fault. He found the secret recipe to success and he created a song so infectious, even house artists play it. Considering the fact that most dubstep fans/artists are former emo kids, the line "stop acting like a bitch, get your hands up" is perfect. It's exciting enough to hype up the crowd, but it's also edgy enough to make you feel like you're disappointing your parents again. Genius!

Alone - Marshmello
This song is all about being alone… hence the title and the lyrics literally saying "I'm so alone". Coffee is the perfect beverage to accompany loneliness. It really helps you get out of bed and get to that really exciting desk job where you definitely don't hate your coworkers and you absolutely feel like you're making a difference, knowing the only reason you do it is to pay for your Netflix subscription, fund your borderline-alcoholism, and your thrice-weekly Chipotle habit. What were we talking about again? Marshmello, right… yeah this one's on the radio a lot.

Literally Every Chainsmokers Song
Do I really need to explain this one?