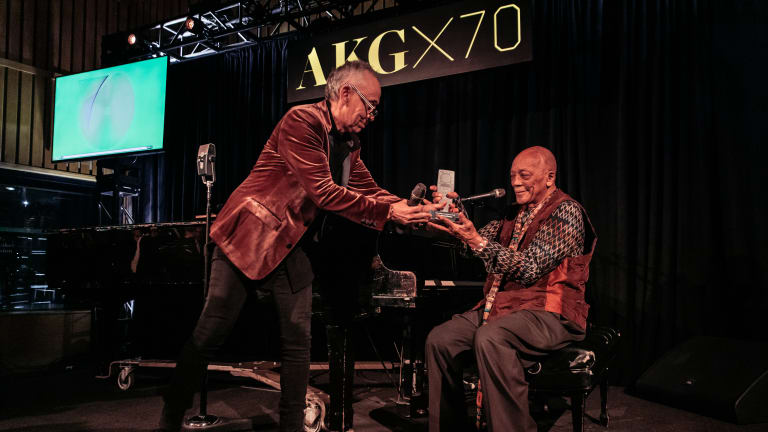 Quincy Jones Honored with Lifetime Achievement Award at 70th Anniversary of AKG
The most prominent name in recording celebrated the finest producer in music history.
Tuesday evening shimmered as the recording industry's most prolific and potent cultural leaders gathered for a red carpet evening at Capitol Studios. The night marked AKG's 70th anniversary in the music business with acclaimed figures from a decorated and rich history as well as what looks to be a shining future. 
The event was peppered with genius from the upper echelons of greatness hailing from music production and recording industries. The theme for the evening was aptly titled "A History of Making History." It was a banner true to the AKG brand, which in everything it does proves that greatness happens when music is appreciated so strongly that your contribution to it both defines the now as much as it invests the future. 
The event thematically connected the colossal weight of greatness from the venerable and unparalleled Quincy Jones, who in the most humble and endearing way accepted AKG's lifetime achievement award. "Thank you from the bottom of my soul. This is as good as it gets for an 86-year old bald-headed, bow-legged bebop hound," Jones said upon receiving the award. "Seven kids. Eight grandkids. Life is great. I wish everyone out there a long, long, long, long life filled with love to share, health to spare, and most importantly friends who care. That's what's most important in life." 
By working tirelessly from a state of poverty at a young age all the way to where he is today, Quincy built his career courageously. As a producer, he often was the first to try something new, while giving people behind him the confidence to do better. It's a legacy that mirrors the impact AKG makes for rising artists. 
"Throughout his legendary career, Quincy Jones has created some of the most iconic records in the history of the recording industry and we are honored to present him with a Lifetime Achievement Award," HARMAN Professional Solutions Vice President of Global Marketing Erik Tarkiainen said in a press release. "For 70 years, AKG has been creating headphones and microphones that empower the spirit of creativity and innovation, and no one embodies that spirit more than Quincy." 
To sample that spirit of creativity and innovation that Tarkiainen described, a mixing station was arranged so guests could sample deep soul and pristine clarity on the new AKG K371 studio headphones, where Quincy Jones' original stems to "Billie Jean" by Michael Jackson were available. It was here guests could isolate individual instrument and vocal tracks. Coincidentally, it was also the same room where some of the most phenomenal tracks over the last decade were captured. There was even a panel on the gargantuan mixer full of signatures where producers and artists left a literal mark just like the one their music made internationally. The central mic also balanced a miniature Darth Vader helmet, left behind during a recording session with John Mayer.  
Much of Jones' immense collection of work, which spans more than half a century, was also available for listening on AKG studio headphones in the exact ISO booths where the music was originally recorded. Several party-goers also created their own unique mixes of the song live. In another room, Radio tastemaker Nic Harcourt hosted a friendly chat with acclaimed acoustics expert Dr. Sean Olive about the art of listening - a skill that makes all the difference in the recording business. The talk covered a variety of pivotal studio gear products from AKG, highlighting the difference it makes having the highest caliber tools available when you need the best work from a sophisticated audio specialist. 
There was a particular buzz surrounding the new AKG Lyra USB microphone. For those unfamiliar with the Lyra, it symbolizes the next generation in state-of-the-art audio listening devices with an aim to reset the standard for quality and the accessibility that the everyday recording professional has to it. 
While Jones' appearance onstage represented a living monument of still unfolding music history, his protégé and multi-Grammy Award winner Jacob Collier commemorated the occasion with a casual but intimate piano performance in Capitol Records historic Studio A. Collier's performance pointed ahead towards a rich and vibrant future for the recording industry. The breathtaking set effortlessly served three of the most challenging and memorable songs from Jones' extensive body of work. Collier's selections included Michael Jackson's "Human Nature," "Fly Me to the Moon" by Frank Sinatra, and George Benson's "Give Me The Night." 
Like AKG's impact in the music industry, the elegant set was both laid back and refined like a delightful icing on the cake of a perfect evening. It was exactly what one would expect from a technical trendsetter dedicated to fine studio gear who also is excited that "studios" themselves are moving into living rooms and bathrooms all over the world. 
Follow AKG
Facebook: facebook.com/AKG
Twitter: twitter.com/theAKGgroup
Instagram: instagram.com/akgaudio
YouTube: youtube.com/user/AKGAcoustics