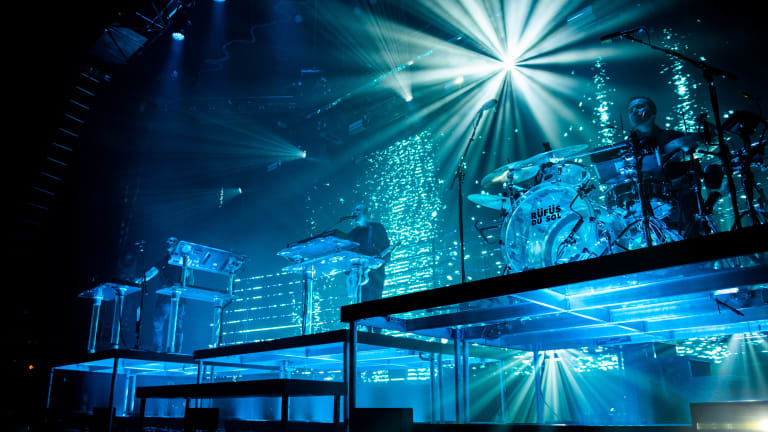 5 Highlights from RÜFÜS DU SOL's Sold-Out Lollapalooza Aftershow
The Australian EDM trio performed at The Vic Theatre Wednesday night.
RÜFÜS DU SOL's Tyrone Lindqvist appeared onstage at Chicago's Vic Theatre in a black cardigan over a black t-shirt with black jeans and black shoes. The band's vocalist perfectly matched keyboardist Jon George and drummer James Hunt, who were set up onstage on either side of Lindqvist. Their instruments were clear, glistening acrylic. Visuals shone through from behind. 
The Australian band had sold out their Lollapalooza show, and resale tickets were in the triple digits. They had drawn a crowd packed thick with older electronic music fans most likely headed to work early the next morning. Skinny jeans, crossbody purses, sparkling seltzer (don't worry - the band helped even the guy in the dad-est of dad sandals get down). Here are the highlights. 
Photos by Rachel Kupfer
1. Absolutely insane light and visual storytelling. Pictures tell it best.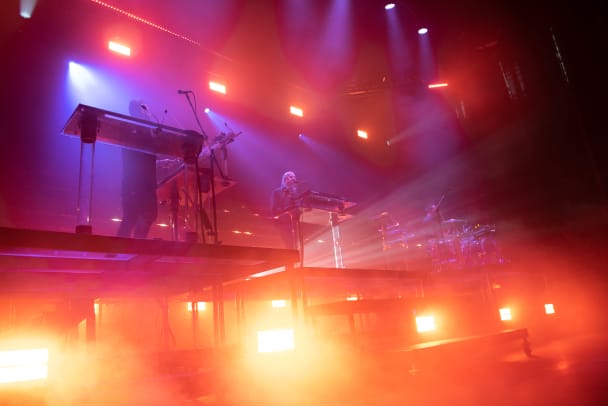 2. Hunt's concentration face. Let's not forget about the live instrumentation, displaying the raw musical talent of the trio. Instead of choosing to play every song to mimic the recording, the artists instead mixed it up live on stage. They used extended instrumentals to create a steady flow from song to song. 
3. "New Sky." Think eyes closed, hands raised to the sky, rhythmically chanting lyrics. Now multiply it by the entire crowd.
4. That classic throwback. For this show, the band took us back to their sophomore album, Bloom, for fan favorites "Innerbloom" and "You Were Right." The remainder of their set included songs from their latest studio album, SOLACE, released at the end of last year. 
5. A three song encore ending with a spiritual performance of "No Place," one of the band's hits from SOLACE. Other standouts from the show include "Underwater" and "Treat You Better."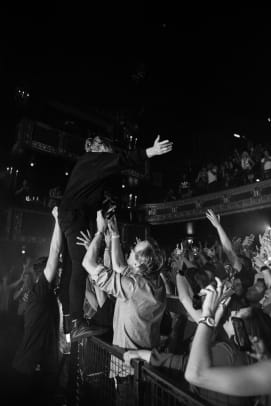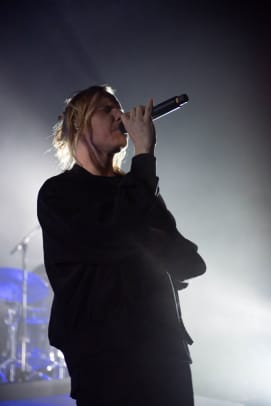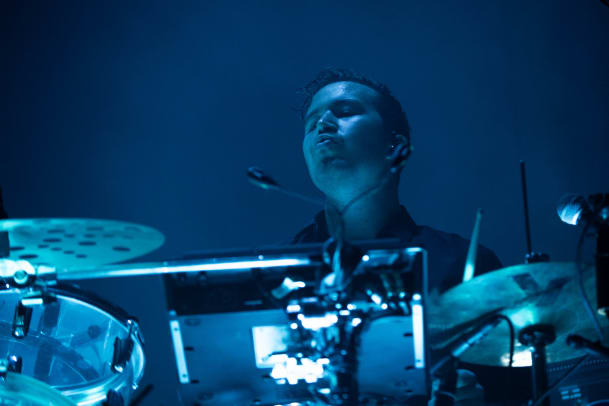 FOLLOW RUFUS DU SOL: 
Facebook: facebook.com/rufusdusol
Twitter: twitter.com/rufusdusol
Instagram: instagram.com/rufusdusol
Soundcloud: soundcloud.com/rufusdusol