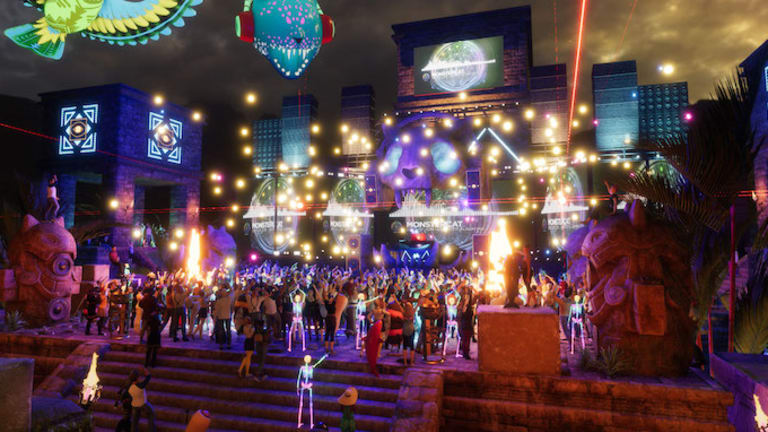 The Company Behind Second Life Brings EDM To The World Of VR
Linden Lab and Monstercat have joined forces to further explore the world of virtual reality festivals and events
We've all experienced the feeling of irritation when one of our favorite artists is only booked for shows hundreds of miles away, as well as the sense of disappointment that comes from not ever being able to see them perform live. If the digital entertainment company Linden Lab has its way, that disappointment might soon become a thing of the past. Thanks to a new digital platform they're launching, virtual reality and concerts are about to become connected in a way that could rock the music industry to it's core.
If you aren't yet familiar with the name Linden Lab, you may be familiar with their most famous product. The wildly successful open-world project Second Life saw massive success in the early 2000s. More than an online game, it offered fans an entire virtual world in which people could meet, fall in love, enjoy concerts, and even find jobs in a virtual reality setting. Miles ahead of its time on a conceptual level, Second Life welcomed millions of users every week, and even now it's far from dead.
While Linden Lab isn't abandoning the Second Life platform completely, they now believe they've created a worthy successor - and it has EDM at its heart. That successor is called Sansar, and their first major move was to forge a partnership with Canadian independent record label Monstercat with the goal of creating an engaging virtual experience aimed directly at fans of EDM. 
Generally considered to be one of the more forward-thinking and innovative labels within the dance music space, it's no surprise that Monstercat has invested in developing greater visibility for their brand in the virtual reality space. What Sansar offers is a cutting-edge pursuit that will only increase the total visibility of music from their highly talented roster of artists. 
For their first joint event, Sansar and Monstercat hosted a virtual reality festival that billed more than twelve Monstercat performers, and was appropriately named "Monstercat: Call of the Wild." Live. Music performances were just one aspect of the event, which also included interactive video game-like attractions for attendees, as well as virtual meet-and-greet and Q&A sessions with the artists who performed. 
With a successful test run under their belt, Linden Lab is now looking to expand on their offering by allowing artists to charge people for "tickets" to their events on Sansar. It's hoped that Sansar will develop around music fans, becoming something between a virtual reality social network and a performance venue where fans can see performers play while also interacting with like-minded people from all over the world.
Although it's certainly likely that other genres of music will soon get involved in the push for virtual reality events, EDM acts, and the Monstercat roster in particular, are the only musicians involved in the project at this stage. Ebbe Altberg, the company's CEO, has gone as far as saying that Sansar "will become the future of live music," and has spoken about his excitement at having Monstercat onboard.
The concept of online concerts has seen increasing popularity over the last several years. For example, EDM icon Marshmello played a virtual gig in Fortnite last year which has gone down in history as the most attended virtual concert of all time. The resultant boost in Marshmello's profile is the sort of thing that performers around the world hope to achieve by playing virtual reality events, and we expect to see many more activations like this take place in the near future.
By including the interactivity of video games in its overall concept, Sansar is clearly taking notice of the recent rise in the use of EDM as the backing music of choice in many other online games (UK slots and other casino games being one of the most obvious examples). Hardwell already has a custom casino game of his own, and many more acts are already working on moving into the mobile slots market as a new source of revenue. 
Whether Sansar turns out to be successful or not, the model they are developing is yet another example of the EDM industry paving the way in changing the methods through which listeners and musicians interact with each other. 
FOLLOW SANSAR
Website: sansar.com
Facebook: facebook.com/SansarOfficial
Instagram: instagram.com/sansarofficial
Twitter: twitter.com/sansarofficial