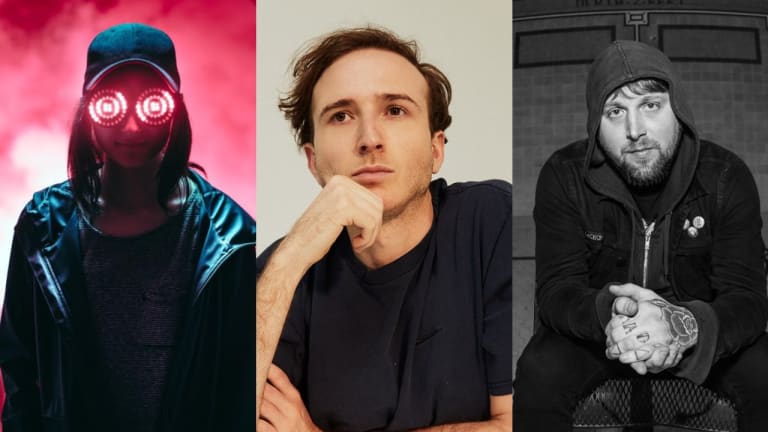 7 of the Biggest EDM and Horror Crossovers
We've compiled the seven best horror and EDM crossovers in order to help you get in the haunting spirit.
Although dance music is often uplifting and spiritual, some artists like to delve into the darkness. Some of the biggest names in EDM have incorporated horror movie samples in their music to help amplify the terror they seek to unleash. In honor of this, we've collected seven of the best EDM and horror crossovers to help get you in the spirit to haunt.
"Psycho" - Rezz and Isqa 
Considering the fact that Rezz' sound is generally ominous and that she released a mix titled Nightmare on Rezz Street, it's no surprise that would find her way onto this list. On one of her most sinister offerings to date, she tapped into the Alfred Hitchcock classic, Psycho, for her track of the same name. It features the iconic line from the movie's character, Norman Bates: "She just goes a little mad sometimes. We all go a little mad sometimes. Haven't you?" Rezz surely paid tribute to one of the greatest thrillers to ever grace the silver screen with this single.
"Phantom Pt. I & II" - Justice 
A surprising discovery to most is that Justice's legendary self-titled album contains a pair of tracks that sample the theme from the 1982 Italian horror movie Tenebrae. The first of the two, "Phantom," samples the theme much more than the second, leading some fans to believe it was created as a spiritual cover or remix of the tune.  
"Psycho" - Yellow Claw, GRX, and Cesqeaux
Like the first entry on the list, "Psycho" by Yellow Claw, GRX aka Martin Garrix and Cesqeaux capture the pure terror that only a horror movie could deliver. The Dutch four-piece's takes the iconic music from Alfred Hitchcock's masterpiece and spins it into a haunting trap anthem, perfect for Halloween parties and haunted houses.
"This Is The Nightmare" - Midnight Tyrannosaurus
Midnight Tyrannosaurus has long been known to use insane amounts of movie, TV, and video game samples in his music. Luckily for fans, he gave The Nightmare Before Christmas' infectious song "This Is Halloween" a dubstep spin. Honestly, the only thing more interesting than a massively heavy remix of a Disney song is how Tim Burton was able to pitch a Halloween-Christmas hybrid film to Hollywood executives. 
Annual Halloween Mix Series - RL Grime
RL Grime's annual Halloween mixes have become a staple in the trap heavyweight's career and leave fans giddy with anticipation the moment October arrives. Featuring numerous horror movie samples and guest appearances from celebrities like Tony Hawk, Shaq, and Goosebumps author R.L Stine (the inspiration behind his stage name), for EDM fans the annual Halloween mix has become as synonymous with the holiday as spending way too much money on a costume.
"Stranger Things" - Kyle Dixon and Michael Stein
Kyle Dixon and Michael Stein of S U R V I V E provided an eerie, electronic theme for Netflix's award-winning horror series, Stranger Things. In addition to being instantly identifiable and largely considered some of the best horror music in the modern era, it has been incorporated into dozens of DJs' sets across all genres. 
TerrorVision and Monsters 1-10 - Figure
The undisputed king of horror infused EDM is none other than Figure. While some incorporate horror elements as a fun little treat around Halloween, Figure has made a career of it. He's released ten chapters of his Monsters EP series which contains more references to horror then one can count. Alongside the EPs, his special TerrorVision shows feature specially edited footage of horror movies that align with the sonic terror he unleashes on the masses.