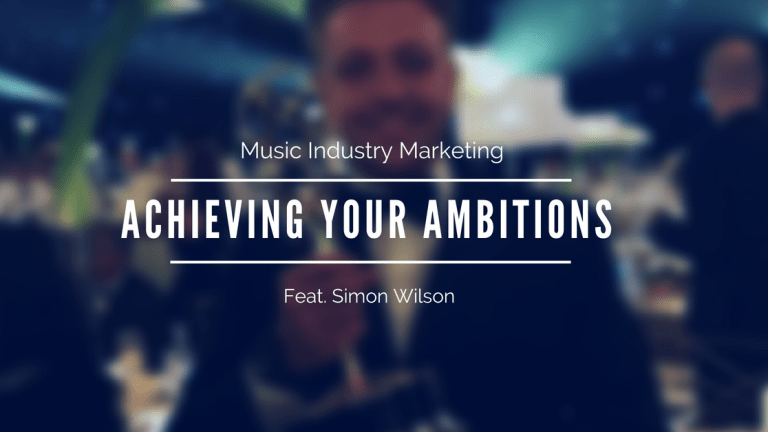 Music Industry Marketing: How To Achieve Your Ambitions
You can achieve anything you want if you put your mind to it...
During this episode of Music Industry Marketing, I caught up with Simon Wilson on how he traveled from New York to LA with no money in aid of charity, and his thoughts on how to accomplish anything you set your mind to.
Having snuck into the McGregor vs Mayweather fight, and receiving $100k seats for zero cost, and even getting a free private jet from Las Vegas to LA, his unorthodox YouTube content is certainly inspiring to thousands of people. 
EDM.com: So for the people who don't know who you are, just say a little bit about you and what you've been up to.
Simon Wilson: I've been entrepreneurial since I can remember. I came out of school and fell into real estate by complete accident. I ended up having my own real estate business and purchased my first property at 18. It went really well but it was never really my passion.
So after I went to Thailand in 2016, I saw these people with absolutely nothing. Compared to them, I had everything - but they were much happier than me. When I got home, I wanted to do something I loved. So I started doing a vlog. In January 2017, I made a decision to make a video every single week until I decided not to. I found it hard to make content. But the McGregor fight happened when I snuck into that, and I got a $100,000 seat for free.
That's crazy.
The plan was never to sneak into that. I was in America at the time for a months holiday as I was on a TV show. So I thought before it airs, I'll have a month in the USA. Went to Vegas to soak up the atmosphere and the sneaking video happened by complete chance. The rest is history.
I've watched every single video. Definitely, the Europe & America challenge. Love them.
Awesome.
Yeah. In 10 days, I'm off to New York. Thinking about it, I'm doing a pretty similar route to what you did. As I'm going from NYC down to Florida, and then along the southern states to California. You seem to be pretty good at sneaking into places & getting free stuff. Is it something you'd recommend doing?
It's a tough one. I don't wanna recommend it but we all love free stuff. There's no bad intent behind what I do. Like I always say "thank you I appreciate it". 
Oh yeah, I saw the thank you video a few minutes ago.
What did you think?
I loved it. You said you were thinking about filming in multiple locations. But the simplicity of that montage featuring everyone who helped you was absolutely beautiful. 
Going back to the question, I do it for the fact to prove anything is possible. It's not about being a knob and causing trouble, it's just about going for the experience. Like I could never buy a seat for that fight. It was about going in there and proving when you put your mind to something, you can do it. 
I think that even you have shown me lately that when you put your mind to anything, you can accomplish literally anything you want. Whether it's traveling, getting into events, or meeting people, I think it's fantastic.
I appreciate that man. One thing I wanna add is that I've been making videos since January 2017. But my whole life has been like this. I snuck into Wimbledon center court in 2012 and loads more. But I've been just proving that anything is achievable for the last 10 years. The only difference is that now I'm able to document it.
That's the beauty of social media. We can document our lives for future generations.
Yeah.
You've been vlogging a lot on your travels. What's the reason you began doing it?
That's a great question. When I went traveling, it changed my life. But I came back and what I witnessed in Thailand unbalanced me. 
It gave you a totally new perspective.
Yeah, I just thought I'm not happy. Regardless of that, I've always had the mindset of you only live once and gotta make the most of it. I needed to do something about it. I got the travel bug and thought I've always wanted to go to America. So I flew to America with $200 on a one-way ticket to Boston. And I did viewings for real estate agents in the city. In the end, I did 11 states in 3 months. Managed to sneak into a Forbes event to meet Richard Branson.
Damn, that's amazing.
He's a cool guy. I also blagged my way into a role for a film set in Hollywood. When I got back to the UK, my best mate said I should video what I'm doing as it's ridiculous. He showed me Casey Neistat and it just went from there.
Any tips for people wanting to vlog in public? As I imagine that there are some people struggling with the confidence of doing it.
You just gotta do it. At the end of the first vlog I ever did, people were looking at me, and I thought it was so embarrassing. But you've just gotta break through it and make it a habit. Even now, I could do without all the surrounding people. But just gotta get on with it and do it.
You did New York to LA. Out of everywhere, you went, where are the places you want to go back to?
New Orleans is the first one that comes to mind. I loved it as the whole place had a great vibe. You've gotta go there by the way if you're doing the southern states. 
I'm definitely going there, yeah.
 When I go back, I'd love to experience the food a bit more. 
I've gotta try Alligator haha.
Mate, you've gotta try it! Alligator is good! Obviously, I didn't have money this time, but next time I'll be having a good night out on Bourbon Street.
Awesome. So this is a question that I ask at the end of every single interview I do. If the world was to end tomorrow, what would you want future generations to remember you by?
That is a great question. I'm just an average guy. There's nothing special about me. I want to inspire people to do more & get out of their comfort zone. Someone just commented on my video that their son just set up a GoFundMe because of my actions. It's to raise money for his local football team. He's gonna reach his target. That's worth it alone. Nevermind other stories you hear. Just to achieve goals - definitely. 
That's brilliant. Thanks for talking to me.
Thank you - I appreciate it.