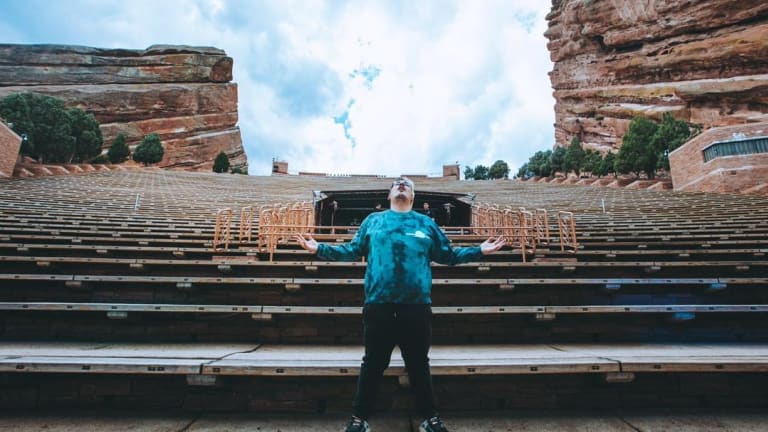 Sluggtopia II's Colossal Production Had Us Headbanging In The Rain [Review]
Raise your hand if you're ready for THE SHELL 2.0 Tour!
In October of 2017, Frédérik Durand, better known as SNAILS, brought Sluggtopia to Red Rocks Amphitheater for the very first time. 2017 also marked his first time headlining Red Rocks, which meant exercising complete control over his entire set. He debuted a brand new stage and premiered his album that was released shortly after, THE SHELL.
The event last year sold out and was a huge hit not only amongst the Vomitsquad but headbangers and trap lovers alike. From the second that the show ended and Durand walked offstage, fans were already hoping for a second edition of the festival the following year. SNAILS didn't hesitate to grant everyone's wishes and announced Sluggtopia II in January of this year.
Having gone last year, I absolutely had to go this year as well to enjoy the new lineup, new music, and the new holographic stage that SNAILS' team had told me about beforehand. That afternoon, I went ahead and checked the weather. Rain, wind, and a low of 40°F were all in the forecast, but that didn't stop me. If you've never had a chance to attend a show at Red Rocks in the rain and cold, you're definitely missing out. After getting dressed in my warm clothes, hoodie and raincoat, I headed to the venue.
Pulling into the parking lots at Red Rocks is one of my favorite things ever. As you near the venue, you get to see the beautiful rock formations and amphitheater from a distance before getting in a line of cars that are then directed into a dirt lot. The clouds were low and there was a slight drizzle, so everyone getting out of their cars were bundled up in leggings, hats, and SNAILS hoodies. Some people even had onesie pajamas on over everything - a popular choice of attire in the fall at Red Rocks.
Once I got inside the venue, my first stop was the official merchandise booth on the lower end of the amphitheater. SNAILS had previewed new merchandise on Twitter that afternoon, so I was prepared to do some shopping. Some items would be available on the rest of the tour, but others were exclusive to Sluggtopia II.
One of the first things that I always do when I get to Red Rocks (aside from getting merch) is walk all the way up the 380 steps to the top of the amphitheater. At the top of the venue, there is a small indoor visitor center that holds restrooms, a gift shop, and the Colorado Music Hall of Fame. This hallway has plaques up along both sides listing every single show and performer that's ever graced the world famous stage. A few signed pictures are up as well. The top of the venue is also home to a few bars, food vendors, another merch area, and one of the best views in the Denver Metro Area.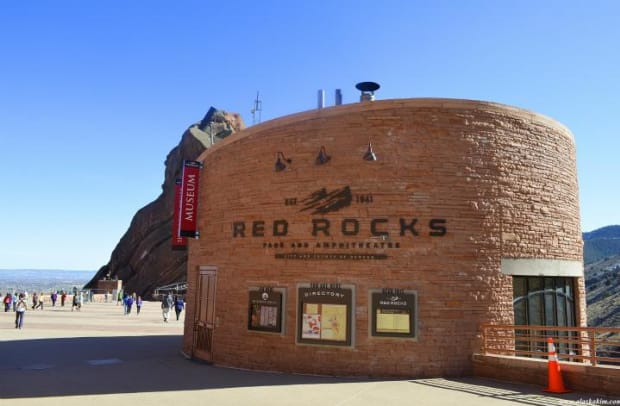 As the sky darkened and the amphitheater filled with bass heads, eight artists took the stage and performed heavy, energizing sets. Openers included UBUR, MONXX, SVDDEN DEATH, SPAG HEDDY B2B DUBLOADZ, FUNTCASE B2B COOKIE MONSTA (my favorite set of the night not including SNAILS), and SPACE JESUS.
SVDDEN DEATH might have had one of the most memorable entrances of the night by walking out on stage with a lampshade on his head as a nod to the recent moth meme that went viral. During Space Jesus' set, he brought out Zeke Beats and Conrank for a special B2B since they'll soon be setting off on a North American tour.
Finally, even though the headbangers including myself had been raging for hours already, it was time for SNAILS. Before he came out onstage, I caught myself wondering who he would bring out as a special guest, what new songs he would play, and what the visuals would look like. There wasn't a long changeover so I knew that the stage itself would stay the same. Different from last year's SHELL stage, this was more of a classic design with two large rectangular displays (one in front of and one behind SNAILS).
Throughout his set, SNAILS played a lot of heavy riddim and trap through the PK sound system, definitely making all of the headbangers happy. Of course, he played classics like "WFSU" with Waka Flocka Flame and "The Anthem" feat. Liam Cormier & Travis Richter, but he also played some of his new tracks like "Magnets" with Zeds Dead and Akylla. At one point, SNAILS even brought out Boulder, Colorado locals Big Gigantic.
The visuals that he used for his set were brand new, with futuristic-looking images and videos playing throughout the entire set. A bunch of lights surrounding the stage changed colors and shined out onto the audience, with the occasional CO2 blast thrown in for good measure. The low clouds and rain made these effects and visuals even more exciting and eerie, adding to the already invigorating occasion.
A few days after Sluggtopia II came to an end, Durand took to Twitter to thank everyone for coming out and to share how blessed he felt. One interesting tidbit that he did share was in regards to the production for that night. He wrote:
...Unfortunately like you guys saw the weather wasn't ideal and we were forced to take down the holographic video wall portion. We did everything we could to make it work but this technology is extremely sensitive to rain and wind. BUT for those who's been asking, we do have the holographic wall on the rest of the tour and it's gonna look INSANE!!!
After seeing videos from the first few dates of THE SHELL 2.0 Tour, I can 100% vouch for that. For the setup that will be in place for the rest of the tour, there will be an additional video wall set up in front of the booth where SNAILS is. This screen has visuals along with the original display screen you'd expect to see, making all of the visuals look extremely 3D. This is something that we've never seen before and is super innovative. If you're lucky enough to see SNAILS on one of his upcoming dates, you're in for a wild ride.
This tour hits a large number of cities in North America and Canada before ending on November 15th in Texas. Hekler, SVDDEN DEATH, and UBUR will be supporting SNAILS for this tour run. Confirmed special guests on select dates are 12th Planet, Kill The Noise, Liquid Stranger, Cookie Monsta, and VOYD. For tickets to any of the below dates, visit SNAILS' website.
Overall, Sluggtopia II was an absolutely amazing experience - just like last year. The event was organized very well, with no unnecessary gaps between sets, etc. The sets flowed together perfectly and kept the energy in the venue up all the way until the encore ended. Despite the rain, wind, and cold, the Vomitsquad was able to headbang endlessly to their favorite tracks. Afterwards, walking back to my car, I was able to hear everyone around me talking about how much fun they had while sharing their favorite parts of the night. I highly recommend this event series to everyone! Even if you have to travel, it's highly worth it.
I think it's safe to say we'd all love to see SNAILS return to Red Rocks for the third year next fall. Who's with me?
Follow Snails:
Facebook: https://www.facebook.com/OfficialSnails/
Twitter: https://twitter.com/snailmusic
Instagram: https://www.instagram.com/snailmusic
SoundCloud: https://soundcloud.com/officialsnails