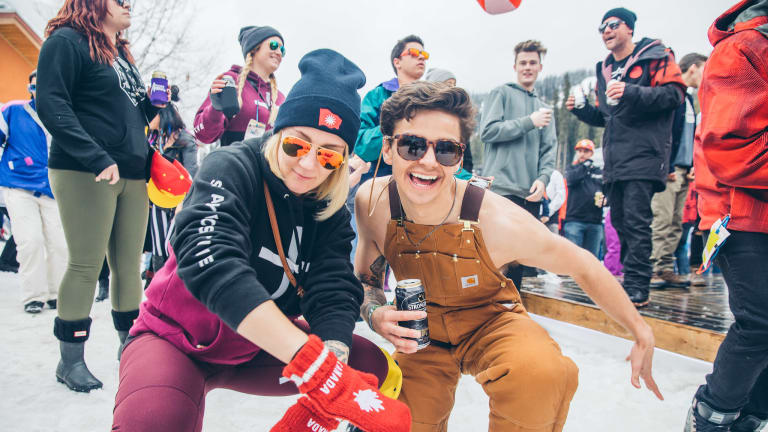 Snowbombing Canada Blended Beats, Brews and Good Times at 2nd Annual Event
We headed to British Columbia to catch the vibes at the second annual Coors Light Snowbombing Canada.
Descending into the local Kamloops airport, one wouldn't immediately expect to find themselves on the way to a four-day snow sports music festival. 
However, after disembarking from the plane, individuals were immediately greeted by festive Snowbombing signage. Representatives from the festival and Coors Light gave VIP patrons a warm welcome, giving us the first taste of the weekend to come. Coordinating our shuttles to Sun Peaks Resort, we all boarded the bus for the hour-long drive into the mountains. 
Boarding the shuttle, I noticed that my Michigan accent (which is almost-but-not-quite Canadian) was out of place. Although I can see Windsor from my office in Detroit, here in British Columbia we were greeted by a barrage of different regional accents as fans traveled from as far as Halifax, Toronto, Edmonton, and beyond. 
On the shuttle bus from Kamloops, winners of Coors Light's Snowbombing weekend getaway were full of friendly energy. The conversation was full of jokes and excited chatter about the festivities that were in store. One female Snowboming veteran promised that as soon as we arrived to Sun Peaks, the resort would turn into "Litty City."
She was not wrong.
As fans got off the bus and headed to their hotels to check in, they were greeted with complimentary cans of Coors Light. When checking into my room, I was gifted a Snowbombing toque (or knit beanie for my fellow Southron readers) as I prepared for what exactly I had gotten myself into.
We met that evening for a site tour led by festival staff which took us to the Coors Light Basecamp, located just steps away from the chairlift. There, were we greeted by the electric energy of Goldfish, who performed in front of a crowd donned in sporty snowboarding attire and vibrant vintage ski suits. There were even a few brave souls that challenged their strength in the near-freezing temperatures with fashionable crop tops. Needless to say, fans were eager to put on a beer blanket and enjoy Coors Light beverages as the beats rocked.
The Coors Light Basecamp stage was designed to be the pre-game party spot. With DJs lifted onto a platform 20 feet in the air, acts like Felix Cartal, Matoma, and Will Sparks played the role of conductors; watching the crowd move in tandem to the rhythm. In the back of the crowd, fans played adult-sized beer pong, swapping out solo cups and ping pong balls for white volleyballs and red 32-gallon garbage cans. Here, the fun was definitely curated to match the fun-loving attitude of snow athletes.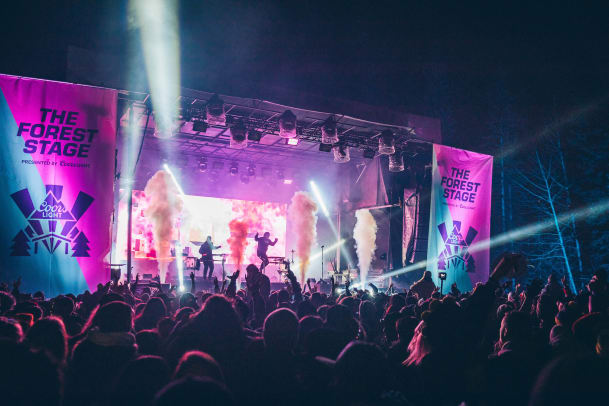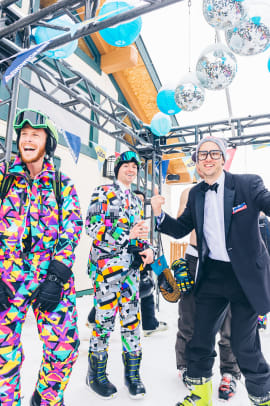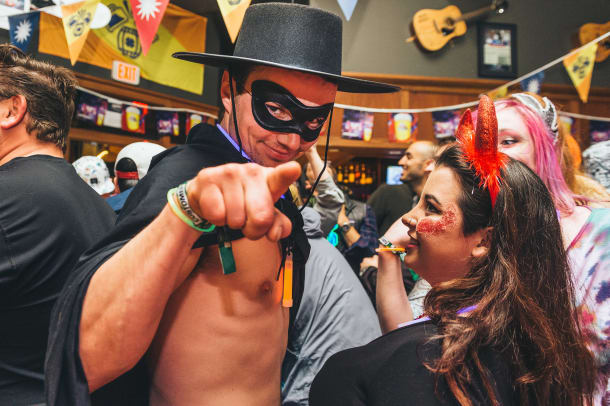 By the time evening fell, revelers were well lubricated for late-night music. Throughout the weekend, The Crystal Cave stage would turn up the energy with performances from fiesta favorites like Troyboi, Party Favor, and Black Tiger Sex Machine. Hosting the rowdiest crowd, the fans were twerking, thumping, and trashing to every beat that was laid down. However, mere steps away from The Crystal Cave, The Underground was where the real ravey energy was being kept.
In a converted parking garage, walking in The Underground felt more like stepping into a proper warehouse party rather than the underbelly of a ski resort. Here, the beats were serious business. Felix da Housecat, Gorgon City, Fisher, and Dirtybird heavyweights, Justin and Christian Martin, made sure to keep heartrates elevated. Whereas The Crystal Cave was certainly "lit," The Underground offered seasoned music fans a place to escape until early morning.  
When daytime came around, however, Snowbombing took on a much different atmosphere. Despite the hard partying the night before, many revelers took to the mountain for some one-on-one time in the snow. Although this writer went (or I should say, fell) down the bunny hills a few times, other fans carved the hill with ease, enjoying everything that Snowbombing had to offer. When they were finished with their workout, The Sundance Terrace offered a high-altitude day party filled with brightly colored snowsuits and party-approved tunes that contrasted with the quiet calm of the mountainside.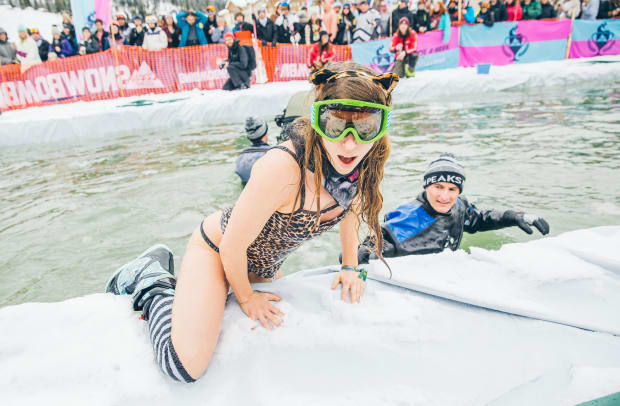 Apart from snow sports and music, revelers who weren't nursing a hangover could take part in many of Snowbombings auxiliary programming. Games of inflatable bubble soccer, Snowga (yes, snow yoga) and the Chairlift Speed Dating helped to keep guests entertained during moments between sets. 
As the long weekend came to a finale, the main stage, The Forest Stage, opened up to play host to the weekend's headliners. Acts like NGHTMRE, Goldlink, Big Wild, and Odesza, gave Snowbombing fans the pinnacle music festival experience. But instead, trading in the typical dusty summer grounds, for a cool mountainous panorama. 
Although the notion of a winter music festival may seem problematic for some, Snowbombing's site was designed with safety in mind. Musical acts were kept close to the resort village, a short walk away from revelers hotel rooms. The accessibility of the site, despite requiring a few extra layers to and from each stage, made Snowmbombing more comfortable than your average music festival. No long treks from stage to stage, and no more than a few minutes outside in the cold 
Eventually, though, Monday morning came around and we said our goodbyes to Snowbombing Canada and Sun Peaks resort. After 4 days in the resort village, it was easy to see many of the same faces day-in and day-out. And although Snowbombing Canada played host to 4,000 fans, the incredibly friendly and outgoing atmosphere made parting from Sun Peaks bittersweet. This sentiment, of course,  can only be cured by planning next year's return to Snowbombing Canada.