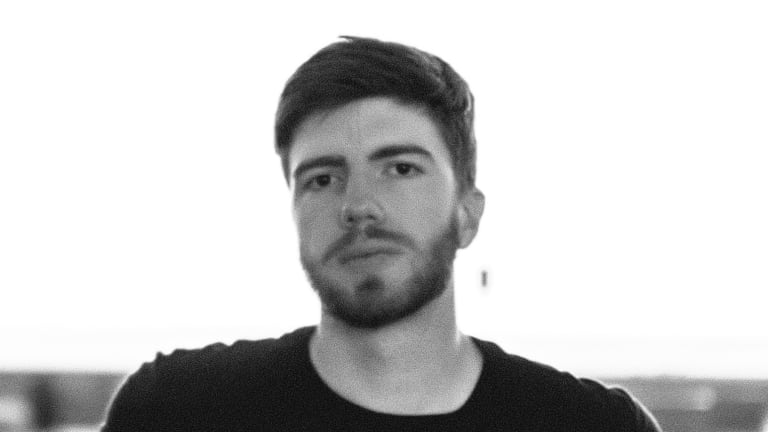 Spencer Brown's Forward Thinking Is Learning From The Past
Breaking Through is a conversational series highlighting the stories of rising dance music artists.
On this particular morning while still enjoying some breakfast in his bedroom, 24 year old Progressive House DJ/Producer (yes, he's both) Spencer Brown was eager to play his home club, Audio for an open to close set to a sell-out crowd later on this night after arriving back from Austrailia two days earlier. "It's my favorite San Francisco club," Spencer smilingly said. "They've got the best sound system and the best people who just love to go for house and techno music."
For many artists, six-hour sets are considered marathons and almost unheard of but not with Spencer - actually feeling less pressure to play longer sets with his adroit ability to read a crowd which allows himself to dig through his record collection and offer the crowd a novel, of sorts, with vital contrasting layers of that story. "I think three hours is my minimum comfort zone and after that, it gets challenging but fun to take risks," Spencer stated. And it's these risks that Spencer is comfortable with because to him, a story is difficult to tell with an hour set.
It's also these risks, the rubbing against the grain of the current trend in this industry, that has quickly catapulted Spencer from drumming with his parent's silverware and pots and pans as a two-year-old to now embarking on a tour in support of, yes, his first full-length album, Illusion of Perfection. You can hear the album below: 
Spencer, though, is realistic with his business model saying, "No one is doing (releasing albums) that anymore. You can't throw out the system, so I found my own way. I have all the music so I went back to what the legends of the industry, Sasha, Digweed, etc. did and I put out a mix album and low and behold it hit number one."  
Continuing, "I feel very strongly about this frantic rush to pump out three minute radio edit singles that are blowing up playlists on Spotify and then in three weeks they're gone." Spencer then adamantly said, "I decided a year ago that I'm not going to play this game but if an artist wants to do that and it works for them, great! But for me, I couldn't write a pop track to save my life!' 
And it's his discovering of the past, the education part of the industry, that Spencer feels a lot of artists are missing out on. "I don't subscribe to taking inspiration from what is popular now," Spencer said. 
"Instead, I realize looking back and learning the history gives an artist their own little space now in the industry. If that's not done, you're not going to be sustainable."
Spencer's own past has been a  whirlwind, of sorts. The pots and pans gave way to his parents buying him a drum set and by age eight he was playing five instruments which led to a four-track and recording himself. At age 10 he discovered CDJ's and hip-hop and began DJing. Age 12 was his first middle school party. 
Spencer's senior year of high school is when his life would change forever when he sent Tim Bergling's (Avicii) manager, Arash "Ash" Pournouri a Facebook Message asking for a chance and to forward his music onto Tim. The music miraculously was forwarded and Tim did Spencer one better by flying him out to Stockholm and "just like that we were working together and invited me to tour with him when I was 19." 
"For two years I would be playing two to three shows a week with Tim and then fly back to Duke University's campus to work with my teachers and spend time in the lab getting caught up on my work while sleeping three to four hours a night," remembered Spencer. "It was very surreal jumping from a middle and high school DJ to playing frat parties to playing stadiums with Avicii. It was a crazy part of my life!" 
During 2015 - 2016 Spencer concentrated his time between music and his schooling back at Duke where he applied for a grant in the University's Pratt Fellows Program, which he received at the Pratt School of Engineering spending a year and a half collaborating on a research project with his professor. "I was working on an omnidirectional speaker," Spencer describes. "I know how to make the sounds but I didn't know what was physically happening in the speakers." 
The arduous process began with Legendre Polynomials, "some of the most insane math I'd ever done," Spencer recalled. He then built two speaker models, the Two Cap, and a Dodecahedron model to see which one was better at recreating sound around (Duke's Anechoic Chamber) a room. He described, "This room drove me mad because you could hear your blood flowing it was that quiet!" 
The physical and math data began to match and the two realized that there had been nothing like this published. "With our model, the Dodecahedron, which turned out to be the better one, you could hang the speaker in the middle of the room and walk around and hear the exact same level and type of sound no matter where you were, Spencer explained. "So, the last few weeks I realized I was graduating and nothing had been written towards my thesis, yet! But we had 40 pages of math to support the physical confirmation and it was an amazing moment in that a year and a half knowing our work had paid off."
Completely focused on music at the moment, Spencer admits that this doesn't afford him the time to physically produce a speaker like this for club use but "having a point source in the center of the room can be a cool experience!" 
Like all young people, Spencer went through his share of angst hating on certain genres and pop-friendly music since falling in love with harder driving techno in 2012. And while his model remains progressive house to fit his personality of storytelling, he does hint to his followers that there are recorded, unreleased harder tracks in his repertoire saying "It's important to take ideas from other genres to develop my own sound while keeping it simple." 
This simplistic producing and individualism approach came through a learning curve he still employs today. "When I began to find my own space and sound was when I learned how to cut and not add to my music," Spencer explained. "In 2012, I had tracks that were 200 channels long and now they're 10-15 channels and at this point, it's tough for me to work with other people unless their strengths are my weaknesses" as Spencer cites Qrion, "a wonderful Japanese artist" Spencer has recently collaborated with. 
Lastly, Spencer feels he has a responsibility to Tim to somehow give back to produce tracks and incorporate some of the creative decisions that Tim would have in remembrance of him while staying connected to the people who enjoy and appreciate his music more so than producing to the masses.
"All of this intuitive knowledge has made me a better producer to build a solid core - that is what is important to me and what drives sustainability."