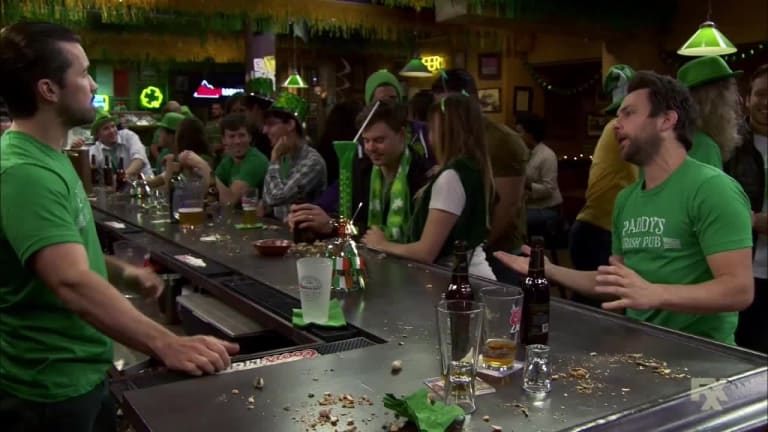 The Stages of St. Patrick's Day Chaos as Told by EDM Songs
Go easy on the green beer or you might end up like this!
It's finally that magical time of the year when our questionable drinking habits are celebrated! Our livers panic when they see a "Kiss Me I'm Irish" T-shirt or green facepaint, signifying the annual abuse that occurs on March 17th.
To celebrate our hangovers and bad decisions, EDM.com is proud to present the stages of your St. Patrick's Day, as told by songs from some of our favorite EDM artists.
Clueless Optimism - Shelter by Porter Robinson & Madeon
After a good night's sleep, you awaken to the bright morning sun, the gentle chirping of the birds, and your roommate shotgunning beers in the shower. You put on some happy music and smile knowing that today will be a nice fun day. You definitely won't be sloppy and you will absolutely not make any bad decisions. In the past, mistakes were made, but this year is different. This year you'll finally figure out how to have fun without embarrassing yourself.
 Pre-Party Motivation - Humble by Kendrick Lamar (Skrillex Remix)
After enjoying five minutes of clueless optimism, you realize due to who you are as a person, that you might not be capable of keeping it together during this celebration of alcohol.
Instead of panicking you decide it might be a good idea to motivate yourself to keep your cool this year. You stare at yourself in the mirror, put on some Skrillex and Kendrick, and promise yourself two things: you won't throw up and you won't cry while drunkenly calling your ex, no matter how many times they play "your song". 
The Party (Pre-Blackout) - 17 by MK
The drinks are flowing, everyone is dancing, and you're on pace to have some good clean fun. You might have had a few too many green beers before 2 PM but that's okay, it's still early and you can definitely take it easy and recover a bit for the night-time festivities.
 The Party (Blackout Mode) - Ms. Jackson by Outkast (San Holo Remix)
As expected, your plan for taking it easy didn't even come close to working out. Was it the drinking games, jello-shots, or whiskey? Maybe. But there's no need to try to make sense of it, you're 1/25th Irish, so today is your day, live it up.
You make your way to the dancefloor being to feel a strange sensation. You experience an uncontrollable urge to sing at the top of your lungs. The lyrics from Outkast's iconic track "Ms. Jackson" fill the room, and drunk people migrate to the speakers like a bug attracted to light. Being hammered and singing 90's and early 00's music goes together better than peanut butter and jelly. 
Destruction - Throwin' Elbows by Excision & Space Laces
Everything was going pretty good, a little sloppy, but overall, not too bad. The relative calm instantly disappeared when "The Pusher" arrived.
"The Pusher" is that one friend we all have who intentionally over-serves us, no matter how many times we say we don't want another drink. They tend to buy rounds of tequila far too late in the night and love to lead chants encouraging us to do keg-stands, even though they know damn well, that's the last thing we should be doing at this point in the night.
The homeowner prepares for the worst the moment he or she sees this person walk through the door with a large bottle of hard liquor. The liquor is quickly distributed to the masses and the dancefloor takes an aggressive turn. One minute you were singing 90's music, the next minute you're moshing to Excision. You know deep down it's a bad idea to belly flop onto the beer pong table, but your friend Jack Daniels has convinced you otherwise. 
The Hangover - Cirrus by Bonobo
You're still in bed at 3 PM and after the fourth Gatorade and Advil cocktail of the day, you question why you thought it was a good idea to put yourself through this. You put on some chill music (quietly, of course) and try to sleep off this nightmare. 
After sleeping away most of your day, you decide it's time to be productive. It's time to do something about these filthy clothes you still haven't changed out of. Knowing that no amount of detergent can remove the stains of spilled beer, vomit, and shame, you throw your clothes in the trash and promise yourself that you'll never drink again... or at least until next weekend.
Don't be an idiot this St. Patrick's Day. Drink Responsibly!