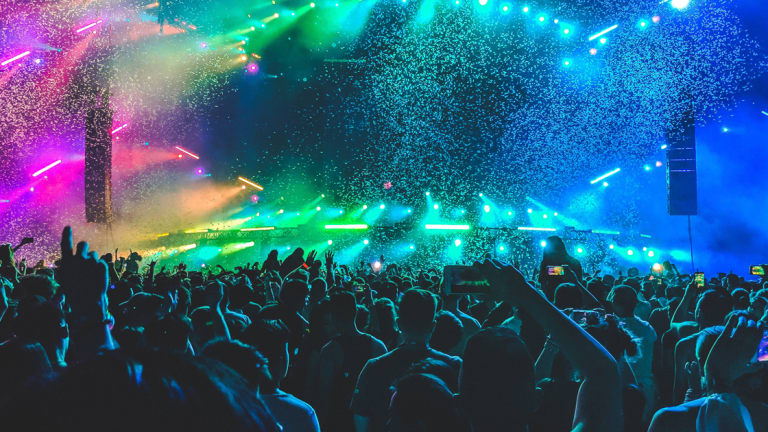 Look Back at This Year's Dance Music With Our 75 Staff Picks
2017 saw an explosion of artists shattering the mold and breathing new life into electronic music. Find out which ones are our favorites!
2017 is coming to a close and whether you went through a rough patch or you've had smooth sailing, there's one thing that has been consistently great about this year: all of the massive releases and brand new artists it's brought us from all different genres of music. With electronic dance music alone, we've seen artists become more experimental with their work, explore new genres, use new technology and surprise us with collaborations we never would've imagined.
And so to recap all of the incredible electronic dance music that came out this year, we've compiled a list of some of our favorites from this year. Here are a few of them:
ODESZA - Higher Ground
"This Grammy nominated track is filled with positive energy that hits hard every time I listen to it. It just has that simple ability to turn any bad feelings away. It's beautifully written, sung, and produced all together to make the perfect package." ~Rachel Woods
REZZ & 13 - Drugs!
"Picking one song off of REZZ's debut album, Mass Manipulation, was no easy task. After listening to the album for the 3,000th time, I ultimately ended up choosing 'Drugs!' as one of my favorite tracks of the year. Her ability to take overwhelming bass and turn it into something so danceable, is amazing, and shows why she is EDM.com's Breakout Artist of the Year." ~Nick Yopko
Virtual Self - EON BREAK
"Porter Robinson has always been one of my favorite electronic music artists. His creativity and passion for his craft, diversity, and uniqueness has always been a standout to me. To further enhance his already impressive music, he introduced the analog, more edgy Virtual Self moniker. His debut track, 'EON BREAK,' was legendary in the realm of analog synths, arpeggios, melodies, and happy hardcore elements blended into a more subtle yet energetic electronic genre." ~Lennon Cihak
Gill Chang feat. Aviella - Real Life
"Gill Chang, a new personal favorite, released a beautiful EP full of stripped down melodies I've had on repeat on my most chill evenings. 'Real Life' just makes me feel good and that's why I repeat it more than the others. I love the simplicity of it from the lyrics to the chords and instrumentals used. The stripped down style and uplifting melodies really appeal to me, and I'm in love with Aviella's voice!" ~Terrisa Coobs
Flume feat. Kučka - Hyperreal
"'Hyperreal' was the pièce de résistance of Flume's Skin related works. The arrangement is haunting, offering a glimpse into Flume's maturity as a producer. No one's questioning Flume's creative genius at this point, the real question is whether other producers can keep pace." ~Devin Culham
Lauv - I Like Me Better
"Lauv has been an artist I've followed from the very beginning of his career and it's great to see 2017 giving him the recognition he deserves. If you love songs packed with all kinds of emotion and super relatable lyrics, Lauv's music will sure hit the nail on the head. I love all his 2017 tracks, but 'I Like Me Better,' with the guitar, melody and snapping, is so simple and beautiful. Plus that's such a great line: "I like me better when I'm with you."" ~Liz Kraker
Emmit Fenn - Painting Greys
"Undoubtedly my favorite track of 2017. With the creative use of classical instruments, combined with a modern production, Emmit Fenn transcends new boundaries within electronic music. The dark vibe of the vocals contrasted with the upbeat melody makes it extremely interesting in terms of production skill." ~Matt Lillywhite
SLANDER feat. Eric Leva - Superhuman
"'Superhuman' has to be my favorite of them all. Slander ventured away from their heavier bass music style to create an absolutely beautiful melodic track. From the vocals to the one of a kind drop, this track continues to give me goosebumps every time I hear it. This track was HUGE for 2017, and I think it will continue to be a favorite for many years to come." ~Rachel Woods
Mura Masa - Messy Love
"On the other side of the EDM spectrum, 'Messy Love' by Mura Masa showcased his diverse background and combined elements from dance music, hip-hop, and indie, into a song that instantly lights up the room. Whether it's on at a nightclub, house party, or car radio, it's my favorite song of the year for singing at the top of your lungs and dancing obnoxiously to!" ~Nick Yopko
The Trickaz - Heritage (CloZee Remix)
"CloZee takes a great song and makes it even greater with this one. I love how she can blend her unique world/tribal style to any song and make it work. Not just work, but better! She's been doing some interesting things with East Asian style sounds and displays it greatly here. And that drop is pure fire!" ~Terrisa Coobs
filous - Can't Wait
My favorite song from filous' For Love EP is 'Can't Wait' mostly because of the guitar melody and simple easy-going vocals. The whole song just has this chill tropical sounding flow that's so relaxing to listen to. I could have this song going on repeat all day. ~Liz Kraker
Illenium & Said The Sky - Where'd U Go
"This song stood out to me immediately while listening to Awake for the first time. After catching his set at Imagine Music Festival and experiencing this track performed live, it definitely became my favorite pick from the album." ~Rachel Woods
All of us here at EDM.com are super passionate about music and we love nothing more than sharing everything electronic dance music related with the community. We hope you thoroughly enjoy our playlist and we look forward to going on yet again another musical journey with you next year.