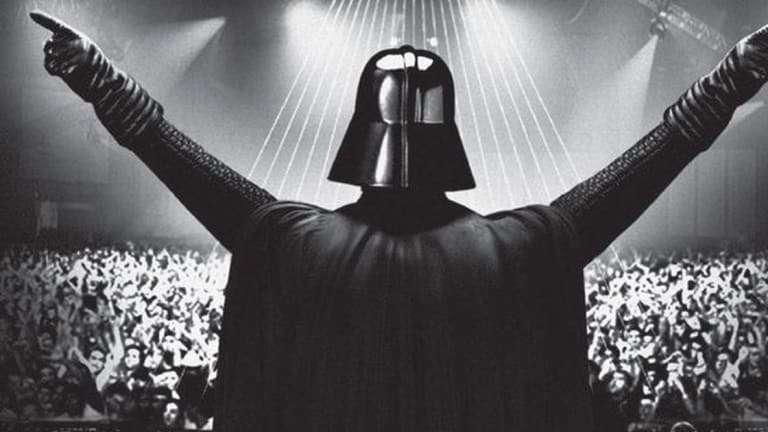 What If Your Favorite Star Wars Heroes and Villains Were Actually Intergalactic DJs
Yoda would totally be DJ Mag's #1 DJ in the galaxy.
A long time ago in a galaxy far, far away....the Jedi and Sith music labels were pitted against each other in an endless DJ battle that almost led to their extinction altogether. Taking a closer look at these heroes and villains of the electronic dance music industry, Coruscant's EDM Insider has pooled the galaxies' votes on our top DJ Jedi and Siths. 
Living for hundreds of years, Jedi DJ Master Yoda has seen it all. From watching techno fall and dance-pop rise he was done with the universe. Hiding out on Dagobah he had plenty of time to relax and peacefully grow old (and a little crazier). However, upon many long meditation sessions Yoda realized the force was telling him deep house and house was always his true calling. So now he's back in the scene and killing it like never before. As he always say, "Do. Or do not. There is no try."
The hard techno Sith DJ Apprentice we've all come to love actually went through the wringer quite a few times to get where he is today. Having studied at the prestigious Jedi Music Temple, Darth Vader, formerly known as Anakin Skywalker, was taken under Obi-Wan Kenobi's wing and played alongside him at major festivals and clubs. However, there was a major falling out when Darth Vader secretly signed with Sith Recordings. Though, he never looked back once after he slew the competition with his sick techno beats. 
With having not one, but two suns, it's summer every day on this Jedi DJ Knight's home planet Tatooine. Okay so it's scorching hot and there's lots and lots of sand, but that never deterred Luke Skywalker from daydreaming on the farm and pretending that he's actually on a beach listening to some tropical house and trying not to get too sunburned. Following in his father's footsteps, Luke eventually trained to become a DJ and even adopted "Skywalker" from his father's former moniker for his own name. But despite Darth Vader's constant protests, Luke has never once thought about being anything but a tropical house DJ.
Popular progressive house Jedi DJ Master Obi-Wan Kenobi, or as his fans like to call him "Ben Kenobi," also attended the Jedi Music Temple at a very young age. As talented as he his now, he actually struggled through school. He was a stickler for the rules of producing and often followed them religiously, rather than letting his imagination take over. Under the guidance of Qui-Gon Jinn, it was quite a few years of almost quitting and getting through all the doubt, that he finally found his unique sound. 
Bringing Sith Recordings back from the brink of death after former CEO Darth Plagueis retired, Sith DJ Lord Darth Sidious juggled both of his positions effortlessly. Managing the label during the day and training new DJ apprentices at night, Darth Sidious signed some of the label's most legendary DJs like Count Dooku and Darth Vader while growing his own electro house/big room name. It's no surprise that Sith Recordings eventually ruled the electronic dance music world for almost twenty years. 
Jedi DJ Master Mace Windu, aside from Yoda, is one of Jedi Recordings' most legendary DJs and for good reason. After years of perfecting his producing skills and experimenting, he discovered and created a new genre for dance music: future house/bass. Recently younger generations have taken quite a liking to it and, I dare say, it just might be what boosts Jedi Recordings' popularity. 
The General in the Sith's army of DJs, Grievous, attributes all of his success to his broken heart and grief. And yes, Grievous may be a cyborg, but he has feelings too (maybe a bit too much anger, but that's debatable). After the death of his girlfriend, he decided to fully dedicate himself to his electronic music and move on with his life. However, after an almost fatal shuttle accident, Grievous had to undergo major surgery to survive and instead of just getting two arms back, he got four. Despite his disability, Count Dooku saw potential in him and under his tutelage, encouraged him to continue DJing. Good thing he never gave up because he's one of the best electronic/electronica DJs out there. 
Being discovered at a young age by Darth Sidious, Darth Maul was trained and mentored at Mustafar's Music Facility in secret until he finally made his debut just a few years ago. Dubbing him Sith Recordings' "Assassin," Darth Sidious had a feeling Darth Maul's bassy trap sound was the secret weapon they needed against Jedi Recordings' trending dubstep DJ. And he wasn't wrong!
Skirting the line between some dark and light sounding stuff, Qui-Gon Jinn was never afraid to dance with dubstep. Having been mentored by former Jedi DJ Master Dooku, he tended to follow more of his guidance than Yoda's when it came to production, which led to many clashes with the higher ups of Jedi Recordings. Wanting to bring more dubstep DJs to the label, Qui-Gon was excited to discover new talent and help them grow, but he didn't quite succeed. As we all know, Feemor successfully went on to making drum and bass, Xanatos was more into making the hardstyle music Sith Recordings tends to have, so he switched over to them and, of course, Obi-Wan does progressive house. Though, it's pretty epic when Obi-Wan and Qui-Gon collaborate every once in awhile. 
Mostly known as Jedi Recordings' most gifted DJ by both Yoda and Thame Cerulian, no one could compare to Count Dooku's crazy mixing and producing skills when it came to trance music. Though despite many years of success with Jedi Recordings, Count Dooku began to fear Sith Recordings' seemingly steady rise in the industry. Without any explanation he retired from the electronic dance music world until recently. Now he's signed with Sith Recordings where he also releases tracks under his minimal techno alias Darth Tyranus. 
Hope you enjoyed our crazy DJ headcanons for our favorite Jedi and Sith! May the force be with you! 
As a bonus, this is totally what Darth Sidious would put out featuring Darth Vader: