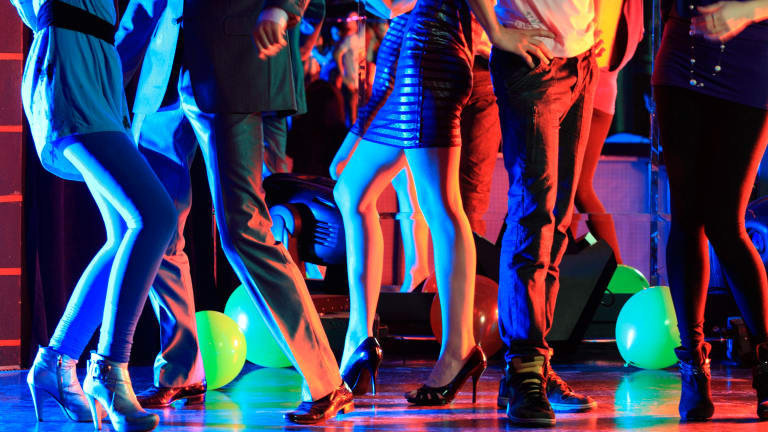 STUDY SUGGESTS THERE'S A REASON WHY SOME PEOPLE WON'T DANCE TO TECHNO
The Science Behind Genres and Danceability
A study published in the Public Library of Science suggests that there may be a reason why certain people don't feel compelled to dance to Techno music.
The study's researchers, Alex Hofmann and Brian C. Wesolowski, suggest that there is a relationship between the way individuals perceive and are affected by "groove-based" music.

For the purpose of the study, groove-based music is given 3 operational definitions including:
"a pleasant sense of wanting to move with music" 


"a quality of music that makes people tap their feet, rock their head, and get up and dance" 


"...one's ability to simply derive a satisfaction and enjoyment through the understanding and appreciation of the rhythmic aesthetic of a particular style of music"
The study, in part, sought to determine whether there was a relationship between an individual's cognitive response, affective response, and psychomotor response. The cognitive response reflects two distinct schemes. The first scheme is the way in which an individual identifies and "internalized the rhythmic syntax of a given musical idiom". While the second scheme relates to the ways that individuals perceive and categorize music structure. The affective response refers to the level of arousal that one can experience when introduced to musical stimuli. The study suggests that individuals who enjoy groove-based music may be fulfilling a "reward system" as "predictions and expectancies [begin] to emerge from sound patterns". (i.e. when the beat drops in). Lastly, the psychomotor response is ones ability to time physical and emotional movement to musical stimuli.
Method:
In order to test their hypotheses, researchers used different models to establish optimal objectivity in the way that individuals "rate" a particular genre of music. The study asked 99 college students between the ages of 18-24 (63 male and 36 female) to rate music from 11 different electronic sub-genres that featured characteristics relating to (a) isochronous bass and static timbres, (b) isochronous bass with fluctuating dynamics and rhythmical variations in the mid-frequency range, (c) non-isochronous bass and fluctuating timbres, and (d) non-isochronous bass with rhythmical variations in the high frequencies.
At the time of the study, music was utilized from Beatport.com's 2014 Top 100 Charts to correctly identify music from the genres of sub-genres of Breakbeats, Chillout, Deep House, Dubstep, Drum n Bass, Electro House, House, Progressive House, Tech-House, Techno, and Trance. In order to maintain a measurable and objective rating response, the study utilized 18 samples from each genre; 9 samples to measure affective responses, and 9 to measure cognitive responses. Participants responded to each recorded sample on a 4-point Likert scale coordinating to "Strongly Agree", "Agree", "Disagree", and "Strongly Disagree" in order to limit rating neutrality.
Psychomotor responses were recorded using the same 4-point Likert scale to rate the music' based on: a) "This music makes me want to tap my feet," (b) "This music makes me want to nod my head", and (c) "This musical sample makes me want to dance."
In order to neutralize the participants bias towards a particular genre, each rater was given 4 random 15-second music stimuli with the constraint that they must be from 4 different genres.
Results:
The test was designed to test multiple different theories, each with intensive data which is explained in great detail within the published study. Keeping this in mind, the data suggests that despite being one of the easiest genres for inexperienced dances to move to, Techno's 'four on the floor' beat yielded lower 'makes me want to dance' ratings.
With ratings given in a series of 'clusters' - the data suggests that participants viewed Electro House, Progressive House, and Drum n Bass (Green) as most likely to make participants dance. Clusters based on Deep House, House, and Tech House (Grey) and Dubstep (Pink) saw near equal rankings. Techno and Chill Out genres (Black), however were perceived as less danceable.
The researchers suggest two different factors may influence Techno's perceived lack of 'danceability'. One factor that researches hypothesize is that the study's high rankings of genres with non-isochronous beats (DnB, Electro House, and Progressive House) evoke a powerful emotional response because listeners were able to 'extract the pulse from a more complex structure'. Meanwhile, Techno's predictable isochronous bass structure did not deliver to individuals wanting to hear 'the drop'.
So what does this mean for fans of Techno?
It's okay. Some people just don't get it!
Article Source: There's More to Groove than Bass in Electronic Dance Music: Why Some People Won't Dance to Techno

Wesolowski BC, Hofmann A (2016) There's More to Groove than Bass in Electronic Dance Music: Why Some People Won't Dance to Techno. PLoS ONE 11(10): e0163938. doi: 10.1371/journal.pone.0163938