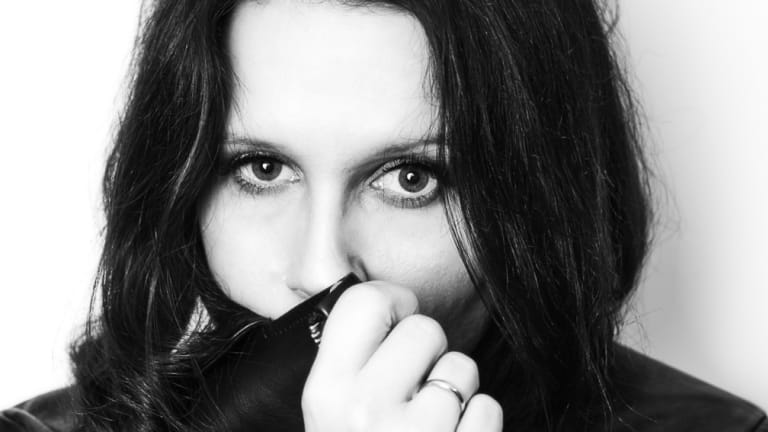 Suzanne Chesterton Is Creating Her Own Waves On And Off The Radio
Breaking Through is a conversational series detailing the stories of rising dance music artists.
When you work for the most recognizable person in the dance music industry, it's a pretty safe bet to say that Yorkshire, England's Suzanne Chesterton, understands this business better than most. Her continuing four-year stint as producer of Paul van Dyk's weekly Vonyc Sessions radio program has afforded her the opportunity to meet a great number of producers, all the while learning the dos and don'ts of the industry, which she came by honestly. 
The male side of Suzanne's family was deeply involved in music as her great-grandfather was a cornet player and conductor of Yorkshire's Grimethorpe Colliery Band which inspired the film Brassed Off. Her father was the bass player in the popular 70's and 80's heavy metal band, Saxon, albeit leaving the group before their emerging popularity while her mother is a retired midwife. It is with this family musical influence that Suzanne began playing the piano at age 5 and wrote her first song at age 9. After years of playing, her mother decided it was time for Suzanne to receive proper technical training through an instructor, but with unfavorable results recalling, "My piano teacher saw me playing and corrected my form but my fingers were already used to playing a certain way which frustrated me and caused me to lose interest." 
She continued, though, with theater in High School working with the production of Bugsy Malone and others as a way to continue her involvement in music. From there she enrolled at the University of Leeds earning a BA (HONS) in Journalism and continued on to Leeds Trinity and All Saints College earning a Post Graduate Diploma in Broadcast Journalism and is currently re-enrolled at U of L earning her Masters degree in Radio all the while pursuing her journalism aspirations with freelance positions at many of the UK's national newspapers including The Daily Mail, The Express, The Sunday People and later employment with the BBC. It was also during this very busy time that a 90-minute commute allowed Suzanne to listen to mixtapes she had made but the schedule was too much to pursue a musical career as an artist but began creating other waves in the industry. 
Suzanne remembers, "When you work for the some of the bigger organizations, it's very intense and you're running on adrenaline all the time, which I loved. When I got home I would play on the decks and write or play music." She was hired by Global Radio working for Capital FM and was given the opportunity to do music saying, "I jumped at it! When you're truly happy with what you're doing you never have to work a day in your life, do you?"
Suzanne married Daniel in 2007 and enjoyed two beautiful boys together - Jack and Christopher. Less than four years later Daniel was diagnosed with brain cancer and after a 7-month battle, he succumbed to his disease. He was 36. 
It was during this time, though, that Suzanne had made up her mind to fully pursue her dreams saying emotionally, "It was such a traumatic experience but the one thing he told me before he passed was 'Look, Suzanne. I've no regrets.' And that statement designated me and I started to think, 'If I die now, I'd have so many regrets because I never followed my music.'"
Their last wedding anniversary came a month before his passing and Daniel presented Suzanne with an electric piano which she proudly displayed as she moved her head away from her desktop monitor. "After his passing," Suzanne reflected, "I invested in some Pioneer DJ decks and initially thought I was too old to play but I feel that with all the songs I had written on the piano as a child can be turned into beautiful Trance tracks because I'm not dying with any regrets!"
Meanwhile, learning and networking her way through, Suzanne was working at Capital FM with Andi Durant and Nick Riley. Travel and touring was proving a bit much for Andi and Nick with raising their families. At the same time, they felt they had achieved everything they could possibly do with Captial FM and needed a new challenge. They both yearned for new a new direction and decided to combine decades of experience in radio and the music industry to help other electronic music artists. And with that, Distorted Productions, Ltd. was born. 
Suzanne then soon received an email asking if she'd be interested in doing some work similar to what she had done with Global and the BBC but for Distorted and ultimately Paul van Dyk. Suzanne accepted their offer as Distorted's first producer and was finally doing music now, full time.
Suzanne was now focused on three things: Her boys, her music and Paul's radio program and has been fortunate enough to have wonderful mentors guiding her with her own music as she humbly says, "I sidestepped into this role and with the great support of Solarstone and Giuseppe (Ottaviani), they've helped me along."
Her first single, Antus (originally called "The Beginning") was signed to VANDIT Records after a slightly longer production process than Suzanne had originally anticipated recalling, "I laid my track down - thought it was great and sent it to Solarstone for a listen. Well, he sent it back and basically ripped it apart so I started again. I then sent it to Giuseppe thinking it needed mastering and he sent it back and blatantly told me, 'No, I can't master that, Suzanne. You need to go back and start again!'" 
Undeterred, Suzanne reached out to Richard Lowe who had already released on VANDIT and asked what she needed to do. "I'm struggling with the drums and the basslines and need your help," Suzanne unashamedly asked, and the two ended up working together for a year on Antus to get it right. "I was very fortunate to have the people in the industry knocking it back to me and saying it wasn't good enough," she proclaimed. "If you don't know anyone in the industry it's difficult to put your music out there asking for feedback because no one wants to be 'that guy' who criticizes your music but I'm in an amazing position to have these people around for guidance." After all, isn't this the way the dance music community is supposed to be?
However, the use of templates for reasons other than educational purposes and artists not crediting the help they received in their publishing rights is an aspect of producing that Suzanne is passionately against.  "It gives quality producers and Trance as a whole a bad name," said Suzanne. "They're cheaters."
Ego has begun to play into the fact that producers want all the credit but Suzanne reminds us that even the best producers in the world ask for help and happily credit an engineer or sound designer in their production credits. 
The real joy for Suzanne began on June 28, 2018, when Voyager Radio debuted on Groove City Radio - A weekly musical journey Suzanne curates that will be highlighted by a monthly series with a world-renowned artist focusing the conversational branding to the idea of NASA's 1977 launches of two Voyager spacecraft, each with two playable gold-plated copper records containing sounds and images meant to portray the diversity of life and culture here on Earth intended for any intelligent extraterrestrial life form who may find them. It is with this basis of the Voyager Golden Record program, Suzanne aims to shed a different light on artists one might not normally see through a typical Q&A session with the artist choosing any ten songs that represent the way they would want to be viewed by an alien species.
With several guests already agreeing to Suzanne's unique model, she is inspired by her children and Daniel saying, "Without the boys, there's no way I would've done any of what I'm doing right now" and still feels as though Daniel is watching down upon the family and uses the logic that he once employed to solve certain dilemmas placing all the emotions and feelings into her music. 
"My real passion is the music. As long as I can learn and release my music, that would be perfect but I love the radio side of it, too!" 
Groove City Radio is available on the TuneIn app - search Voyager Radio.