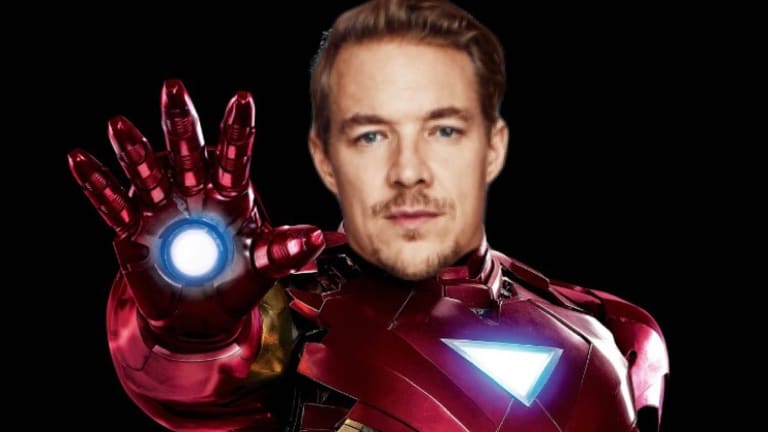 DJs Assemble! Here are The Avengers of Dance Music [Part 1]
Don't worry, no spoilers in this one!
Iron Man - Diplo 
Equal parts charismatic playboy, skilled technical artist, and sometimes-contentious leader, the Mad Decent boss, Diplo, is the perfect choice for dance music's Iron Man. 
You can always count on Diplo to cook up a new sound and explore different genres, just like you can expect Tony Stark to create flying robot suits. Now, this isn't to say that Diplo can't create flying suits of armor... but, until his first flying DJ set, we'll just assume his prototypes aren't quite finished. 
Hulk - Excision 
Dr. Bruce Banner is a soft-spoken supergenius who happens to turn into a destructive green monster when he's angry. DJ Jeff Abel is a soft-spoken producer who happens to turn into the dubstep titan, Excision, when he takes the stage. 
Excision's arsenal of speaker-destroying hits alongside his unrelenting bass that decimates venues all over the world is similar to the Hulk's ability to smash...well, everything. 
Thor - Avicii 
Only a legend can be compared to The God of Thunder. Since his debut, Avicii's thunderous melodies served as a testament to the dance gods. Like Thor picking up his hammer, the second Avicii touched a keyboard he became an instant legend. 
Black Widow - Nina Kraviz
These two are so similar, if we didn't know any better we'd think Black Widow was inspired by Nina Kraviz's actual life. No, Nina Kraviz was not a trained assassin who defected to help fight extra-terrestrial enemies. (Or at least as far as we know she's not...) But, consider this, both Black Widow and Nina Kraviz are from Russia, they both have ties to the Russian Space Program,  and both became the leaders of their own label/superhero teams. 
Grab those tinfoil hats because I think we just might have started new a conspiracy theory.
Captain America - Kaskade
Other than hot dogs, baseball, and arguing about politics with your family, nothing symbolizes America better than Captain America. The story of a hardworking, everyday man turned superhero, whose main goal is to help make the world a better place, perfectly exemplifies Kaskade's life. 
Kaskade's early life consisted of going on missions with his church to help those in need. After putting in his time with the community, he became a superstar and consistently held the title of America's best DJ while becoming a literal champion of dance music who has helped the genre grow to where it is today.
Spider-Man - Porter Robinson 
Like Spider-Man, Porter Robinson was thrust into the spotlight as a teenager. He realized with his great producing power comes great responsibility and Porter has worked tirelessly to innovate dance music.
The fact that he was able to create influential records before he was allowed to buy beer shows that like Peter Parker, Porter Robinson was a teenage supergenius.