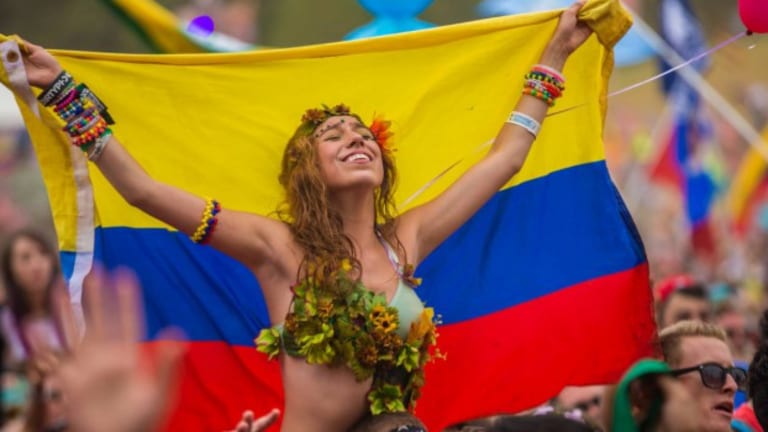 15 EDM Songs That Hit You Right in the Feels
These 15 EDM tracks take us on a nice trip down memory lane.
If EDM is known for anything, it's for creating physically and mentally moving compositions that can be felt worldwide. Over the last ten years alone, we've seen an incredible growth in timeless, bone-chilling tracks, but there will always be the select few whose "feels" test the sands of time.
Consider this your EDM "feelbarrow" - 15 tracks that still raise the hairs for EDM listeners everywhere. Grab your tissue box, put on your dancing shoes, and take at trip down memory lane with these iconic hits.
1. One More Time - Daft Punk
What very well might be the feeliest song of all time, "One More Time" set the record for "best singalong song in EDM." Don't believe me? Go ahead, try not to sing along just one. More. Time.
2. Strobe - deadmau5
Ok, this actually might be the feeliest of all feel songs to have ever been feeled. deadmau5 struck a chord in everyone when he released "Strobe," and you'd be lying if you didn't shed a tear every time it hit that fateful drop at 6:48.
3. Lights (Bassnectar Remix) - Ellie Goulding
It's safe to say that a handful of Americans got their first taste of dubstep through this heavy bass ballad. Back when dubstep was all about the heaviest bass sounds and loudest drums, this remix shined through thanks to Ellie Goulding's chilling vocals and Bassnectar's dreamlike soundscape.
4. Finally Moving - Pretty Lights
The sample-based genius Pretty Lights found his breakthrough with "Finally Moving," and it sent shivers through live band fans and EDM listeners throughout the country. The original sampler of Etta James' "Oh sometimes, I get a good feeling," the feels in this tune are immeasurable.
5. I Remember (Caspa Remix) - deadmau5 & Kaskade
Arguably one of his biggest hits to date next to "Where's My Money," Caspa went full feels on his edit of deadmau5 and Kaskade's iconic hit "I Remember." The short intro and face-melting bass line brings us back to the simpler days of dubstep, to a time when melodies principled over sound design.
6. Shelter - Porter Robinson and Madeon
Porter Robinson is arguably the master of feels with plenty of tracks that could have made the list from over the years. That intro paired with this heartfelt anime music video really pulls at our heartstrings.
7. Crave You (Adventure Club Remix) - Flight Facilities
The melodic side of brostep came with Adventure Club's remix of Flight Facilities' "Crave You," and it wooed college kids nation-wide. To all those ravers out there who played this song at every dorm or house party you ever attended as a young adult, this one is for you.
8. ATB - Ecstasy
When we were still young baby ravers, ATB's "Ecstasy" was definitely a track we kept locked on repeat. Even though dubstep and bass music ended up taking over our playlists, ATB's iconic vocal trance track will still make you feel nostalgic.
9. Don't You Worry Child - Swedish House Mafia ft. John Martin
"Don't You Worry Child" is yet another singalong anthem of the century. John Martin went full feels on the lyrics and vocals of this Swedish House Mafia classic, and it packs so much emotion that it could make a rock cry.
10. Sun & Moon (Acoustic Version) - Above & Beyond ft. John Bedford
Now, although the original definitely carries its own weight as a heart-warming ballad, the group's acoustic rendition really takes the cake for most feels-worthy. Just look at John Bedford throughout his performance - his cheeks are like a dam holding back an ocean of feels.
11. Eyes on Fire (Zeds Dead Remix) - Blue Foundation
Still regarded as one of Zeds Dead's greatest releases, their remix of "Eyes on Fire" by Blue Foundation displays a profound progression for a dubstep song, building ever so smoothly from its intro right to its drop. The entire track is like a feelcano that erupts into an avalanche of emotion.
12. Infinity 2008 - Guru Josh Project
"Here's my key, philosophy; a freak like me, just needs infinity." Is there anyone out there that hasn't felt this way before? The feels of this phrase rivals Katy Perry's iconic question, "Do you ever feel like a plastic bag, drifting through the wind?"
13. Promises - Nero
You cannot be a true Nero fan without having listened to this track at least 1,000 times. Alana Watson is essentially an angel from the future, and her dystopian bass cowboys deliver uncontrollable feels in the euphoric dubstep classic "Promises."
14. Stereo Love - Edward Maya & Vika Jigulina
Who uses an accordion in house music anymore? Clearly no one has even attempted to master the summertime feels found in Edward Maya & Vika Jigulina's "Stereo Love." As awkward as the music video is, the message is still clear - the feels are strong with this one.
15. Stay the Night - Zedd feat. Hayley Williams
Being a Zedd fan is one thing; being a Paramore fan is another. Being a Zedd fan and a Paramore fan is something truly unique, and by combining those elements, Zedd-amore fans went on an powerful feelercoaster with this track.