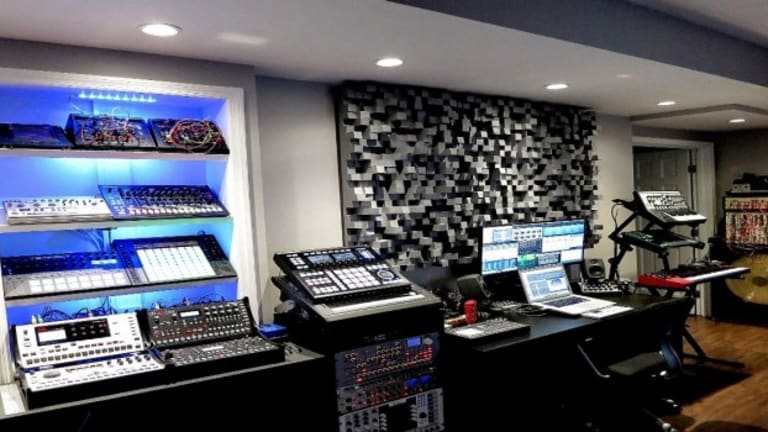 5 Tips On How Producers Can Stay Creative & Inspired In This Saturated Market
Staying inspired is all psychological. Here are some tips to help you bring out your creativity.

As everyone knows, due to the growth in dance music scene and the ease of available resources and production gear, the production world has gotten pretty competitive.
A lot of producers have gained large audiences by copying something that they find cool, instead of showcasing their musical side. There is nothing wrong with copying something you like, it's exactly how big producers and up and coming producers have learnt and it is a great way to dissect everything to find out what was used in your favorite tune. But, putting out stuff that has already been done, just creates noise and makes it impossible to find new original talent.

Just imagine the number of producers trying to copy others in your state then imagine the number in your country, similarly imagine the number in the whole world. The number exceeds our thinking and can be a bit scary but, don't worry we're here to help you bring your inner artist out and to give you the confidence to showcase your true self.
So, let's start with some tips that can help you stay creative and present yourself in a distinguished way.
1. Put An End to All That Overthinking
Overthinking is your creativity's biggest enemy. If you're starting out you'll definitely make something weird and it might not sound that good in technical terms, but one thought that you have to stop coming in your mind and entering your subconscious is "omg, what are people gonna say about this tune" or "is this fire enough?". Sure you'll make something that might not be up to the standard but don't worry just keep on making inventory of your songs and overtime once you are good with production and have put an end to over thinking, you'll automatically say "gawd, my peeps are gonna flip out once they hear this tune".

2. Spend Some Time in Nature Alone
One thing that personally helps me a lot with gaining my inspiration back when I'm going through writer's block is going for a walk alone in a really big park filled with trees and plants. I leave my phone and earbuds at home which avoids me to use social media and listen to music but encourages me to listen to the nature and the outside world. It obviously feels more fresh than sitting in the studio and trying to come with something and is a good way to get your mind off from music. This also stops you from forcing to make something that you know you won't like the next day. So just go to places filled with nature alone and don't make anything that day, but the next day when you hit the studio, you'll have more inspired and creative mindset and definitely something good will come out.
3. Imagine Different Scenarios in the Studio
One thing that all the producers dream of is a big collaboration with the industry's greatest at some point of time in their career that'll put them in the map. Who know if that day will ever come or not, but why wait till future? Why not hypothetically use that scenario when you hit the studio and see what results you're able to get. Skrillex, Zomboy, Getter, Virtual Riot and deadmau5 are the 5 top artists I look up to the most, so when I'm feeling inspired I try to double that inspiration by forcing myself to think of a situation like "What if I was in the studio with Skrillex making new sounds" or "What if I was writing a new song Zomboy" etc. Everyone has their own way of staying inspired and forcing myself to such scenarios often helps me to get much better and original results.
4. Turn Off the Internet When Making that "Heat" Music
This has been said so many times and the truth is that statement does holds its credibility. Turn off Wifi on your phone and computer for the whole studio session (if you want to take it to the next level, burn down your router and throw it away like a boss (lol jk, don't do that).
The reason behind is that every once in awhile some of us has a bad habit of checking our facebook for some news, any beef going on between artists on twitter or sending out snaps with caption "#studiolifeaintthateasybro" or "#inthestudiofeelingsoblessedthatimightleaveskrillexbehind". This all happens usually when you're freezing a midi channel and its taking too long, but once you come back to your DAW the operation has already been completed and you're sitting like a potato watching cat videos. So turn off your internet while producing to make the best use of your time and inspiration.
5. Stop All Comparisons and Believe in Yourself
One thing that often gives the most amount of discouragement is comparing your journey to others. Everyone is on their own path and everyone is blessed differently. Comparing your melody to a pianist who's playing piano since he was 5 years old or comparing your production and mixdowns to someone who locked himself in the studio and did nothing but worked on their craft is wrong, totally wrong. Don't ever do that. Even big producers like LUMBERJVCK recently said on a livestream that he "feels like killing himself" (not in a literal way, obviously) when he compares his mixdowns to that of Skrillex's. So the best way is to stay true to yourself, be you and believe in yourself and have some trust in the process of this journey. There's nothing more than you could do than staying positive, working on your craft and making relations.

Lastly, to conclude, never think that your music is not good enough, even if you feel it's bad, chances are that it might still resonate with someone. We hope this article helped you and these tips induced some inspiration in you!