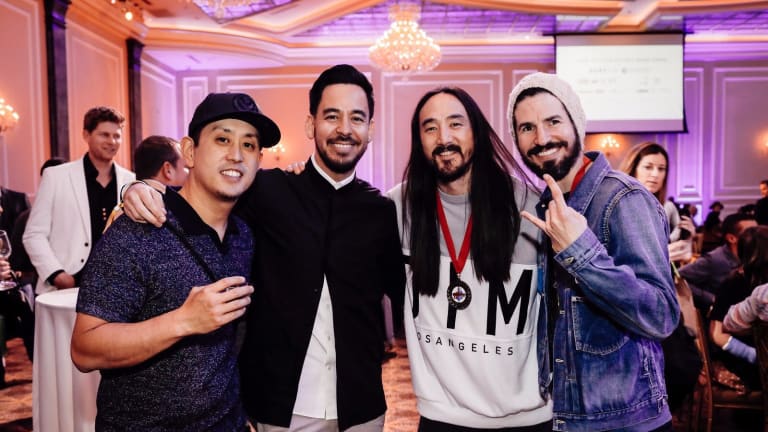 Steve Aoki's Top Cross-Genre Collaborations
From Linkin Park and Machine Gun Kelly to Korean superstars BTS, Steve Aoki has dabbled in nearly every genre imaginable
For years, Steve Aoki has in many ways been a poster child for EDM, particularly from the perspective of those outside the dance music community. Part of that mainstream appeal undoubtedly comes from his various other entrepreneurial ventures such as Aoki Bootcamp, and his pizza chain Pizzaoki, but he also happens to be a well-recognized figure in the music and entertainment world going far beyond the niche EDM community. 
Take a risk and try something new!
If you, just like Steve Aoki, are fond of experimenting and are not scared of trying new things, then we recommend that you give online gambling a shot. And, for your experience to be exciting and indelible, we suggest that you explore different online casinos before giving them a try. But don't worry – NativeCasinos have done all the hard work for you. For instance, let's say you'd like to see if games developed by Novomatic are reliable. All you have to do is to check out the Novomatic Gaming review thoroughly prepared by NativeCasinos for you. This website also analyzes bonuses, licenses, and price value of gambling services.
One obvious reason for this is the extensive and ever-growing list of collaborations between Steve and various pop-culture icons across the genre spectrum. Here are some of his biggest ones:
Linkin Park & Steve Aoki — A Light That Never Comes
At their musical peak, Linkin Park were inarguably one of the biggest and most influential bands in the world. Famous for their heavy nu-metal riffs and raw, aggressive sound, it's unlikely that anyone expected that they would release an electronic dance music song. In 2007, they were brave enough to embark on a more experimental path, eventually even adopting a more electronic sound in 2010. Despite the upbeat tempo, "A Light That Never Comes" has profound meaning, powerful vocals, and mesmerizing melodies. 
Steve Aoki feat. Linkin Park - Darker Than Blood
Although you may think we're biased putting two songs with Linkin Park in a row, just listening to this track once will be enough to prove you wrong. Unlike "A Light That Never Comes," this one doesn't feature Mike Shinoda's rapping. However, we hear him shine when singing in a bridge. Chester Bennington's voice is incomparable, as always. Steve Aoki's beats are so captivating that you're bound to fall in love with the song instantly. Intertwining harmonically with Mike's and Chester's voices, the melody will hypnotize you from the second you hit play.
BTS (방탄소년단) - MIC Drop (Steve Aoki Remix)
Since K-pop is taking the world, it's no wonder one of the greatest EDM artists, Steve Aoki, collaborated with one of the biggest K-pop bands, BTS. In "Mic Drop," this vigorous band is doing whatever it takes to make you dance while feeling powerful and omnipotent. This song is telling about the Korean group's journey and their success along the way, inspiring listeners to believe in themselves. Steve Aoki's signature flare makes the record more colorful and engaging, and as a result, we've got a song that will motivate you to achieve your boldest and wildest dreams.
Steve Aoki feat. Machine Gun Kelly - Free the Madness
Okay, so we've already got rockers Linkin Park, K-poppers BTS, and now a rapper Machine Gun Kelly. The second you turn the song on, you'll immediately start dancing, even if you're sitting on the chair. With a high energy level and a consistently upbeat tempo, "Free The Madness" is classic Aoki. Layered with MGK's quick and curt verses, this record is a brilliant collision of the worlds of dance and hip-hop.
Asked about his collaborations, Aoki noted that:
"You can write instrumentals and have rappers or singers jump on them, but it's not quite done yet until you hear what they're doing to the song and ... there's gotta be some sort of balance between your world and their world. And that's kind of like the fun, exciting part of finding that place."
FOLLOW STEVE AOKI:
Website: steveaoki.com
Facebook: facebook.com/steveaoki
Instagram: instagram.com/steveaoki
Twitter: twitter.com/steveaoki
Soundcloud: soundcloud.com/steveaoki